Ranked! The 10 best debuts ever
Brilliant beginners and super starters: we reckon these are football's best debuts ever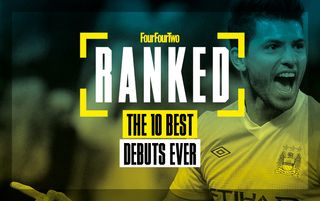 (Image credit: Future)
Who had the best debuts ever? Some players just hit the ground running, and have their new club's fans on their feet before 90 minutes are out.
For some, it's the beginning of a brilliant career, for others the start of an outstanding new chapter. For some, it's a peak they never manage to revisit.
But for all of them, a fantastic start will stay with them forever. It encapsulates the excitement of an unknown potential, and raises expectation of success to come. The best debuts ever endure.
The best debuts ever: 10. Ronaldo (Real Madrid vs Alaves, 2002)
Sixty-one seconds. That's all it took for Ronaldo to get off the mark in the white of Real Madrid. If you started start listening to Frank Sinatra's My Way when he comes on to replace Javier Portillo in the 64th minute, the big man's not even had a few regrets by the time Ronaldo's lashed the ball past the Alaves goalkeeper.
Not content there though he later gleefully receives a pass from Steve McManaman of all people for a second – Macca hilariously asking for the ball back after playing him in - before missing an easy chance for a hat-trick. A miss, he has always asserted, was deliberate so as to not set the bar too high for the rest of the season.
9. Alan Shearer (Southampton vs Arsenal, 1988)
A handy reminder that football wasn't invented in 1992 here, as the Premier League's record goalscorer was already banging them in four years before it even launched. Making his way through Southampton's academy, the Saints saw enough talent in a rosy-cheeked 17-year-old Alan Shearer to give him a full debut against high-flying Arsenal, themselves some 8 games unbeaten.
What followed were three goals that all scream late '80s British football, and came from a combined distance of about five mud-soaked yards, but also broke the record for the youngest ever hat-trick in the English top flight. Not a bad way to introduce yourself.
8. Fabrizio Ravanelli (Middlesbrough vs Liverpool, 1996)
Middlesbrough in the mid-'90s feels more like a fever dream than actual footballing history. Returning to the Premier League Bryan Robson decided the best approach was to bring some of the most expressive players in world football to a part of the country famous for drowning a chicken cutlet in cheese sauce and 80% of its buildings being made out of corrugated metal.
It worked though, for precisely one game. Joining samba stars like Juninho, Emerson, and Robbie Mustoe was Italian goalscorer Fabrizio Ravenelli who promptly scored a hat-trick against the mighty Liverpool. Despite them being 4th at one stage the results fell off a cliff and Boro were promptly relegated back whence they came. Oh well, worth a shot.
7. Zinedine Zidane (France vs Czech Republic, 1994)
If you ever want to discuss the greatest possible contrast between someone's first and last appearance for a club, Zinedine Zidane's France career is probably where that starts and ends.
18 years before he'd head down the tunnel at the World Cup final with sorrow in his heart and Marco Materazzi's necklace imprinted on his forehead, Zizou arrived off the bench with his country 2-0 down to the Czechs. Immediately looking like someone's much older brother deciding to bully a game in the playground, he weaved his way through 3 players before burying an unstoppable 30-yarder with five minutes to go. No two minutes later, he leapt a clear foot and a half above everyone else in the box to score header you'd struggle to replicate with a step ladder.
6. Sergio Aguero (Manchester City vs Swansea City, 2011)
The greatest compliment you can pay to Sergio Aguero's time at Manchester City is that, on the face of it, scoring two goals and assisting one doesn't actually sound all that impressive. There were entire months of the season where it felt like he was doing that every single game.
But what sets this particular haul apart from the many that followed though, was that Aguero didn't even muddy his boots until the 59th minute. In a dazzling half-hour cameo he arrived on the end of a Micah Richards cross for a tap-in, played a blind, head-height backpass to David Silva to score, and then just leathered one in from fully 30 years.
5. Zlatan Ibrahimovic (LA Galaxy vs LAFC, 2018)
What can be said about Zlatan Ibrahimovic's US debut - and indeed his entire career - that he hasn't already said himself. 3-1 down, at home, in the Los Angels debry (which is apparently a thing), on comes the great one and MLS is changed forever.
Two minutes in and his presence alone is enough to allow Galaxy to pull one back, but the equaliser couldn't possibly have been more Ibrahimovic if the ball had been covered in tattoos and started referring to itself in the third person. A volley, 40 yards from goal, that sailed both into the net and the history books with the same level of vim.
The second arrived in suitably dramatic fashion, with the game having ticked into injury time he somehow outjumped two defenders and the goalkeeper to nod in the most dramatic of winners. "You wanted Zlatan" he said in the press conference, "I gave you Zlatan".
ALSO READ Ranking the best MLS kits 2023
4. Gianluigi Buffon (Parma vs AC Milan, 1995)
Great debuts aren't all about scoring goals - unless, y'know, that's your job - and Gianluigi Buffon announced himself on the big stage with a shutout for the ages. Barely 17 years old and only 4 years after converting from an outfield player, he was thrown into the deep end against Carlo Ancelotti's all-conquering Milan side.
The game finished goalless thanks to Buffon repeatedly frustrating Roberto Baggio, Marco Simone, and Ali Dia's cousin George Weah. He might have made over 1,000+ competitive appearances after this and won every single accolade worth winning, but he'll never have forgotten his first.
3. Wayne Rooney (Manchester United vs Fenerbahce, 2004)
It's a tale as old as time. A once-in-a-generation talent bursts onto the scene with this hometown team, secures a big money move to one of the biggest clubs in the world, but the step up is initially slightly too much for them. Not Wayne Rooney though; Wayne Rooney did it in his sleep.
Noping out of David Moyes' Everton for a princely £27m, he arrived at Old Trafford still just 18 years old and promptly put Fenerbache to the sword. Two goals in the first-half -the second a delightful long-ranger – were capped off with a brilliant free-kick before the hour mark. Yeah, alright, he looks like he owns a failing chain of chip shops now but, that night in 2004, no other player in world football looked more exciting.
2. Erling Haaland (Borussia Dortmund vs Augsburg, 2020)
Bagging two goals against West Ham in his proper Man City debut (nobody counts the Community Shield) was an impressive start for Eeling Haaland. But it was nothing compared to his arrival at Dortmund.
With 55 minutes gone, Dortmund's title challenge looked in tatters as they trailed 3-1 to Augsburg. They threw Haaland on, and within 3 minutes he'd halved the deficit with a great strike from a narrow angle. 11 minutes after that, and following an equaliser for Jadon Sacho, he raced through with Thorgen Hazard for a tap-in. Before finally burting clear of the defence 9 minutes hence to complete the comeback at 5-3.
Or to put that another way, in Eerling Haaland's first 20 minutes of German football, he scored a hat-trick with his first three shots, and first 10 touches.
1. Alvaro Recoba (Inter Milan vs Brescia, 1997)
If a time traveller had appeared in the Inter Milan dressing room ahead of this game and told those present that today would go down in the annals of footballing debut history, all eyes would have immediately turned to the £20+ million Brazilian lacing his boots. But Ronaldo's debut is frankly nothing, compared to that of his fellow debutant Alvaor Recoba.
Trailing 1-0 to Brescia, the Uruguyan came off the bench and decided to have his own personal goal of the season competition in the half-hour that remained. The first, a rasper directly into the cassonetti superiori (top bins) would have been enough, but the winner five minutes from time somehow outdid it. Fully 30 yards from goal he somehow both bends and wellies a free-kick into the one part of the goal the goalkeeper couldn't reach.
Thank you for reading 5 articles this month* Join now for unlimited access
Enjoy your first month for just £1 / $1 / €1
*Read 5 free articles per month without a subscription
Join now for unlimited access
Try first month for just £1 / $1 / €1
Get FourFourTwo Newsletter
The best features, fun and footballing quizzes, straight to your inbox every week.
Adam published his first article for FourFourTwo in 2015, but didn't publish his second until seven years later in 2022. A figure that would put him near the top end of any ranking for Longest Time Between Appearances For One Club. In the time between he plied his trade as both a writer and presenter on YouTube, earning the dubious distinction of being "The James Milner of WhatCulture". Be that because he was capable of playing any role, or just because it felt like he'd been around forever, depends on who you ask. And yes, that is him from the Football Manager documentary and, no, he doesn't want to talk about it.