Inspired by Bruce Lee and earthquakes: Ranking the best MLS kits 2023 (so far)
Adidas likes to push out the boat a little when it comes to designing jerseys for US sides – and the best MLS kits 2023 are no exception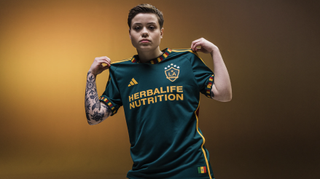 (Image credit: LA Galaxy)
A new MLS season means new MLS kits – and with the whole league sharing supplied by one manufacturer, three-stripe flaunters Adidas, that's a whole lot of new threads dropping all at once.
All strips for the 2023 MLS campaign – which kicks off on Saturday February 25 – come with a name and origin story, and we have to say it's one of the snazziest shirt line-ups of recent times.
Here, FourFourTwo has picked out and ranked the very best of a really good bunch.
Best 2023 MLS kits: 7. LAFC 2023 away
We've all reached for the fire emoji to show approval of a particularly fine-looking shirt at one point or another, haven't we? Well, with LAFC's latest effort, that blazing little pictogram feels particularly appropriate.
'No pyro, no party' seems to be the message from the reigning MLS champions, whose new 'Smokescreen' jersey nods to "the way goals are celebrated and the culture that has been built" among the club's fan base. Maybe it'll help raise awareness of Los Angeles being one of the most polluted cities in the USA, too.
Get the LAFC away kit from Adidas – $90 (opens in new tab)
Get the LAFC away kit from Sports Direct – £69.99 (opens in new tab)
6. New England Revolution 2023 away
New England Revolution's 'Defiance Kit' follows the theme of #deep backstories which runs through this year's MLS strips. "Acts of defiance shaped New England into what it has become today," reads this jersey's accompanying blurb.
We don't need to know that to realise that this is one snazzy-looking kit, though. The 'I've spent way too much time in Microsoft Paint' vibe given off by the (sort of) sash just works.
Get the New England Revolution away kit from Adidas – $90 (opens in new tab)
5. LA Galaxy 2023 away
Local flags are a running theme of the 2023 MLS kits, and LA Galaxy have gone all out with their simply-named 'LA Kit'. In a bold move, the five-time champions have swapped their regular white home colours for vibrant pine green.
The tricolor trim completes the Galaxy's stylish new look, which will be donned by the likes of Javier Hernandez and Riqui Pig this term.
Get the LA Galaxy 2023 away kit from Adidas – $90 (opens in new tab)
Get the LA Galaxy 2023 away kit from Kitbag – £70 (opens in new tab)
4. Chicago Fire 2023 away
In black and white: tyre tracks. In red, white and blue: joy. Chicago Fire's 'A Kit For All' is up there with the best of all in MLS this season.
The Fire unveiled a new badge last year, and this shirt – officially their 'secondary jersey' – is the first to integrate those colours (of the Chicago city flag) into its design. Granted, it looks a bit bare without a sponsor at the moment – but that's hardly likely to be a problem for long in a country which has commercialised the crap out of sport.
Get the Chicago Fire 2023 away kit from Adidas – $90 (opens in new tab)
3. San Jose Earthquakes 2023 away
In case the club's name wasn't a bit of a giveaway, the Californian city of San Jose is prone to earthquakes. With their new 'Active Fault Kit', the Quakes have tried to represent that in shirt form.
We think the it looks more like a mist-shrouded forest or cloud-covered mountain range – but either way, this is one of the the league's most striking designs of 2023.
Get the San Jose 2023 away kit from Adidas – $90 (opens in new tab)
2. New York City FC 2023 away
New York City FC's 'Interboro' strip is not inspired by Middlesbrough, as FourFourTwo thought, but from "the confluence of cultures" which makes the Big Apple so unique – and this design certainly stands out from the crowd.
As far as we know, the Roman Empire never made it across the Atlantic – but that sure looks like the NYFC badge in mosaic form. Topping it all off, New York City flag-inspired navy and blue trim perfectly complements the club's 'City Blue' (they have the same owners as Manchester City, after all).
Get the New York City FC 2023 away kit from Adidas – $90 (opens in new tab)
Get the New York City FC 2023 away kit from Adidas – £70 (opens in new tab)
1. Seattle Sounders
Fifty years on from his untimely death aged 32, Seattle Sounders have paid homage to legendary martial artist Bruce Lee – who gave so much to the city – with their incredible new kit named after him.
A hand-drawn dragon forms the centre-piece of one of the most captivating kit designs we've ever laid eyes on – but the the artistry doesn't stop there. Among other features, it includes a Yin and Yang symbol on the back of the collar, and Lee's signature. Phwoar.
Get the Seattle Sounder 2023 away kit from Adidas – £110 (opens in new tab)
Thank you for reading 5 articles this month* Join now for unlimited access
Enjoy your first month for just £1 / $1 / €1
*Read 5 free articles per month without a subscription
Join now for unlimited access
Try first month for just £1 / $1 / €1
Get FourFourTwo Newsletter
The best features, fun and footballing quizzes, straight to your inbox every week.
Tom Hancock started freelancing for FourFourTwo in April 2019 and has also written for The Analyst and When Saturday Comes, among others. He supports Wycombe Wanderers and has a soft spot for Wealdstone. A self-confessed statto, he has been known to watch football with a spreadsheet (or several) open...