Refs behaving badly: 9 times the men in the middle went too far
From f-word rants, to full-on haymakers, to a failure of humour: what happens when the man in the middle fights back?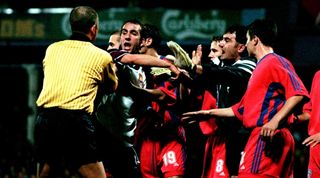 After this Russian ref got physical with a player before brandishing his cards, FourFourTwo examines the times refs have bitten back - or at least when they've been alleged to. Little double about it in the case of Saad Al Fadhli, mind you...
Kuwaiti ref goes kamikaze
The Kuwait Premier League was the scene of a real kicking off during a match between Al-Nasr and Al-Arabi in 2013.
Trouble was brewing when referee Saad Al Fadhli awarded a penalty to Al-Arabi which infuriated the home team, who surrounded and pushed the official.
They wished they hadn't: Al Fadhli swung a retaliatory, Anthony Joshua-style left hook to floor Al-Nasr player Abdulaziz Farraj. After much writhing, Farraj eventually got back up, only to receive a kick by the furious ref who subsequently dismissed him.
Al-Arabi promptly scored the penalty, but Al-Nasr's Zabn al-Enazi took out retribution by kicking the ball at the pugilistic official on resumption, earning himself a red card in the process. Al Fadhli had punched himself out and abandoned the game, which Al-Arabi officially won 4-1.
Claus Bo Larsen vs Paolo Di Canio
Di Canio claimed the referee "used bad words" against him during West Ham's UEFA Cup defeat against Steaua Bucharest in 1999.
The fiery Italian alleged that Danish referee Claus Bo Larsen had called him "a bastard" twice and said that he should be removed before he got sent off - advice quickly acted upon by Hammers boss Harry Redknapp, who knew a thing or two about difficult foreigners.
Larsen denied that he had insulted the player: "I didn't say 'get up bastard', I said 'get the f*** up'." That's cleared that up, then.
Luis Godinho: the Portuguese Mike Dean
In a Portuguese League Cup tie in January against Moreirense, Porto's Danilo was already on a yellow when ref Luis Godinho (dubbed the Portuguese Mike Dean by The Mirror) jogged backwards straight into the midfielder. Stunned by this juddering but purely accidental loss of dignity, Godinho decided to go all-out authoritarian and produced a second yellow.
After an early bath, Danilo's social media share was eloquent in its appraisal: "I have seen and reviewed the video more than a hundred times and can honestly not understand the criteria of the decision made by this gentleman."
To rub salt into Porto's wounds, Godinho then sent off Yacine Brahimi for a second bookable offence six minutes later, reducing the visitors to nine men. Unsurprisingly, they lost 1-0.
Carlos Tevez and the cheated Corinthians
Things got so bad that Corinthians hired a camera crew to film the referee during a match against Atletico Paranaense, while the officials contemplated carrying a tape recorder in retaliation.
Carlos Tevez smelled foul play after being on the receiving end of the referee's tongue during Corinthians' 3-2 defeat to Sao Paulo in 2005. He accused ref Edilson Pereira de Carvalho of swearing at him and compatriot Sebastian Dominguez, as well as claiming that Brazilian officials persecuted Argentine players.
De Carvalho later admitted he had taken money from a gambling ring to swing results, so 11 matches refereed by him were annulled and replayed. He was suspended and later banned for life.
De Carvalho's defence was that he was heavily in debt. As football's highest-paid player, perhaps Tevez can bury the hatchet and send a Chinese cheque in the post. Or not.
Dowd wipes the floor with Wigan
Latics boss Paul Jewell accused Phil Dowd of using the f-word at a number of his players as Wigan controversially lost 2-1 at the Emirates in February 2007.
The club wrote a letter to referees' chief Keith Hackett, claiming in it that a number of players were verbally abused in an aggressive and menacing manner. Jewell said: "He's telling our players to f-off and stuff, which I don't mind because it's a man's game. But then he's telling me that I'll be sent into the stands for having a go at him. It can't all be one way."
Jewell was incensed that the referee hadn't given Wigan a penalty when they were 1-0 up, and was also infuriated that Josip Skoko wasn't let back on the pitch after receiving treatment, leading to an own goal by Fitz Hall that set up Arsenal for a comeback win.
The Wigan manager was handed a £2,000 fine and a suspended two-match touchline ban. His team escaped relegation on the last day of the season after beating Sheffield United, but Jewell resigned 24 hours later, citing the stress of the job.
Atkinson tells Jagielka how to defend
Everton skipper Phil Jagielka slammed referee Martin Atkinson's attitude after Everton's League Cup semi-final defeat against Manchester City in 2016.
Atkinson failed to spot that Raheem Sterling had taken the ball out of play before pulling back to Kevin De Bruyne in the build-up to City's crucial second goal, which levelled the tie on aggregate.
Jagielka claimed he tried to approach the official but got a derogatory response: "He told me that our defending was brilliant so, er... it's difficult when things start going the wrong way and they become a little bit arrogant. But unfortunately that's the way it goes with some of them."
Former ref Graham Poll castigated Jags for talking to the media and ran to the aid of his mate, saying that Atkinson was "one of the least arrogant men I have ever met". Takes one to know one?
Deadpan Dougie Smith books Gazza
Referee Dougie Smith's Christmas spirit must have been on vacation in December 1995 at Ibrox when Paul Gascoigne returned the yellow card that the ref had dropped in a game against Hibs. Gazza being Gazza, he pretended to book Smith on handing it back, but was horrified to be handed a caution for this heinous outbreak of spontaneous fun.
One of Hibernian's players, Joe Tortolano, allegedly said to deadpan Dougie: "You're booking him for that?!" Smith's response was rumoured to be: "He's been taking the piss out of you all day, but he's not doing it to me."
The ref did have a point – Rangers won 7-0.
Graham Poll f***s out with JT
The self-promoting Thing from Tring was accused of using the f-word after red-carding John Terry in Chelsea's defeat to Spurs at White Hart Lane in 2006.
Terry was fined £10,000 for suggesting Poll had given conflicting versions of why he was given a second booking, while an FA Disciplinary Commission cleared the referee of any wrongdoing after some Chelsea players claimed that Poll said that 'they needed to be taught a lesson'.
However, Poll quit the game in May 2007, citing how he'd received little support from the Premier League over the matter and that it had taken them 25 days to come to their conclusions.
Sylvester takes an early semester
Now read...
Ranked! The best bicycle kick goals ever
31 of the funniest old player tweets
School caretaker Melvin Sylvester was refereeing the Andover and District Sunday League game in 1998 between Southampton Arms and the superbly named Hurstbourne Tarrant British Legion when one of the local players, Richard Curd, pushed him from behind.
Sylvester went ballistic: "I punched him several times after he had pushed me from behind. He then swore. I couldn't take any more. I blew my top." Thankfully, the ref saw sense enough to take out the ultimate punishment by showing himself the red card.
Sylvester was subsequently fined a whopping £20 and banned for six weeks by the Hampshire Football Association.
Thank you for reading 5 articles this month* Join now for unlimited access
Enjoy your first month for just £1 / $1 / €1
*Read 5 free articles per month without a subscription
Join now for unlimited access
Try first month for just £1 / $1 / €1