The remarkable story of Sam Schweingruber: Cambodia's death-cheating vigilante risking life to beat match-fixing
What kind of manager does this? FourFourTwo discovered an extraordinary story of phone taps, conspiracy and cheating death in Cambodia…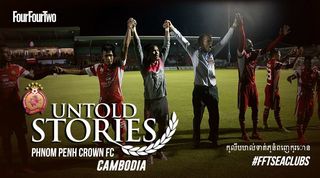 "My president told me that if I return to Cambodia, there's a 20 per cent chance I'll be killed."
When talking about the dramatic twists and turns in the life of Phnom Penh Crown coach Sam Schweingruber over the past six months, the old Bill Shankly quote about football being more serious than life and death takes on a whole new meaning.
Phnom Penh are the most successful club in the history of Cambodian football, a beacon for talented players, boasting their own stadium and possessing a dominant record that includes winning half of the league titles contested since 2002.
PHNOM PENH CROWN FC
Founded: 2001 as Samart United
Colours: Red & White
Most successful coaches: Apihist Im Amphai/Sam Schweingruber. Both the Thai and Swiss coaches have delivered back-to-back titles in recent years, the former in the 2009 and 2010 seasons, and the latter in 2014 and 2015.
Home ground: RSN Stadium, Phnom Penh
Capacity: 10,000
Perhaps just as importantly, though, they are a club with a genuine social conscience, having forged deep links with a range of Non-Government Organisations, including the outstanding SALT (Sports and Leadership Training) Academy and World Vision.
They're also one of the few clubs in the Kingdom to have taken a very public stance in the fight against match fixing and corruption.
It was that stand, many believe, that almost resulted in their Swiss-born coach being killed late last year, barely two days after the club had celebrated winning the league title for the fourth time in the past six years.
Dark days
A month before that triumph the club had been torn asunder as news broke that seven players and four staff had been suspended indefinitely for what their president and owner Rithy Samnang called "gross misconduct" involving "corruption and match manipulation".
As Samnang told the Phnom Penh Post in November, the 11 individuals were suspended for breaching their contracts "by way of match manipulation and the deliberate harming of Phnom Penh Crown's reputation".
"Honesty and integrity are the cornerstones of professional football and we will not tolerate any activities relating to the manipulation of football matches and the influencing of match results," he told the newspaper.
"Corruption and match manipulation are a poison in sport and we want football to be played in an atmosphere where supporters can trust the integrity of the players and the sincerity of the results."
The suspensions arose as a result of voice recordings the club had obtained. Schweingruber told FourFourTwo he was shocked those at the club would deliberately try to alter results.
"Even though you know what is happening in general in football in Cambodia and what can happen, it still came as a very big shock to me," he said.
"I had a sense that people were giving me the right answers to my face, but then behind my back not doing things so well and then kind of by accident we got evidence and once you heard those voice recordings it was 100 per cent clear what was happening."
Serious price of success
What happened after that, though, is not so clear.
With those players removed, including several national team stars, the team was long odds to defeat Naga World in the two-legged championship final.
But after the tie finished level at 3-3, Phnom Penh amazingly triumphed on penalties, with 18-year-old goalkeeper Keo Soksela – drafted in as a result of the suspensions – saving two crucial spot-kicks.
LEADING FIGURES
Rithy Samnang: The president who has overseen a period of sustained title success while also leading the fight against corruption and match fixing.
Ly Heang: General-Secretary of the club for the past three years and another who has held firm in the ongoing fight against match manipulation.
Sam Schweingruber: Switzerland-born coach and general manager who led the team to back-to-back league titles over the past two seasons.
Two days after the match, Schweingruber was celebrating with his brother and some other friends when he was involved in a motorbike incident on his way home.
No official report has been made public and Schweingruber has no memory of what happened, but there have been strong suggestions this was not merely an accident.
In Cambodia, as is the case in much of Southeast Asia, it's easy to make 'problems' disappear and there's no question that Schweingruber and the club had upset a whole range of people in the fight against corruption.
Whatever the reasons, the facts are this: Schweingruber was rushed to a local hospital where he stayed for several days in a critical condition before things worsened and he was evacuated to Bangkok.
Drifting in and out of a coma-like state, those close to him were told to expect the worst. Then, remarkably, against all odds his condition started to improve; so much so that he was allowed to return to Switzerland and enter a rehabilitation facility in mid-January, where he was expected to remain for several months.
Get me out of here
As he exclusively told FourFourTwo it was an experience that made him re-assess his life and remain more determined than ever to rise to the challenges placed in front of him.
"I really remember very little of my time in Thailand except that I was always thirsty, always wanting to drink some kind of juices.
"They stopped me because I was drinking too much but I still managed to sneak into the kitchen early in the morning and find some.
"Then, when I got to Switzerland I was put in this facility with other patients with serious brain injuries, but I realised that's not where I wanted to spend my days so I decided to do everything I could to get out of there.
"I had to learn to walk again and I couldn't really eat but they started giving me little challenges and I passed. Then I asked for more and more and I kept passing everything and improving so quickly that I was soon allowed to leave."
CLUB CREST
The next challenge was one that his family and friends were firmly opposed to – returning to Cambodia to be with his five-year-old son.
Despite those protests and the concerns of doctors who insisted that he not sleep on the flight, he booked his ticket and returned to the land he has called home for more than a decade, and a club that he holds dear.
"Nobody wanted me to return until I explained to them what my life is about, and who I am, and football, and that this club is a part of that.
"I'm not finished trying to change the future of Cambodia and I see the club as being a tool in how we can do that," Schweingruber tells FourFourTwo barely two weeks after returning to the country.
Not many, however, would take the risk that the coach feels he has in returning to a land where his crusade to clean up the game has made him many enemies.
"I've risked my life to come back but my son lives here and I have nothing else.
"People have told me that I'm in danger and that there are people who may look to kill me, but I didn't give it a second thought as this club has the potential to change how people look at Cambodian football."
Lucky escape No.2
Remarkably, this was not the first time Schweingruber has cheated death, having only cut short a Phuket holiday on a whim two days before the devastating tsunami struck in 2004, killing more than 4,000 people.
Those experiences that have driven him to keep up – with the backing of the club – his fight against the demon of match fixing that has been rife within Cambodian football for many years.
"There are certain levels of manipulation and levels of cleaning up the truth. It's organised by very big people and covered up and protected by very big people.
"I don't want to get killed and so I can't say too much but this is a problem in many levels of Cambodian society," he says.
It's that commitment to eradicating the scourge of match-fixing that's made Phnom Penh Crown's success even the more remarkable. They have consistently weeded out any suspicious elements, when they know most around them are either turning a blind eye or encouraging such behaviour.
While the four coaches the club suspended received league-wide bans, the seven players cut from the side have been free to both take up offers with other clubs and continue their international careers.
It's an unedifying process that makes those running Cambodian football look conniving, and one which it is hoped both the AFC and FIFA continue to look at more closely.
The end result of those recent changes has been that Phnom Penh Crown have been forced to start the current season with a vastly inexperienced squad and promote several of their academy prospects much earlier than they would have liked.
As Schweingruber admits it will make for a tough year ahead.
"When we started to see the full picture and heard planning on recordings about what was happening last year, we had no choice but to blow things up and start again, even if it would impact on the team.
"There are some great young players but now it's a question of whether they are ready because we have also been the only club trying to destroy age cheating, so we'll see.
"We can be champions but it won't be easy. Yet at least we know now that the players are working for the club and not against it."
With the Swiss mentor in charge during the title-winning seasons in 2014 and 2015, he's both a bridge to the past and a link to the future. Yet with the club appointing Spaniard Oriol Mohedano as coach during the period when Schweingruber was hospitalised, it's not yet clear how that dynamic will play out moving forward.
Sure is that the work Schweingruber has done to promote not just football but also opportunities for Cambodian youth generally is something that ought to be known to a broader audience.
After finishing his playing career as a player/coach in the country in 2006, he spent much of the ensuing decade establishing and nurturing programmes that help educate unprivileged youth, especially girls, through the vehicle of football.
He then took the reins at Phnom Penh in 2012.
"I know I'm not the best coach in the world but what I do is I care deeply about this country, this club and this team.
"I speak the language fluently and hopefully will shortly become a citizen, I want to stay and help these players and this team to be recognised for all the work they do.
"Inside Cambodia people might think we are a rich team because we have our own stadium and success but we are fighting to do things in the right way and the president and the club deserve to be seen for doing this.
"Some people would give up because of almost dying and the potential threats that I face, but this is not just a job or a career, this is something different, something bigger than that."
Photos courtesy of Phnom Penh FC unless specified. This feature originally appeared on FourFourTwo Singapore.
Quizzes, features and footballing fun
Get the best features, fun and footballing frolics straight to your inbox every week.
Thank you for signing up to Four Four Two. You will receive a verification email shortly.
There was a problem. Please refresh the page and try again.