Replacing one with many failed Liverpool and Spurs – but history proves it can work
When Inter shipped Zlatan Ibrahimovic off to Barcelona in 2009, Jose Mourinho used the money to transform the Italians into a Champions League-winning force. Hassan Cheema assesses where the Portuguese got it right – and why the English sides have so far struggled to emulate him...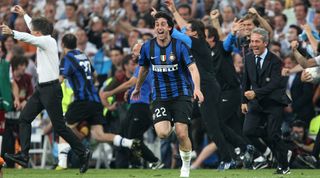 "I don't think we are under pressure. Probably not as much as a team that spent £100 million and must have been hoping to challenge for the league this season."
"It shows you that when you have someone with an X-factor, sometimes eight, nine or 10 players can't replace that."
The words of Brendan Rodgers over the course of last season, referring to Tottenham's sale of Gareth Bale and Liverpool holding onto Luis Suarez. They're the words that are being used as the stick to beat him with today.
It's now said that Liverpool learned nothing from the summer Spurs had last year, repeating the north London club's mistakes. After all, buying a bunch of players to replace your star never works.
Except sometimes it does.
Inter the history books
MOU'S SUPER SIX
Diego Milito (£22m, Genoa)
Samuel Eto'o (£17.5m, Barcelona)
Wesley Sneijder (£13m, Real Madrid)
Thiago Motta (£9m, Genoa)
Lucio (£6m, Bayern Munich)
Goran Pandev (free, Lazio)
The depth of a squad and the consistent competence running through it is a necessity in modern football. Southampton so far, perhaps with a favourable fixture list, have shown that it isn't all doom and gloom if you have to sell your best player(s). But one example above all others points to how the sale of your talisman can be a catalyst for even improvement.
From Calciopoli until the summer of 2009, Inter ruled the roost in Italy. They won three consecutive scudettos, yet they never even reached the quarter-finals of the Champions League.
Their team was built around, and built for, Zlatan Ibrahimovic – and when they failed on their nights in Europe it was he who bore a disproportionate amount of blame.
Thus his transfer in 2009 made sense for all parties. Inter would get Samuel Eto'o and bags of cash, Barcelona would have their Plan B, and Zlatan would finally play for a team that could complement his talent and fulfil his ambitions. Everyone was a winner.
Nine months later, when the two sides met in the Champions League semi-final it was obvious who won that transfer.
Ibra was brought off after an ineffectual hour in both legs, Barca struggled to break down a deep Inter defence – exactly what they needed the Plan B for – and Inter went through with a core funded by Zlatan's transfer.
Inter bought more than half a dozen players that summer. Four of those – Diego Milito, Wesley Sneijder, Eto'o and Lucio – started at least 35 games that season. All four would start the Champions League final in May 2010, as would Goran Pandev (signed in the winter transfer window that season). A sixth, Thiago Motta, was suspended but had started four of of Inter's six knockout games up to that point.
Half of the outfield players that started at the Bernabeu for Inter's greatest achievement in technicolor hadn't even been Inter players for 12 months. Each transfer made sense individually and for the system. Rarely has a club managed to nail so many transfers in a single summer.
The reasons for that were quite obvious. The moment Zlatan looked to be out of the door it was obvious that Jose Mourinho wanted a return to the 4-3-3 he'd had so much success with at Chelsea.
Every player was signed to complement that, yet in signing both Milito and Eto'o he made sure that when he needed to revert back to the diamond he would have that option. And in signing Motta and Lucio he made sure that the defensive units of the team were strengthened too.
Age: not just a number
Three of the six big transfers were signed from within Serie A; the other three (Eto'o, Sneijder and Lucio) could all easily be classified as world-class players. All six of the players signed were at least 25-years-old.
None of the big signings were "projects"; they were experienced, high-quality players who could adapt quickly and fulfil Mourinho's aim of winning immediately.
And those are the lessons Spurs and Liverpool should have learned. And yet all but one of Spurs' signings last summer were 25 or under; as were six of the eight signings Liverpool made (along with getting the 20-year-old Javier Manquillo on loan). The three ex-Southampton players aside, all 12 of the players Spurs and Liverpool brought in over their respective summers came from clubs outside of Britain.
That is said not to peddle the Premface line that this league is somehow a level above all others, but to point out that moving to a new club may be a more difficult proposition than football management games would have you believe.
And while youth has its own charms it's still incredibly rare for a young sprightly team to actually reach their potential. Those that saw the Newcastle and Leeds teams of the early noughties would point out how reaching the Champions League, or even a title challenge, is no guarantee for long-term success.
But perhaps these are early-season knee-jerk reactions. Liverpool's transfers are still more in tune with Inter's than Tottenham's were. With Divock Origi on loan at Lille, four of the eight players brought in by Liverpool at least have Premier League experience (compared to none of the seven for Spurs last year).
And of the four with no experience, three (Emre Can, Manquillo and Lazar Markovic) were clearly signed as back-ups to begin with. Spurs, meanwhile, tried to create a whole new team, beginning with the first XI.
Liverpool, much like Inter, also have a manager who has the support of the boardroom and the terraces, and someone who will be allowed the time to falter and correct himself over the course of a season.
And while the Reds are struggling with deep defences this season, as was expected, their signings – particularly Markovic, Mario Balotelli and Rickie Lambert – were signed to combat this problem. Thus, much like at Southampton, it's not all doom and gloom at Anfield either.
And as a final reminder, Inter too had a slow start to 2009/10. They took until their seventh match of the season to go to the top of Serie A, and won only two of their six group games in the Champions League.
But this team – who hadn't beaten anyone decent for years – saw off the teams who would become the champions of Spain, England and Germany that season en route to becoming the only Italian team ever to achieve the treble.
As always, it's better to wait until Christmas before making sweeping statements. Just ask Alan Hansen.
Quizzes, features and footballing fun
Get the best features, fun and footballing frolics straight to your inbox every week.
Thank you for signing up to Four Four Two. You will receive a verification email shortly.
There was a problem. Please refresh the page and try again.