Louis Saha exclusive: Ruud van Nistelrooy made Cristiano Ronaldo cry at Manchester United training
published
Louis Saha has told FourFourTwo that he never fell out with Ruud van Nistelrooy, despite sometimes taking his place at Manchester United.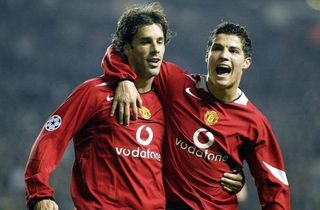 The former France forward scored 42 goals for the Red Devils from 2004-08 and was part of one of their most successful sides, winning two league titles, the League Cup and Champions League.
His appearance in the 2006 League Cup Final victory over Wigan came at the expense of Dutch marksman Van Nistelrooy, who was believed to have fallen out with manager Sir Alex Ferguson and left the club for Real Madrid a few months later, having scored 150 United goals in 219 games.
However, Saha insists he maintained a good relationship with the Netherlands international, explaining in the new issue of FourFourTwo: "He was always really nice with me; he maybe had a problem with the choice made by the manager, but never with me. He was obsessed about goals, and I respect that.
"I know some people said I maybe pushed him to a move away from the club, but that's totally bollocks. He was such a good player – he just had an issue with the manager – and I was maybe good enough for the manager to replace him, but I could have played with him, too."
Saha also admitted that Van Nistelrooy once made Cristiano Ronaldo cry after a row at training, and praised the Portuguese's ability and commitment to become one of the world's best players.
"Ruud had that kind of ego: he wanted all the passes," continues Saha. "And sometimes, for the development of Cristiano Ronaldo and Wayne Rooney, it was difficult for the manager to deal with.
"Did Ruud make Ronaldo cry? Yeah, there were stories because I think they ended up in an argument at the moment when Cristiano's father had passed away, so it wasn't the right moment. Things like that happen when two players have lots of spirit, but I'm sure Ruud regrets some of his words.
"Cristiano was just an animal. I don't know if you can say that he was a human! You could see from when he was 18 or 19 that this guy was not normal.
"These players who have all the ability recognise that it's also about working harder than anyone – not just talent. The top seeds in tennis don't hit the ball better or have better technique; no, they work harder than anyone, and Cristiano did that."
Read the full interview with Louis Saha in the December 2019 issue of FourFourTwo magazine. In a managers special, Rafa Benitez gives us the lowdown on Liverpool, Mike Ashley and Real Madrid, and former Ostersund miracle-worker Graham Potter outlines his ambitions with Brighton. We also catch up with former England boss Sven-Goran Eriksson, who shares his 10-point plan to ensure success in the dugout, and hear how ex-Rangers and Leeds defender David Robertson ended up in a war zone leading Real Kashmir. Elsewhere, we remember the darkest hours that helped Alex Ferguson, Arsene Wenger, Brian Clough, Carlo Ancelotti and more forge incredible careers, find out why Diego Simeone became one of the decade's most decorated managers, and hail the maddest gaffers of all time.
Thank you for reading 5 articles this month* Join now for unlimited access
Enjoy your first month for just £1 / $1 / €1
*Read 5 free articles per month without a subscription
Join now for unlimited access
Try first month for just £1 / $1 / €1
Quizzes, features and footballing fun
Get the best features, fun and footballing frolics straight to your inbox every week.
Thank you for signing up to Four Four Two. You will receive a verification email shortly.
There was a problem. Please refresh the page and try again.