Sam Allardyce: What attracted Okocha, Hierro and Djorkaeff to Bolton? Me!
"My ambitions? To win the Champions League, the Premier League and to be England coach"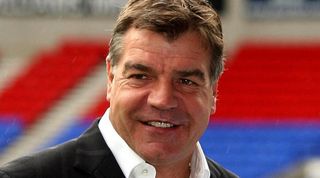 The man universally known as 'Big Sam' is an intriguing mixture of old-school attitude and cutting-edge modernity. It's fitting, then, to walk through the Reebok Stadium's steel-and-glass reception, past rooms where boffins analyse match data behind locked doors, to find Allardyce supping a cup of tea in the manager's office.
Behind an oak desk emblazoned with an impossibly large BWFC badge, underneath signed evidence of Wanderers' heritage and beside a mini-fridge with drinks both soft and hard, Allardyce seems comfortable with his past – the elongated playing career (much of it at Bolton), the slow but steady rise up the managerial ladder – and focused on the future. The stream of people who pop their heads in to see him are all politely but firmly turned away as he gives us twice as much time as requested to set out his worldview.
Do you agree that the best moment of your playing career was your 40-yard headed goal against Sunderland?
Neil Kateley, Ealing
[Laughs] Yes. I actually scored a real 35-yarder against Orient at Burnden Park; we took a quick free-kick and I just let fly – everyone admitted they'd said, "What's that big devil doing there?" and then it was "Oh, great goal Sam!" – but only the fans at the game can remember it. Because the Sunderland one was televised, people remember it from way back in 1975 – it's stood the test of time, like a good song. Back then it was from about 18 yards out but it's got up to 40 now!
Which modern player most reminds you of yourself as a player?
James Lester, Belsize Park
John Terry, for his strength, heading ability and reading of the game. Obviously he uses the ball a lot better than I ever did, but the most important thing for a central defender is to destroy the opposition's attack and he's capable of doing that against anybody in the world. Like I did, he'll score six goals a season from set plays, and he's as brave as a lion: he'll stick his head where it hurts, he doesn't see the danger, he's just committed to winning that ball. He accepts the cuts and bruises.
Did heavy pitches and less protection from refs make the game more even in the '70s?
Ste Kearney, Bolton
The biggest difference was that it was slower. When I played, we used to look back at older games and say how slow they were; we thought we were incredibly fit and played at a ferocious pace but when I look at my old games now they look so slow. In my day, you could always knock it back to the keeper. He didn't have only six seconds to get rid of it so he'd give you a breather.
These days, clubs use the multi-ball system to quicken it up when the ball goes out and referees rush players who are walking to take a free-kick. I suppose this country likes it fast and frantic, but the result is that you get more long balls than when I played. Most of that is because you can't roll the ball out, pass it around and knock it back if you're in trouble; now, the keeper launches it and your lads will sprint up and try to win the knockdown.
Wouldn't players from the '70s see a crafty dive as an insult to their masculinity?
Steve Stavrou, via e-mail
No, it used to happen then. If a player was fouled and thought he could score a goal, he'd try to stay on his feet and score, but if he was half-felled and knew he'd run it too far he'd go down. I think foreign players have brought a more exaggerated theatrical form than in my time – the twirl, the twist and the roll-over – but players used to go down on the sly and nick a penalty just the same.
Did you work as a builder in Tonge Fold, Bolton, one summer in the '80s? Or was I duped, by my dad, into getting someone else's autograph?
Andy Bowles, Willenhall
Yes! I'd set up a building company. I was turning 30 and thought 'What after football?' I'd started my coaching badges at 27 or 28, but the odds are against you... there are 92 clubs who each have a squad of 18 players but when you retire there's one manager, one first-team coach, maybe an assistant manager, reserve-team coach, youth-team manager and that's it. So I started a company. We'd buy old terraced houses, put a gang of workers together and modernise them. During the season, my job was the financial side: I'd find  the buyer, look after their mortgage, solicitors and building society, and move them in. But in the summer, if they were a bit short of men, I'd go and knock a wall down or do a bit of clearing out.
Who's the best player you've ever played with? Who's the best you've ever managed?
Matt Wilson, via e-mail
The best I've managed is this group here, the younger end especially – Kevin Nolan and Nicky Hunt have been very good in establishing themselves. Individually? Jay-Jay's a trickster, Fernando Hierro was the best passer in the club's history, then there's the Diouf-man, the ultimate talent.
The best I played with had to be Frank Worthington. He was so flamboyant, and he won the Golden Boot scoring 26 goals for a small-town club. He should've played for one of the big clubs. He was very dedicated – he played until 40. It's a shame his off-pitch antics put the big clubs off.
How did you make your move into coaching?
Dave Higgins, via e-mail
In 1989, my playing contract at West Brom was up, and Brian Talbot asked me to be player-manager of the reserves. That helped my development, and Brian moved me up to first-team coach but we both had to leave after Tim Buzaglo's hat-trick for Woking at the Hawthorns [January 1991]. I plummeted into the dark world of no football for the first time in my life, which was mentally disturbing. Many times my wife caught me just staring into fresh air.
Thankfully I got a call from my old team-mate Mick Walsh, who'd taken over at Bury and badly needed help. I worked through to the end of the season part-time, helping them to get into the play-offs, but they were so skint I wasn't getting paid. We lost in the play-offs – strangely enough, to Bolton – and Bury had to cast away any decent player they had. I went to Preston, worked as youth coach, and was made caretaker-manager but I didn't get the job, much as I'd have liked it, so in the end I had to leave the country to join Limerick.
Any truth in the rumour that you used to walk round Limerick with a priest, collecting for the club?
Exiled Trotter, County Longford
It's true. On a Friday night, when we had no money coming in from gate receipts, the chairman – Father Joe Young – and I would walk around with buckets, asking passers-by for money. We had no cash, but we still won the championship in my first season. Then I left to work in England.
Is it true that as Blackpool boss you lost the 1996 play-off semi–final to Bradford after saying: "We can order the Wembley suits"?
Bern, Rossendale
We didn't order any suits. What the club did was to print the Wembley tickets and a map in the programme for the second leg, which was a ridiculous thing to do even after winning the first leg 2-0. We should have got promoted – we went into the play-offs five points clear in second place. I tried to get two players in before the deadline, but I couldn't get hold of the chairman [Owen Oyston] as he had a court case. I was blamed for something that was not entirely my fault. I'd asked for a board meeting to plan the next season, but I was called in the day after the play-off loss and sacked. With the chairman in a prison cell, I felt the decision wasn't legitimate. Along with hanging up my boots, it was the biggest disappointment of my career.
It was six months between being sacked by Blackpool and taking over at Notts County. What did you do?
Paul Taylor, Wandsworth
When I was at Preston, manager John McGrath told me to stay in the game in any way possible, because once you're out, you're out. So I went to Sunderland to work for Peter Reid with the academy. By the time the Notts County job came up, I had much more experience, but I couldn't keep them up in my first year and I feared for my job. The next season we blitzed the division in record time – nobody has ever won a championship as quickly.
When you sold teenager Jermaine Pennant to Arsenal, how good did you think he'd be?
Adam Hunter, West Midlands
Jermaine has underachieved for all his talent, but the Premiership isn't all about talent, it's about what you've got between your ears. He's lost his way on occasion, but I hope that being in jail has taught him a lesson about life. People can easily abuse their talent, take it for granted, then go through life thinking, 'What if?' Steve Bruce can potentially produce a great player, but the player has to show 100 per cent dedication; it's all down to him as to how much he achieves in the game.
If you hadn't left Notts, where could you have led us to? Could you have done the same with us as you have with Bolton?
Matthew Taylor, Notts County fan
No, the chairman wouldn't have allowed it. There wasn't enough finance. When we were in Division Two and doing well after 13 games, I felt we needed a player or two, but the chairman told me we ought to sell. That told me there was only going to be a downward spiral at the club. I believe the chairman was hindering the club's chances of promotion, which was hindering my career progress – that was one of the main reasons I resigned in the end.
When Tranmere beat Bolton in the 2000 League Cup semi-final, John Aldridge provocatively celebrated in your face. How close were you to smacking him?
Damian Cook, Nottingham
If I'd been a lot younger I probably would have reacted differently – but not on the pitch, maybe in closed quarters after. Every dog has his day, but you don't ever forget. John Aldridge was way, way out of order jumping around like he did in front of us. They deserved to beat us over the two legs but there was no need for that. The year after that, we went back and turned Aldridge over then got promoted. Now I'm managing in the Premiership and he's doing Merseyside radio, so I think we know whose management style's the best.
Ever get woken up at night by dreams of Dean Holdsworth blazing over against Villa at Wembley in the 2000 FA Cup semi-final?
Neal Sampson, Birmingham
Yeah. If ever one man was going to clinch us a place in the FA Cup Final – the last FA Cup Final at Wembley, where Bolton had also won the first – it was him. It seemed like destiny. Eidur Gudjohnsen went down the line and – this is how vividly I remember it – I'm going "Don't shoot, Eidur, please" because he was on a tight angle. But he dropped this ball to Deano and... [look of horror as the image of Holdsworth missing replays in his mind] I remember falling to my knees thinking, "That's it. If he misses a chance as simple as that, it's not going to be our day." Poor old Deano still gets stick for missing.
What do you think of Barry Knight, who refereed your 2000 play-off semi-final second leg at Ipswich so 'unusually'?
Tony Mooney, Bolton
Bordering on criminal, that was. Do I still hold a grudge? Oh yes, you never forget the worst refereeing performance in the history of football. Two red cards, three penalties and 10 booked, yet Ipswich didn't have one booking. When I was hauled in front of a tribunal for what I'd said on TV, I presented an edited video for my defence and you could see how embarrassed the tribunal was by his performance. Barry Knight lost it, completely lost it.
What they don't understand is that if a player reacts badly it's often down to the referee. My players play under my rules and my discipline, but when they walk over the white line, the referee takes over. If he can't referee correctly, if he constantly provokes players with wrong decisions, you're going to get a reaction. Referees are sometimes more responsible for player reaction and crowd violence than players. They won't accept it, but that's how much responsibility lies in their hands. So I'm pleased they've become professional.
Painful as the defeat by Barry Knight at Ipswich was, do you agree we were better waiting that extra year for promotion?
Jeff Hughes, Hall i'th'Wood, Bolton
No. We had a really good team. After the defeats in the cup semis, they wrote us off as contenders but we went the last 10 games unbeaten to get into the play-offs. Today we're a fantastic side, but if we'd gone up a year sooner, we'd have had £20m Premiership money and there'd have been no need to sell Eidur for £4m, Claus Jensen for £4m or Fishy for £850,000. It begs the question of what we might have done.
Why did you get rid of the 'tache? Was it the porn-star jibes?
Ste Kearney, Bolton
Moustaches are an Allardyce family tradition – my brother's got one, my dad, his dad and his dad – so I grew up with 'taches everywhere. But there were too many grey bits coming in mine. I didn't mind the jibes – I looked like a '70s porn king, so it showed that I was handsome once!
What attracts players like Okocha, Hierro, Djorkaeff, Campo and Jardel to Bolton?
Daire MacKenna, via e-mail
Me, initially. It might sound big-headed, but I'm the salesman, and one of the biggest sales pitches is the Premiership. Then it's how you portray the game and how they'll fit into your team. If they like that, they come and see the stadium – pound for pound, the best in the country.
Since you ate them when Bolton won their first Premiership game 5-0 at Leicester, and I don't want to find out from experience, what do sheep's knackers taste like?
Neil Kateley, Ealing
[Pulls face at the memory] Not very nice, not very nice at all. I'll say this: it needs plenty of sauce. And a good chef.
What happened to Michael Ricketts? Did he go Billy Big-Time after playing for England?
Tony Gaskell, Manchester
The dedication needed to be at this club is laid down in our code of conduct which everybody buys into. Michael couldn't conform to that. Then some agent started promising him something better than Bolton.
That's a danger for all good players today – listening to people they don't know. The people who know a player best are himself, his parents, the girlfriend or wife, then the manager. For 10 months a year, we're in each other's pockets 24/7 – we're with each other more than at home – but they'll ignore all advice and choose an agent who's good at talking about what he can get them. I always say, "Can he promise you it? Can he put it in writing? If so, fair enough; if not, it's not true."
At that time, Michael was scoring more Premiership goals than any other English centre-forward – in a struggling side. Through the media, I encouraged Sven to pick him and I was very, very proud when it happened. From then on people see the decline, but it had started before then.
Why did you stand in the centre circle before the game at Norwich last season for half an hour on your mobile phone?
David Bailey, Norfolk
[Laughs] I'd forgotten to ring my wife, Lynne. I always talk to her the day before the game, but it had slipped my mind. I needed to find somewhere quiet and once we get the team sheet there's nowt for me to do so I nipped out and gave her a call.
You're famous for getting the best out of underachievers like Kevin Davies. How?
David Hare, via e-mail
I understand the person and I understand the complications prior to him coming here. I find out the style of management that will suit his personality and his style of play. We analyse the individual and encourage him to do the best he can, focusing on his strengths and not spending so much time on his weaknesses.
How many packs of chewing gum do you get through in a game?
Nick Grant, Merthyr Tydfil
Three on a good day, five on a bad day. I reckon I could out-chew Fergie. My wife tells me off because of the way I chew sometimes – "It's not nice to look at" – but in the heat of the moment I don't care how I look, I'm concentrating so much!
If you were given a blank cheque rather than relying on underachievers and freebies, which player would you sign?
Joe Butler, via e-mail
Andriy Shevchenko, because he'd probably score more goals than anybody else.
You almost went to Newcastle last year. How would you have dealt with the Bellamy-Bowyer-Dyer incidents?
Mag Hag, via e-mail
Like everyone else, they would have signed a code of conduct, so when they step out of line, they're punished accordingly. And if it's gross misconduct you're looking at the ultimate – you'd have to sack them.
How far can Bolton go?
Matt Salts, Colliers Wood
Depends how much you want to spend. To go above sixth is a big step. Other clubs will spend more and overtake you. Aston Villa, Newcastle, Boro, Spurs, Everton, Liverpool all spent millions more than me in the summer. They're spending to compete at our level. We might have got better, but others might have improved by more. We'll have to wait and see.
You've said you can't achieve your ambitions with Bolton. What are those ambitions and which club would you most like to manage?
Alistair Mavor, via e-mail
To win the Champions League, the Premiership and to be England coach.
If Sven walked now, would you take the job?
Anth Moore, Surbiton
If people consider me for it, yes, I would be very, very interested indeed. I'd love to be interviewed, but I have to keep doing well to get in the frame. When Roy Hodgson started at Blackburn he was held up as an Englishman who'd learned all the better stuff abroad and should manage the national team. Eighteen months later he was sacked and never heard of again. It's a myth, anyway, that foreign managers are better. We've created this image that they do it much better than us but we're on a par – in some cases we do things better.
What would you do to restore confidence in the England team for Germany 2006?
Simon Burdett, via e-mail
Sven's still in the job so it's hard to answer, but I'd probably do what he'll be doing now – instilling the confidence to beat Austria and Poland. Once that's done, it will bring the confidence back and all that's happened recently will soon be forgotten. Then it's about planning and preparation for the 2006 World Cup and making sure the players are as fit as possible to take on the task of going further than they've got before – to the semi or the final.
You've played 4-5-1 for years. Having seen the Wales game, would you have done anything differently in Northern Ireland?
Liz Bennett, Bristol
I possibly didn't see the need to play that system against Northern Ireland; going back to the system they're used to would have been a better way of getting a result. But it's down to players, not the system. There's no point saying they were playing out of position because they weren't – it's only pressmen saying that. Gerrard played six positions for Liverpool and they won the Champions League. Lampard does it every week. Wright-Phillips is playing the same system at Chelsea. Rooney plays wide left or right for Man United. Beckham wanted to play there. The back four wasn't playing out of position. The goalie wasn't playing out of position. There's only one player it might not have suited and that's Michael Owen, but he wasn't match-fit anyway – if it'd been me, I wouldn't have picked him.
Could you ever see David Beckham being able to play the holding role behind the midfield for England?
Trevor Shiletto, Cambridgeshire
He was excellent in that role. Beckham wasn't anything but a success. The amount of ball he had was huge. The problem was the ones he was passing to, who were crap.
Some say Sven's in awe of Beckham. Ever been in awe of one of your players?
Steve Hague, Chesterfield
[Chuckles] No chance. [Laughs out loud at the thought of it] Not a chance.
Interview: Gary Parkinson. Portrait: Jason Lock. From the November 2005 issue of FourFourTwo. Subscribe!
Quizzes, features and footballing fun
Get the best features, fun and footballing frolics straight to your inbox every week.