Spalletti ideal for Milan's malaise - but they need a transfer plan too
Falling giants Milan may turn to suave Spalletti as coach - a wise move, says Adam Digby, but other changes are also needed...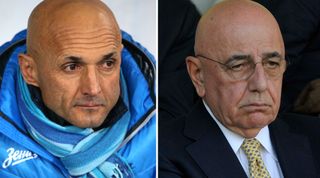 On Tuesday night, the once-mighty AC Milan were eliminated from the Coppa Italia by Lazio, their second defeat in four days at the hands of the Roman club. While the domestic knockout competition is largely viewed with disdain by Italian football's biggest sides, this season it represented the best hope the Rossoneri had of qualifying for Europe.
Having missed out this term, they can ill afford to do so again next year, both in terms of financial gain and prestige, as the reputation of this ailing giant continues to suffer.
Down in 11th place in Serie A, Milan are already a staggering 23 points behind leaders Juventus and 10 away from the Champions League places. Indeed, more telling than the fact that fourth-placed Lazio were able to leave San Siro with a win was the gulf in quality between the two sides.
Stefano Pioli proved far too savvy for Pippo Inzaghi, comfortably out-coaching him despite having a man sent off in the first half and benefiting from a well-constructed squad possessing far greater quality than Milan's.
The problems are vast and far-reaching, laid bare in a stinging statement by the club's Ultra groups this week. In it, the Curva Sud lamented "a transfer strategy made up of vastly overpaid free agents" resulting in "a low-level squad presented as if it's the best side in the world."
It's hard to argue: Milan have borrowed the likes of Fernando Torres and Alessandro Matri while watching great players like Thiago Silva and Zlatan Ibrahimovic be sold on.
Citing the restrictions of Financial Fair Play, Silvio Berlusconi has withheld serious investment, instead holding countless "crisis summits" with his club's management team which result in no action being taken.
The most recent ended with a "hip hip hooray" chant for Inzaghi, despite the coach winning just six of their 20 league games thus far. They have taken just one point from four matches in 2015, their worst start to January in 74 years.
Inzaghi is winning fewer games than Massimiliano Allegri and Clarence Seedorf, both of whom were eventually sacked. But it's hard to blame the 41-year-old: like Seedorf, he's nowhere near experienced enough to shoulder the burden he is now asked to carry.
One need only look to Roma to see the benefit of employing a coach with a history of success. The Giallorossi, who floundered under Luis Enrique and Aurelio Andreazzoli, went instead for a proven manager in Rudi Garcia.
A title-winner at Lille, the Frenchman led Roma to their best season in years, winning a Champions League berth and mounting a serious title challenge against Juventus.
Milan don't need a beginner, they need an expert. With Inzaghi's job now seemingly on the line it's no surprise to see Milan heavily linked with Luciano Spalletti.
The beguiling Spalletti
One of the peninsula's most romanticised and adored coaches, Spalletti left Roma in 2009 and his reputation has grown exponentially in exile.
A five-year spell with Zenit Saint Petersburg ended in March last year; he won two league titles and reached the knockout phase of the Champions League before his relationship with the Russian club soured.
Having risen to prominence at the turn of the century by leading Empoli from the third tier to the top flight, then guiding Udinese to a fourth-place finish, Spalletti truly made his name at Roma.
True, his four-year stint yielded just two Coppa Italia victories, but his free-flowing, constantly attacking team was simply wonderful to watch - and tactically groundbreaking.
Spalletti's Roma started life playing 4-2-3-1, which evolved through necessity and ingenuity into a hipster-delighting 4-6-0.
However, attempting to reduce a discussion of his time there into bare statistics or formations is to miss the magic that he created: as Roma poured forward in numbers, opposition defences struggled to know which players to pick up.
They perhaps peaked with an incredible Champions League victory over Real Madrid in 2008, winning both legs to eliminate the Spanish giants with some truly scintillating football.
Central to their success was a reborn Francesco Totti, winning the Golden Shoe as Europe's top scorer in 2007, playing a "false nine" role which allowed him to flourish and undoubtedly extended his career.
A stunning 6-2 victory over Roberto Mancini's dominant Inter in the final of the Coppa Italia demonstrated just how devastating that side could be, while a 7-1 mauling at Manchester United highlighted its weaknesses.
Yet Spalletti has also shown he is far from the suave devil-may-care figure his reputation suggests. Instead he is just what Milan need: a meticulous, obsessive organiser who will spend hours drawing up elaborate schemes and planning for his team's next opponent.
His time with Zenit may have ended acrimoniously, but he is still held in high esteem across the continent, by fans and those working in the game. Respected scout and former Monaco chief executive Tor-Kristian Karlsen sees him as "one of the greatest coaches in world football" and cites his work in drawing the best from those around him as one of his greatest attributes.
Discussing Spalletti further with CNN last year, Karlsen added that the coach "is able to improve individual players and teach his teams to play according to sophisticated attacking patterns. One day he will take charge of a big club, I have no doubt."
Milan's malaise
Milan could be just that, but the struggles of this once-great club go beyond coaching issues, and they are genuinely in need of an influx of talent on the pitch if they are to arrest their current slide down the table.
If they are no longer spending big, they need some sort of cohesive transfer policy. Following the summer 2012 sale of Ibrahimovic the club made a statement of intent that they would focus on youth development, a promise rendered somewhat hollow by the subsequent signings of Matri, Torres and Michael Essien.
Selling the promising Bryan Cristante to Benfica continued the theme of overlooking their own home-grown talent, although the team needs more than just blind faith in youth.
Salvatore Bocchetti has ended his own spell in Russia - the former Genoa centre-back has arrived at the San Siro from Spartak Moscow - and while his form is questionable, the 28-year-old is arguably the first signing Adriano Galliani has made in recent memory that fills a genuine need within the squad.
As the Ultra groups noted in their letter, all too often the vice-president has chased a high-profile attacker, rather than tackling more urgent issues elsewhere; this time, he's borrowed Roma striker Mattia Destro while obvious gaps in midfield continue to go unaddressed.
A coaching change, no matter how well-chosen, would only work if it was backed by signings, as Mancini has been across town at Inter. Indeed, following the signings of Xherdan Shaqiri and Lukas Podolski, there is an air of optimism around the Nerazzurri - themselves struggling in 10th - compared to their neighbours. At present Milan need substance over style; tantalisingly, Luciano Spalletti possesses both.
Quizzes, features and footballing fun
Get the best features, fun and footballing frolics straight to your inbox every week.
Thank you for signing up to Four Four Two. You will receive a verification email shortly.
There was a problem. Please refresh the page and try again.