Ten years on: How Dimitar Berbatov made Spurs – then broke them
While hindsight paints the Bulgarian's two years at White Hart Lane as a doomed relationship, it was a holiday romance that got Spurs playing the field again - as Raj Bains explains...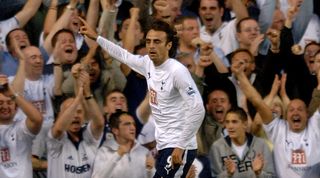 Although it might not feel like it, a decade has passed since Dimitar Berbatov joined Tottenham Hotspur.
The £10.9m purchase from Bayer Leverkusen sparked an evolutionary period at the club that is still ongoing today. And yet, away from glimpses in the Champions League – including the 2002 final at Hampden Park – and encouraging reports from Bundesliga experts, Spurs fans weren't all that familiar with what they were getting. This was a pre-Twitter, pre-podcast world, and even as recently as 10 years ago, insight into German football was nowhere near as accessible as it is now.
Fortunately, a very useful website had entered the public consciousness not long before Berbatov's arrival. YouTube offered Spurs fans some surface insight into the Bulgarian international, showcasing his flicks, tricks and goals. Berbatov was, in a way, one of the first YouTube footballers – a player discussed earnestly by his new club's fans, whose evidence was limited to five-minute show reels.
One particular clip encapsulates all that is wonderful about the man in under 10 seconds. It's his goal against Roma (above). Berbatov receives the ball with his back to goal. With his first touch, he chips it into the air. With his second, he elegantly lifts the ball over his head and past the defender. And with his third, he lobs the ball from a tight angle over the goalkeeper, completing a balletic vignette of which Dennis Bergkamp would've been proud.
This guy was exciting, all right.
A different time
In his relatively brief time at Spurs, no emotion was spared where the inscrutable Berbatov was concerned. He provoked wonder, frustration, love, anger, joy, heartbreak and ultimately hatred.
He embodied a club that itself was alternating rapidly between the sublime and the ridiculous. In one match, the striker would nonchalantly dance through cultured European defences; in the next, he'd disappear in a winnable home fixture, refusing to grace the game with his input unless the ball was put exactly where he wanted it.
That Berbatov's stint at White Hart Lane involved moments of glory and brilliance but ultimately brought disappointment is arguably poetic – not that many Spurs fans would appreciate the connection being made.
Remember, though, that this wasn't the top-six-definite, top-four-hopeful Tottenham of today but a club that had only just got back into the UEFA Cup, in an era of bottom-half finishes and overweening foreign transfers. After the likes of Sergei Rebrov, who arrived as Champions League top scorer and left as a flop, Berbatov represented the type of player that made Spurs fans wary, if not yet weary.
Martin Jol's side had just finished fifth when the Bulgarian arrived, a top-four tilt undone only by dodgy lasagne, but Spurs supporters were still more accustomed to seeing players of Sean Davis and Michael Brown's ilk in their midfield. Berbatov brought glamour.
While he started slowly in the league, the 25-year-old initially found form in the UEFA Cup, his languid style suiting the competition's more considered pace than that of the frenetic Premier League. Once he'd adapted, though, there was nobody in the division more fascinating to watch.
As Tottenham's most naturally talented player by a stretch, he was quickly and organically elevated to a position of silent authority; he demanded the ball not with a bellow, but a wand-like wave of his hand. Oh, he was arrogant, no doubt, but almost regal with it.
He formed a fine strike partnership with Robbie Keane, helping the Irishman to unlock the best form of his career. At times the two dovetailed beautifully, opposites attracting – and attracting attention.
Keane would flit around the pitch without pausing for breath while Berbatov would refuse to break into a sweat, one drawing defenders with his energy, one dictating play with a lack of it. Their understanding was instinctual, and the pair seemed to take equal pleasure from creating goals for each other as they did from scoring themselves.
Making Spurs fun again
Berbatov top-scored for Spurs in both of his seasons there. He was integral to the team – irreplaceable, even. The manner in which he played, the confidence in every touch, was infectious. His team-mates looked less fearful. Spurs fans started to believe again. Consecutive fifth-place finishes – at a time when that was seen as an achievement, not a disappointment – promised something even greater.
The climactic moment of this flourishing but fleeting love affair was the 2008 League Cup Final. A cathartic two-legged victory over north London rivals Arsenal in the semi-final, drawing 1-1 at the Emirates before running out 5-1 winners at home with Berbatov putting on a show, provided Spurs with a trip to Wembley and a chance to put aside their miserable league season.
Trailing 1-0 to Chelsea through a Didier Drogba goal, Tottenham won a penalty in the second half. Berbatov sauntered up to the spot with the composure of a man who considered missing to be beneath him, and stabbed home the equaliser. Spurs won in extra time.
While that League Cup triumph remains Tottenham's most recent silverware, it was a sign that things would soon be changing for the better. The perennial punchlines had beaten Arsenal and Chelsea, and with Berbatov in the side, they played attractive football – 'the Tottenham way', as some fans call it (not that any club seeks to associate itself with playing like farmers). The team had defensive weaknesses, but Spurs were fun again, and that seemed more important.
Berbatov's part in restoring that reputation, however, would lead to his premature departure.
The inevitable end
Manchester United were desperate to sign him. And just as Berbatov's arrival had helped to define one era at Spurs, his exit defined another. Daniel Levy began to wait it out over transfers, playing with the patience of other clubs and the Spurs fanbase, and while he undeniably fetched a good price for Berbatov – £30.75m plus Fraizer Campbell on loan, so effectively £29.75m – Levy left no time at all for Spurs to reinvest.
Having sold Robbie Keane to Liverpool in the same window and Jermain Defoe to Portsmouth eight months earlier (they'd both come back in the next window), Tottenham had to rely upon Darren Bent for goals while new arrival Roman Pavlyuchenko adjusted. There was no depth.
While it had been a blow to lose Michael Carrick to the same club two years previously, the Berbatov departure came at the end of a summer in which the club went out of its way to insist that key players would not be sold. There were complaints made to the Premier League, fines for Berbatov and Keane, and almost daily 'club statements' being released. It was heartbreaking for Spurs fans, not only to be reminded of their club's place in the food chain, but to lose a player who'd brought them such joy.
The highlights aren't easily forgotten. An equalizing free-kick at West Ham, before Spurs snatched a winner with the last kick of the game. His slaloming goal against Besiktas, turning defender and goalkeeper inside-out. The two volleys against Middlesbrough, home and away, and the fun he had at Craven Cottage, scoring another volley in one game and an audacious outside-of-the-boot lob in another, before eventually reuniting with Martin Jol there.
He scored beautiful goals against Club Brugge and Braga, Charlton and Wigan. Often, a striker is either clinical or good to watch – Berbatov was both.
The manner of his exit sullied the memories of most Spurs fans, but many still wonder 'what if?' What if he'd stayed to play in front of Luka Modric, who arrived the summer he left? What if we'd seen how he would've fared under the complete tactical freedom afforded by Harry Redknapp? What if he'd been on the end of Gareth Bale's lightning wingplay? We'll never know.
It says a lot that when Berbatov was invited back for Ledley King's testimonial, Spurs fans could put aside the disappointment for one night and remember the good times. Almost single-handedly, Berbatov taught a new generation of the club's supporters what it was like enjoy the success of an upwardly mobile team.
However, he also reintroduced them to higher stakes of crushing disappointment – and perhaps that, more than anything, is his legacy at White Hart Lane.
Quizzes, features and footballing fun
Get the best features, fun and footballing frolics straight to your inbox every week.
Thank you for signing up to Four Four Two. You will receive a verification email shortly.
There was a problem. Please refresh the page and try again.