Terry might leave as Chelsea's captain, leader, legend – and if he does it will be another unfulfilled chapter for him
Garry Hayes discusses the potential departure of one of Chelsea's all-time greatest players…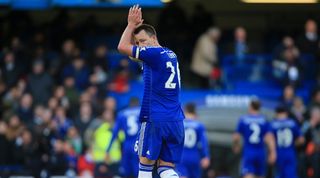 John Terry has been symbolic to the last for Chelsea. For so long he represented the dominance the club enjoyed in English football; now his potential farewell seems rather fitting for where the Blues find themselves – in the doldrums.
It's come at the 11th hour, but Chelsea confirmed on Friday that Terry has been offered a contract extension beyond this season. The club has left it the ball firmly in his court, stating he is currently mulling over his options.
Should Terry decide not to accept, it means a red card in a defeat away to struggling Sunderland will be his last contribution in a Chelsea shirt. That double booking means he's already missed the midweek draw with Liverpool and will also sit out the final home game of the season against champions Leicester.
Bye with the boos
Without putting pen to paper, there will be no hero's parade at Stamford Bridge, no fitting ending for a player who has left an indelible mark on Chelsea's recent history. Terry disappeared prematurely down the tunnel at the Stadium of Light on Saturday and it's the sound of heckling Sunderland fans that followed him which will be his last memory of English football.
"It's an anti-climax in some sort of way, but we don't all get to choose how we go out," says former Chelsea winger Pat Nevin. "If you look at the history of it, with Frank Lampard and Ashley Cole, it isn't always presented nicely.
"I remember my last game for Chelsea – we were relegated, which wasn't very nice either. It happens and you just have to deal with it. John's had many great days and they're the ones he'll remember.
"When he looks back in 20 years, it's lifting trophies that he'll remember, not an almost mockish send-off. I always found them quite embarrassing throughout my career. I'd have rather walked out quietly after doing my job."
Regrets, there may be a few
Nevin's point is a valid one. Terry's career isn't about what happens when Leicester come to town, it's everything before that represents his legend.
For a player who has achieved so much, though, that his potential departure is laced with a sense of regret continues a trend we've seen throughout Terry's time as Chelsea captain.
For all the trophies he's lifted wearing the armband – his domestic haul includes four Premier Leagues, five FA Cups and three League Cups – he would depart knowing fate didn't always deal him a fair hand. Manchester United fans in particular like to remind him of that.
"Viva John Terry! He could have won the cup, but he f***ed it up!" they sing to him, referencing his slip in the 2008 Champions League Final penalty shootout defeat.
Had Terry scored his spot-kick in Moscow, Chelsea would have been European champions. Instead he lost his footing in the rain, hit the post and it went to sudden death, where Nicolas Anelka also fluffed his lines.
Indeed, the Champions League hasn't been kind to Terry in the slightest. He felt the injustice of Liverpool's 'ghost goal' in 2005, which denied him a place in the final; referee Tom Henning Ovrebo's performance in the 2009 semi-final with Barcelona came under scrutiny as Barça narrowly made it through at Chelsea's expense.
In 2012, suspension meant he missed out on Chelsea's crowning moment against Bayern Munich. A year later, when Chelsea were lifting the Europa League trophy, Frank Lampard took the captain's armband again as Terry was sat in the stands. This time it was injury that did it for him.
Comeback kid
"John's a little bit different from your average footballer," Nevin continues. "Everyone wants to get to the top, but his desire to be there was almost psychotic. Missing those games and those moments will probably frustrate him for the rest of his life, but he's shown he's a big enough character to let go of it.
"I was in Moscow, stood behind the goal and I just thought it was a moment he would never get over. Then a few years down the line he's still lifting trophies and is still a big figure at the club.
"Nobody was annoyed with John for missing that night because he showed the heart to step up and take a penalty kick."
It's not just club football where he's suffered heartache, either. From the disappointment with how his Chelsea career is set to end, his time with England ended on a sourer note.
It was the FA's pursuit of Terry in the Anton Ferdinand racism case that saw him retire from international football aged just 31. Terry was still in his peak, on 78 caps and chasing his ton.
"I loved it up until a certain point when everything went on," he later told Jamie Carragher in an interview with the Daily Mail. "It disappointed me, more than anything. I look back on my 78 caps and I am unbelievably proud. I was captain for two spells. It is the biggest honour you can have in football. As a kid, it is the thing that everyone wants.
"I'm just disappointed with how it ended, really. I never saw myself walking away. It took something that big to say enough is enough. Once you get to 50 caps, then 60, then 70 – I had a target of 100 caps. That is all I ever wanted to do."
A ghostly record
MORE CHELSEA
Willian: All I want is to forget about this season – but Jose's not the only one to blame
What's it like to be a feeder club? How Vitesse fans really see their Chelsea partnership
Back of the Net: New Chelsea shirt will cost you your firstborn child
The debate rages on whether or not, at 35, Terry remains England's best centre-back. Swaying with the yes vote, totalling England's 41 games since his last appearance against Moldova in September 2012, there's every chance he would have reached 119 caps. That's four more than David Beckham's record for an outfield player and just six behind Peter Shilton's haul of 125.
There it is again, that feeling of anticlimax. Terry's England career should have been about so much more, but instead we're left with a sense of regret defining how it ended.
Should his final farewell in a Chelsea shirt be that red card against Sunderland, those same sentiments will form part of whatever legacy Terry leaves behind at Stamford Bridge.
They call him their captain, leader, legend along the King's Road for good reason, so the story can't end this way. It feels too bittersweet.
Quizzes, features and footballing fun
Get the best features, fun and footballing frolics straight to your inbox every week.
Thank you for signing up to Four Four Two. You will receive a verification email shortly.
There was a problem. Please refresh the page and try again.