Top 10 unlikely matches: Walk-offs, woeful warm-ups and gun-toting warfare
After Corinthian Casuals' recent trip to Brazil to face their namesakes in Sao Paulo, Aaron Fowler takes a look at some of the most unusual football match-ups...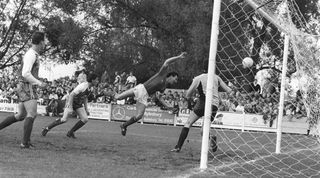 1) SC Corinthians Paulista 3-0 Corinthian Casuals, January 2015
The Ryman Division One South side were treated to a heroes' welcome when they faced namesakes Paulista in Sao Paulo, 100 years after they were supposed to play before the outbreak of the First World War. 
The Brazilian giants were formed after a tour of the area by Corinthians FC in 1910, which inspired the locals to form their own football team.
This tribute match was played in front of 37,000 fans at the Arena Corinthians in Sao Paulo, and the Casuals produced a determined performance, holding their hosts to 0-0 for more than an hour.
Casuals top scorer Jamie Byatt had a goal disallowed for offside, before a deflected Danilo strike and two from Luciano in the final 15 minutes secured a comfortable 3-0 victory for the hosts.
"It is impossible to really put into words what we experienced, but in front of such a crowd on such an occasion, you have to stand back and try to take it all in," beamed Casuals boss Matt Howard.
"There must have been over 1,000 locals there just to see us train. You won't find many players excited about the prospect of training, but this trip was always going to be a little different."  
2) Brazil 2-0 Exeter, July 1914
In the summer of 1914, Exeter City, then members of the Southern League, travelled to Argentina to play a series of games and help spread the word of football in South America.
On their way back the team stopped in Rio de Janeiro to play three friendlies, the last of which against a team combining the best players from Rio and Sao Paulo. And thus, the Brazilian national side was born.
Approximately 10,000 people watched the game, which the Brazilians won 2-0. According to local reports: "The spectators went wild, waving hats and walking sticks, and in the stands ladies and young girls waved handkerchiefs, shouting hurrahs."
The press slammed Exeter's physicality, and the game was almost abandoned after four players left the pitch in disgust. "Realising their match fee might be affected, they returned," chuckled Brazilian player Lagreca. 
3) Real Madrid 2-4 Nelson, May 1923
Who was the first English team to defeat Real Madrid on home soil? Manchester United? Liverpool?
Not quite. It's Lancashire non-leaguers Nelson, currently of the North West Counties Football League.
Before the 1923/24 campaign, after gaining promotion to Division Two, the club set off on a tour of Spain to face Los Blancos, Racing Santander and Real Oviedo. And, thanks to Dick Crawshaw's brace, the unassuming Englishmen romped to a 4-2 victory at the Campo de Ciudad Lineal.
It wasn't a sign of things to come: Nelson finished 21st in the Second Division and were relegated.  
4) Marine FC 2-5 Nigeria, August 1949
Nigeria toured Britain in summer 1949, playing nine of the country's top amateur teams. The trip was intended to demonstrate what a fine job the British were doing in the colonies, producing good men who could play fair. 
"The main reason the administrators organised the tour was to show that they were successful inculcating Nigeria with English public school values, meaning they were sufficiently Westernised to spurn the advances of the Russians," said Phil Vasili, author of Colouring Over The White Lines. 
The tour attracted huge crowds and great media interest. The Nigerians were banned from wearing traditional African clothing, although they played with bandages on their bare feet as they refused to wear boots. The victory over Marine was one of only two wins during their trip, which nevertheless proved a big success.
5) Wycombe 10-1 Uganda Touring XI, 1956
Wycombe welcomed the Ugandans in a friendly match at Loakes Park in which the visitors, like the Nigerians in 1949, insisted on playing in bare feet wearing only bandages.
Wanderers dominated the first half and were 7-0 ahead at half-time. "The African boys are used to hard earth, and on this wet grass, most of the play seemed to be in the visitors' goal," noted the commentator. 
The Africans improved in the second half; their solitary goal greeted with cheers from the home crowd. 
6) Aylesbury 0-7 England, June 1988
England prepared for the 1988 European Championship – in which they would play the Netherlands, Republic of Ireland and Soviet Union – with a friendly against non-league Aylesbury United, who'd just won promotion to the Conference. Why? Just because, of course. 
England demolished their opponents in front of just over 6,000 fans, with Peter Beardsley scoring four and Gary Lineker, Dave Watson and Gary Steven mopping up the rest. Unsurprisingly, it wasn't the best preparation for the Three Lions: England went on to lose all three group games in West Germany.
7) Toros Neza 0-1 Jamaica, April 1997
After reaching the final pool of the North and Central American qualification tournament for the 1998 World Cup, Jamaica's Brazilian coach Rene Simeos decided to acclimatise at Mexican altitude and arranged a friendly with local team Toros Neza.
In the 19th minute, Toros's German Arangion went down after a challenge from a Jamaican player and responded by shoving his opponent, before a team-mate waded in with a punch. Cue mayhem.
It provoked a melee, with fists and kicks flying from both sets of players. Some of the Jamaican players returned armed with bricks, bottles, chairs... and even a gun. "I saw it," Toros Neza assistant Rafael Chavez Carter wailed later. "As well as the sticks and stones they grabbed. Then we decided to leave."
Unsurprisingly, the game was abandoned. Jamaica boss Simeos simply argued that his team lacked international experience. Friendly, indeed. 
8) QPR A-A China, February 2007
Not the easiest of afternoons for referee Dermot Gallagher. A fight erupted when the Chinese Olympic team played QPR in a friendly at the R's training base, which left broken-jawed Chinese defender Zheng Tao unconscious for five minutes. Apologies were issued by both parties after the incident and China sent home seven players. QPR suspended assistant manager Richard Hill, who was arrested on suspicion of causing actual bodily harm but released on police bail. Five months later the club were fined £20,000.
9) Network Rail 4-4 Montserrat, May 2012
In May 2012, Network Rail played FIFA's joint-worst ranked national team in a friendly at Charlton's The Valley.
Montserrat, a small island in the Caribbean with a population of just 5,900, had found it difficult finding teams to play friendlies against. In July 1995, the Soufrière Hills volcano erupted and buried its capital, Plymouth (no, not that one), making the island's southern area uninhabitable. 
In 2012, Montserrat were invited to play a friendly against a team of employees from Network Rail, which included then-Montserrat manager Kenneth Dyer's brother, Lloyd, who was an engineer.
Dyer's team consisted mainly of English-based players including Anthony Griffith, then of Leyton Orient. Incredibly, despite going 4-0 down, Montserrat fought back in the second half to eventually draw level.
"The Federation and I have a long-term plan, looking 20 to 25 years ahead," Dyer told TheGuardian. "Cyprus used to be in a similar situation to the one Montserrat is now in, insofar as they used to lose matches 7-0 or 8-0 and found it very tough to find anyone interested in playing against them. But they kept going and developing, and now they are serious opponents." Montserrat have since risen to 170th in the FIFA rankings.
10) Valencia 3-0 Pontypridd, July 2014
The Welsh Division Three side travelled to Spain last summer for a friendly at the La Liga giants' training ground, Ciudad Deportivo de Paterna.
Valencia's team consisted mainly of reserve players, but Pontypridd did themselves no disservice in the 3-0 defeat, supported by around 400 travelling fans.
"It's a once-in-a-lifetime opportunity for most of us to line up against one of the biggest clubs in the world," said manager Dominic Broad. "I actually thought the game went well. We reduced their attacking options and condensed the space in central areas. We are hugely proud of the effort from every single person."
Quizzes, features and footballing fun
Get the best features, fun and footballing frolics straight to your inbox every week.
Thank you for signing up to Four Four Two. You will receive a verification email shortly.
There was a problem. Please refresh the page and try again.