Turkish fans furious as President Erdogan appears to endorse Mesut Ozil
Fury as ruler of Turkey pictured with controversial Arsenal ace, Back of the Net report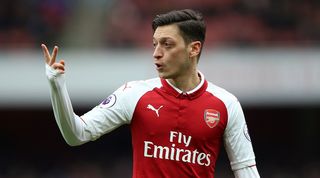 Turkey president Recep Tayyip Erdogan is under fire for seemingly giving his backing to Arsenal's Mesut Ozil.
The strongman leader and mercurial fantasistaposed for pictures at Ozil's heavily-guarded palace in north London, in what is widely seen as a PR coup for the Emirates' much-criticised playmaker. However, the photo shoot was immediately condemned by supporters of getting stuck in and giving it some welly.
Hakan Tekin, a Turkish football fan from Istanbul, told FourFourTwo that Erdogan's decision to meet with the divisive star sent the wrong message to the watching world
"Ozil's nothing but a big-game bottler who's stealing a living directly from the pockets of fans," he said. "How can President Erdogan [below] associate himself, and by extension all Turks, with this fraud, who represents everything supporters despise?
"By hiding in midfield for 90 minutes, he is infringing my basic right as a human being to watch players who act like they give a toss."
The hand of Oz
But fellow fan Aydin Kaya defended Erdogan's decision to meet Ozil, pointing out that merely shaking the player's hand did not mean the Turkish government denied the reality of Ozil's crimes, or officially supported phoning it in from October to March and only turning up when the pressure was off.
"Someone in Erdogan's position is obliged to meet all kinds of monsters," Kaya told FourFourTwo. "Including Cenk Tosun, which everyone seems to be ignoring, even though he has blatantly failed to live up to expectations at Everton.
"Also, whatever atrocities Ozil has committed on the football field, we must not ignore the fact that he is very popular among people who consume ArsenalFanTV propaganda," he added. "We can hate the Ozil lovers or we can pity them, but we cannot pretend they don't exist."
A spokesman for Erdogan said that Ozil made very little impression on the meeting and was withdrawn halfway through in favour of Aaron Ramsey.
Please note: This satirical news story is not real. We actually have to say this.
Quizzes, features and footballing fun
Get the best features, fun and footballing frolics straight to your inbox every week.
Thank you for signing up to Four Four Two. You will receive a verification email shortly.
There was a problem. Please refresh the page and try again.