Usain Bolt: Sing When You're Winning
"If Real and United get drawn against each other, I'll even cancel races to be there..."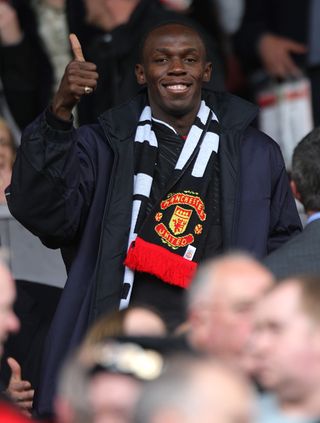 The athlete formerly known just as Usain Bolt but now universally known as The Fastest Man in The World is well chuffed with his new acquisition. "I've been on the phone to all my friends at home. They're all crazy with me. They're like, 'Van Nistelrooy? No!'"
The nine-time European champions were almost as quick off the mark as Bolt himself when they read a passing remark that the face of the 2008 Olympics was a Madrid fan, and have also sent the Jamaican an invitation to train with the first-team squad when he's got the time.
As the biggest thing to hit athletics since Carl Lewis in 1984, it seems everybody wants a piece of Bolt these days, but he doesn't mind too much where Madrid are concerned. "I'm definitely goin' to take it up when I'm back over here in Europe. Maybe they're looking for a quick guy now that Robinho has moved," jokes Bolt. "Nah, I think they'll go far enough in the Champions League without me.
"But I'm looking forward to it. I've never even been to Spain and so I've never been to the Bernabeu or seen a Real match in person but it's been Madrid for me since I was growing up."
Bolt says it was an easy choice to opt for Madrid, despite them being an ocean away when he was a kid. Still only 22, he was an impressionable schoolboy in the late-'90s, when the Spanish giants won the Champions League three times in five years.
"There's also plenty of Spanish football on TV in Jamaica. I try to watch as much as I can. With the time difference, the games are on Saturday or Sunday lunchtime in Kingston, so I put my feet up with friends and watch a game. We watch a lot, man."
However, with no local team taking his fancy, his overseas affections were originally split. "If you're a kid in Jamaica, you pick an English side. Like lots of kids, when I was young I said I was a fan of Manchester United and then Van Nistelrooy started playing for them a bit later. But as soon as he moved to Real, my allegiance followed him as he's a great goal-scorer but I still count Man United as my 'English team'.
"I just love football, man. Last season I went to see Chelsea a few times as I'm based in South West London. Stamford Bridge was fantastic… great atmosphere."
Like Jamaica's greatest cultural icon, Bob Marley, who famously used to rope his band and crew in for a kickabout whilst on tour, Bolt can play a bit too. "When I get the chance, I play. My agent got mad at me a while ago when I disappeared for a couple of hours. He was about to call for the police to search for me but I was in the park playing with some local kids and having fun.
"My friend Jermaine Gonzales (a Jamaican 400m runner) has a six-a-side team that play in a community league in Kingston and when I'm home, I play in his team, defence or midfield mostly. I'm not really a forward guy, I can't get the ball into the net. I dunno why!"
Bolt's agent pales visibly at the mention of him swapping running spikes for football boots, and the prospect of ankle tendons and knee ligaments popping. "But it's easier now than when I was at high school. That was rough, man. We used to play against teams who knew I was quick [Bolt was a world junior champion in 2002 at just 15, winning against sprinters four years older than himself] and I had my legs taken away lots of times before I got to the ball. At least, until I figured out what they were going to do."
Back to the present and Bolt's focus is on the Champions League. "If Real and United get drawn against each other, I'm getting someone to get me a ticket and jumping on a plane. I'm going to be there. I'll even cancel races to be there. Well, maybe not, but I'd certainly be up for that match and even better if it's the final."
Inevitably, conversation also turns to the famous – now infamous, considering their recent sorry performances – Reggae Boyz. The team that lit up the World Cup a decade ago has had its fire put out recently and Bolt ruefully acknowledges it.
"They are not doing so well, man. In your heart, you are hoping for the best but things are not going too well for them at the moment. However, I've still got great memories of 1998 when everybody was following them. It was the biggest thing in Jamaica. Even my dad had the TV on and he's more of a cricket fan."
Despite the island's embarrassment at the Reggae Boyz' failure to even get close to repeating that feat, Bolt is still proud of his connection to the current team. "I'm good friends with [Stoke City striker and fellow speedster] Ricardo Fuller. He's been offering to take me out in Manchester and with a bit of luck we'll soon have something to celebrate if I go out with him."
With Jamaica currently bottom of their qualifying group, there seems more chance of Bolt getting his dream move to Real Madrid.
Interview: Phil Minshull. Portrait: Eric Vidal. From the November 2008 issue of FourFourTwo.
Quizzes, features and footballing fun
Get the best features, fun and footballing frolics straight to your inbox every week.
Thank you for signing up to Four Four Two. You will receive a verification email shortly.
There was a problem. Please refresh the page and try again.