Watch out Joe Hart: Meet the top-flight English keeper you've never heard of
Andy Maynard speaks to Belenenses' English keeper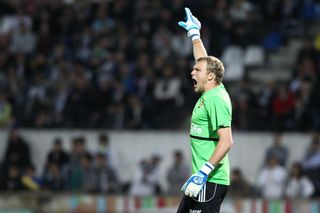 Top-flight first-choice English goalkeepers are hard to come by these days. Manchester City's Joe Hart, West Brom's Ben Foster and John Ruddy of Norwich are the Premier League's only English No.1s, while Fraser Forster's Champions League exploits with Celtic have also propelled him into the limelight over recent seasons.
But there's another player you can add to that list, who perhaps you may not be overly familiar with. He's not playing in the Premier League or SPL, instead you'll find 27-year-old Matt Jones keeping goal in Portugal's Primeira Liga, where he is the undispited No.1 for newly-promoted Belenenses.
Eight years after being released by West Bromwich Albion and almost falling out of the game altogether, Jones recently starred for his club in a 1-1 draw against Benfica at their famous Estadio da Luz stadium. What makes the keeper's journey even more unusual is that he ended up in Portugal via the United States.
"When I got released from West Brom I had a few opportunities at lower league clubs but nothing really stuck", Stoke-born former Port Vale trainee Jones tells FourFourTwo.
"At the same time, I got the offer to go to America and play while I studied. It was a great opportunity and a clean start for me, so I took it without thinking twice."
During his time in the States, Jones won numerous awards and was successful both on and off the pitch. He was named Goalkeeper of the Year twice and was also his university's Athlete of the Year. His club, Sacred Heart Pioneers, broke several school records for clean sheets and team wins.
"I also won awards for my academics in my time over there, which was something that was very important to me. I graduated with a GPA of 3.7 [roughly the equivalent of first class honours], which made my parents happy!"
It was through contacts at his team in America that he was able to secure a move to Portuguese second division outfit CD Santa Clara of the Azores islands in the summer of 2009.
"I had a Portuguese coach in America and he had a contact over here in Portugal," Jones explains. "I came over for a trial with a club and within three days they had offered me a two-year-deal. It really was as quick as that.
"I have always been one to take things as they come and it just happened to work out really well for me."
There he eventually established himself as first-choice keeper, and made 21 appearances as the club narrowly missed out on promotion on the final day of the 2009/10 season.
After spending two years at Santa Clara, Jones opted to leave the island side, briefly considering a move back to British football with Scottish Premier League club Aberdeen.
"I went on trial and spent a couple of weeks training with them during pre-season. Craig Brown said he liked me but at that time they were looking for someone with a bit more experience.
"I took the positives from the experience and luckily I then got an offer from another club in Portugal, so I was happy to return."
Jones' second Portuguese side were União Madeira, where he spent a season before moving on to his current club in Lisbon.
"Belenenses had just appointed a new coach [Dutchman Mitchell van der Gaag] and he was given the task of creating a completely new team in order to get promoted within two years. The coach liked me from what he and the scouts had seen during my time here in Portugal and offered me a two-year contract.
"I liked the ambitions of the club and of the coach so it was a no-brainer for me. The team the coach put together was mostly made up of young Portuguese lower-league players with one underlying attribute - a hunger for success.
"We ran away with the league, setting a record points total in our first year together as a team. About 85% of the team has remained from last year and are the building blocks for the future of the club."
Since establishing himself as the club's top keeper, Jones hasn't looked back. "In football things can change in an instant, so I never let myself slip into the comfort zone of being number one. This just leads to complacency and a decline in performance levels."
Despite facing international stars such as Oscar Cardozo and Jackson Martinez in the Portuguese top flight, Jones says the quality of opposition doesn't faze him.
"If anything it motivates me to raise my game to a higher level. I know I am good enough to play at this level. Now is my opportunity to show people who I am and that I am deserving of having the No.1 on my back.
"If you don't want to pit your wits against some of the best players in Europe then you shouldn't lace up your boots. It's something I dreamed about as a kid."
Jones, who is now fluent in Portuguese after taking weekly evening classes since his arrival, believes there are clear differences between the physicality of the English league and the more technical Portuguese style.
"The ball never stops moving in Portugal and a long ball is something that is frowned upon, especially by the fans, who want to watch attractive football.
"Both styles are intense but in their own way. England is a more box-to-box game, whereas Portugal involves a lot of possession and movement off the ball. However the English game is adapting, or rather is being forced to change due to the amount of foreign players and coaches in the league."
Despite seemingly not being over-enamoured with some aspects of the English game, Jones remains diplomatic when asked if he'd ever consider a move to the Premier League. "I have a three-year contract here so I don't see my foreseeable future changing too drastically. Never say never, though."
Jones does however have stronger words on England's current No.1, Joe Hart, who he believes is currently getting unwarrented stick. "He's a top-class keeper and by far the best to have come through the English system in a number of years.
"He has proved his quality over the past few years in his displays for club and country, but criticism is something that comes with the territory for a keeper. If we make a mistake, then nine times out of 10 it ends up in the back of the net, so a keeper has to learn from it and then come out of it a better and stronger keeper.
"I'm sure Joe will turn his form around. He just needs that one big save or that one big game and all will be forgotten - he will be back to being the top keeper we are used to seeing."
Despite the increasing scrutiny being placed on Hart's performances, Jones feels he's still a long way from an international call-up of his own, and admits the idea of a phone call from Roy Hodgson is "nothing but a dream at the moment".
Although not long ago he would've said that of playing at Benfica...
Quizzes, features and footballing fun
Get the best features, fun and footballing frolics straight to your inbox every week.
Thank you for signing up to Four Four Two. You will receive a verification email shortly.
There was a problem. Please refresh the page and try again.