The Week In Liverpool: Klopp steers the Reds to Basel
Chris McLoughlin of the Kop Magazine was proud of the side as they produced another European night to remember, coming back to defeat Villarreal in the Europa League semi-final...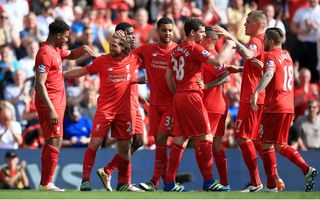 The week in five words
We're all going to Switzerland.
What went well 
Having done the seemingly impossible by scoring three times in the last 24 minutes to stun Borussia Dortmund in the quarter-final of the Europa League, the general feeling was that overcoming a 1-0 first leg defeat to Villarreal would be a comparative stroll in the park, but the potential for complacency was a concern.
RECOMMENDED
That worry was quickly nailed both off the pitch and on it. Once again thousands of Liverpool supporters lined Anfield Road to welcome the team coaches amid smoke-red air and scores of banners before Villarreal (who looked more like Villa than Real) committed a cardinal sin.
Having won the toss, they opted to make the Reds attack the Kop end first. Traditionally that's seen as a psychological blow to Liverpool, but on a big European night, when the fans are up for it, the Reds start quicker with an upped tempo.
The Yellow Submarine couldn't cope and when Bruno Soriano put through his own goal in the seventh minute they looked like a side about to sink into a sea of green.
And so they did. Daniel Sturridge got the second, Victor Ruiz – one of a number of narky players in the Villarreal side – got himself sent off and Adam Lallana put the icing on the cake to send the Reds to Basel for a first European final since 2007. Beat Sevilla on May 18 and Champions League football will join UEFA's big shiny vase at Anfield next season. 
Liverpool also beat Watford2-0 with goals from Joe Allen and Roberto Firmino, the type of routine league win we haven't seen often enough at Anfield this season.
What didn't 
RECOMMENDED
RECOMMENDED
Europe is quite a big continent. There are loads of footie teams in it and many of them play in rather large stadiums. So quite why UEFA, in their wisdom, selected Basel's St Jakob-Park to host the Europa League final when the capacity there is only 35,000 is utterly baffling.
Unless, of course, you suspect a couple of boxes of Toblerone exchanged hands in a back office in UEFA's headquarters. Which happens to be in Switzerland. As a result the Reds have received just 10,236 tickets for the final. Less than 5,000 of those tickets go into a general supporters' allocation, meaning most Kopites are now sweating on a ballot taking place on Tuesday morning.
And UEFA's reason for selecting the second-smallest stadium to ever host the final? "UEFA tends to select slightly smaller, top-quality venues for the Europa League final. This means European football's governing body can give more of its national associations an opportunity to host a club final."
Looks like it'll be the Isle of Man's turn soon then. 
Quote of the week 
"Normally the games start in the stadium, but this game started in front of the stadium. It was great to see, wonderful to feel and pretty, pretty special. I think everybody felt what this atmosphere created in the stadium, what it gave us and what it gave to the players." – Jurgen Klopp on the incredible scenes outside Anfield before the Villarreal game.
The need-to-know facts
Liverpool have scored in each of their last 12 Premier League games, their best scoring run since April 2014 (25).
Joe Allen has been involved in 2 goals in his last 3 Premier League appearances (scored 1, assisted 1) – as many as in his previous 36.
Christian Benteke has had a hand in 3 goals in his last 4 top-flight games, assisting 1 (v Watford) and scoring 2.
Roberto Firmino has been involved in 17 Premier League goals this season (scored 10, assisted 7), more than any other Liverpool player.
Sheyi Ojo has provided 3 assists in his 4 Premier League starts for Liverpool.
Video of the week
Led by Liverpool's Love and Joy choir, the singing of You'll Never Walk Alone before the Villarreal match, the first at Anfield since the Hillsborough Inquests verdict, was incredibly moving. 
Winner of the week 
Jerzy Dudek has been in Liverpool for a long weekend promoting his autobiography A Big Pole In Our Goal, and pretty much wherever he's been he's been asked what he thinks of Simon Mignolet?
Turns out he rates him highly and texts him advice. Maybe he's helped to inspire confidence in the Belgian as this week he made an important early save against Villarreal and an absolute worldie against Watford.
Jurgen Klopp will buy a keeper this summer, but if Mignolet continues to produce key saves he'll be harder to replace than his critics think. 
Loser of the week 
After seeing his team score late on at El Madrigal, Villarreal boss Marcelino celebrated so wildly it looked like he was off home to book his flight to Basel that night.
His theatrics irked Jurgen Klopp so when the Reds turned things around with a 3-0 win the Liverpool boss made a point of celebrating excessively.
He came onto the pitch and performed a succession of fist-pumps – each of them cheered increasingly loudly – that essentially extracted the urine out of Marcelino who, beforehand, had said: "In no way whatsoever will we be affected by the atmosphere in an adverse manner at all."
That went well for him, then...
Quizzes, features and footballing fun
Get the best features, fun and footballing frolics straight to your inbox every week.
Thank you for signing up to Four Four Two. You will receive a verification email shortly.
There was a problem. Please refresh the page and try again.