Wenger shouldn't be sacked – what he really needs is a line manager
As the unrest among Arsenal fans increases, Chas Newkey-Burden suggests a solution to help the Frenchman help himself...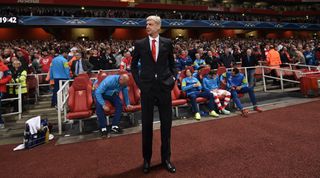 She had hung on too long. By the time a tearful Maggie Thatcher left Downing Street both she and her party were broken.
Some would say the party has yet to recover – it hasn't won a general election outright since 1992. That's often what happens when autocratic leaders step aside – they leave their institutions in a mess.
More and more Arsenal fans are saying openly that it's time for Arsene Wenger to go after 18 years in charge. A 'Wenger Out' demonstration is planned at Saturday's clash with Manchester United. As the team have surrendered lead after lead this season, a tipping point has been reached.
Many Gooners are so dejected that they are dispensing with the 'While I am grateful for all he has done...' caveat which customarily precedes any criticism of the Frenchman. There have even been punch-ups between pro and anti-Wenger fans.
Lonely at the top
I remain in the pro-Wenger camp and am appalled by the treachery of the antis. But one thing has to change: Wenger is a man in need of a line manager, something that has been lacking since David Dein was, scandalously, escorted out of Highbury House in 2007.
The extent of the Frenchman's post-Dein autonomy was laid bare at the club's AGM last month. As fans grilled the board over why the club didn't buy sufficient defensive cover in the summer, chairman Sir Chips Keswick made a significant admission. "We back Arsene when he has a plan," he said. "We stay quiet when he doesn't."
The pages of Arsenal history books include a fine example of such a laissez-faire approach working. During Herbert Chapman's delightful reign, then-chairman Samuel Hill-Wood happily let the manager get on with it, reasoning: "Why pay experts to do a job if non-experts are going to be allowed to interfere?"
But sometimes experts benefit from the right kind of interference. As Arsenal soared under Wenger, Dein was the wind beneath the Gallic boss's wings. A daily confidant and champion, and a foxy operator in the transfer market, Dein was at Wenger's side throughout the manager's first 500 matches in charge. These were the days of two doubles, of an unbeaten league season, of Vieira, Henry and Pires.
But for most of Wenger's second 500 games at the helm, Dein had gone and the manager flew solo. These were the potless days of a League Cup final defeat to Birmingham, of an 8-2 demolition at Old Trafford, of Arshavin, Arteta and Gervinho. The 'invincibles' became the only too 'vincible'.
Sure, the club's move to the Emirates, with all the upheaval and financial tightening it entailed, was also a factor in the decline in fortunes. So was the considerable strengthening of the teams around Arsenal.
Yet the significance of Dein's departure, and the failure to replace him with a new guiding hand, should not be underestimated. It has left Wenger as a Muhammad Ali without an Angelo Dundee. Or, perhaps, as an Alex Ferguson without a David Gill.
The need for a new ending
For a while, autonomy seemed to suit the Frenchman. He loathes confrontation and, such is his intelligent and obsessive knowledge of the game, finds it challenging to seek advice. He has a record of being doubted and then proving the critics wrong.
When he arrived in England no one knew who he was and his curious coaching methods were eyed with suspicion until his team galloped to the Double in his first full season. He was doubted again when, in 2002, he said the Gunners could go unbeaten for a whole league season. The scornful laughter died down sometime in the spring of 2004.
But self-confidence can stray easily into stubbornness. Left to his own devices, Wenger's regime has increasingly been defined by eccentricity and oversights: a lack of tactical preparation; inadequate focus on defending leading to regular capitulations; a seeming disregard for squad rotation that has crowded the corridor outside the physio's room; and his baffling neglect of certain positions in the transfer market.
His transfer negligence sets up an annual gamble. Sometimes it pays off – last season Arsenal won the FA Cup and topped the Premier League for months despite having only Olivier Giroud as an option up front. Sometimes it falls flat – this season, the failure to buy a holding midfielder and adequate defensive cover has already seen the Gunners toss away leads to the likes of Leicester, Anderlecht, Swansea and Hull.
But why is he even allowed to so recklessly roll the dice? By its own admission, the board stays quiet. It seems that for as long as he keeps delivering, like clockwork, a top-four finish, he will be allowed to operate autocratically. Try to imagine such a state of affairs at the Bernabéu, Parc des Princes or Stamford Bridge.
Go see the Dein
All this might suit the board but it doesn't suit the fans. I'm not sure it even suits Wenger anymore. Take a look at him on the touchline, or look carefully into his eyes during post-defeat interviews.
More often than not, you'll see a haunted figure, seemingly overwhelmed by his task. One can only imagine what effect that has on the players.
Calls for him to go are obscene, even by the entitlement-heavy, spoilt-brat standards of modern-day Arsenal fans. He is a marvellous manager and a very decent man. He should be helped, not hounded. Without a guiding hand, there is a danger that he, and therefore the club, could stray further from the path, risking a regretful, Thatcherseque end to his reign.
SEE ALSO Why Arsenal fans are the biggest moaners in England
Is a return of his old compadre Dein too fanciful? Last month Dein told a reporter he misses working at Arsenal and refused to rule out a comeback. At an event a few weeks ago I asked him myself whether he is planning to return. "Ah, no comment," he said. I thought I detected a mischievous twinkle in his eyes, though it may have been a trick of the light.
But somebody has to start guiding Wenger's hand. "Nobody's perfect – me least of all," he admitted to his friend, the author Alex Fynn. To step in would be an act of kindness. Arsenal's board should keep backing him when he has a plan – and when he doesn't they should speak up, and speak loud.
Quizzes, features and footballing fun
Get the best features, fun and footballing frolics straight to your inbox every week.
Thank you for signing up to Four Four Two. You will receive a verification email shortly.
There was a problem. Please refresh the page and try again.