What the actual heck is going on with Granit Xhaka at Arsenal?
By Chas Newkey-Burden published
The Swiss arrived from Borussia Mönchengladbach for big money this summer but hasn't held down a first-team place since. Amid a storm of wild rumours, furious Gunners and Wenger contradictions, Chas Newkey-Burden evaluates what on earth has happened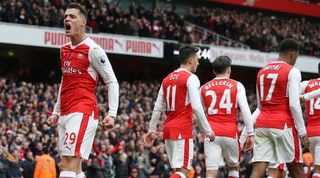 When Granit Xhaka arrived in north London he seemed the belated answer to Arsenal fans' prayers. Ever since Gilberto Silva left in 2008, successive squads have been crying out for an imposing defensive midfielder, someone who could command the central meadows with the authority of Patrick Vieira in Wenger's heydays.
Xhaka seemed to plug the gap. He was the most expensive midfielder the club had ever bought, and their second-most expensive signing overall. Arsenal scouts had studied the Swiss enforcer carefully, watching him play 30 times in one season, and he impressed at Euro 2016 (a missed penalty notwithstanding).
At last the Gunners had their man. What could possibly go wrong? Well, it could all go a bit weird, that's what.
Rumours
Back in August, a theory did the rounds that Arsenal had bought the Swiss midfielder against Arsene Wenger's wishes. Gunners fan Spencer Morgan – son of Piers – alleged that an Arsenal director had told him Wenger "didn't want" Xhaka at the club and would try to avoid starting him. Morgan Snr – ever the diffuser – followed up, saying it was "obvious" Wenger didn't rate the Swiss enforcer.
Was told by a director last week that Xhaka wouldn't start and that Wenger didn't want him.
— Spencer Morgan (@spencermorgan93) August 14, 2016
At the time it was greeted with all the credulity you might meet with claims that Mesut Ozil was a closet Spurs fan, but the longer the season has gone on, the clearer it has become that something is amiss.
Arsenal not starting with Xhaka or Perez again.
Obvious manager doesn't really rate them. Just panic buys to appease fans. #afc
— Piers Morgan (@piersmorgan) September 17, 2016
Fans couldn't wait to see Xhaka in Arsenal colours, but far from Wenger cementing him in the team as he has with the likes of other recent arrivals including Mesut Ozil, Alexis Sanchez and Shkodran Mustafi, the Frenchman has used him sparingly. As we move into December, Xhaka has started fewer than half of Arsenal's matches.
Yet when he has been given a chance for Arsenal, there's been much to admire. Of the nine matches he's started, the Gunners have won seven and drawn two. He was imperious in the 3-1 win at Watford, attempting more passes, making more tackles and taking more touches of the ball than any other player. He also covered the most turf: 11.65km.
The following month he grabbed wonder goals apiece against both Hull and Nottingham Forest. He has also made laudable appearances from the bench, including in the romping win against Chelsea.
Walking contradiction
It's mystifying, then, as to why he hasn't been given a longer run in the side. Arsenal fans have become increasingly puzzled and frustrated; one has even called for a "global boycott" over the matter (whatever that is). This is an overreaction even by the hissy standards of contemporary Gooners, but a reflection of the bewilderment.
Global boycott against Arsenal is needed ASAP. No Xhaka and Sanchez up front again. Unacceptable by Arsene.
— Nigerian Hleb (@MajesticIwobi) September 17, 2016
Does Wenger even know what he wants from his new signing? In September, the Frenchman said of Xhaka: "I personally prefer him as a box-to-box player." But now he's changed his mind. He said last week: "He's more a deep playmaker I think than a box-to-box player."
A matter of weeks before that he said Xhaka is "not a natural defender", but "a guy who likes to play forward", yet he has also described the midfielder as one who "likes to sit… and be available with the centre-backs".
In summary, then: the club's £35m investment is a "box-to-box player", but actually "more of a deep playmaker than a box-to-box player". He is also a footballer who likes to "sit" with the centre-backs, yet somehow also one who "likes to play forward". What the absolute frig is going on?
Playing favourites
Wenger seems increasingly tetchy about the issue. Against PSG, when he could again find no place in the starting XI for his marquee summer signing, he threw him on with 13 minutes left.
When Xhaka misplaced an ambitious pass to Alexis Sanchez, a furious Wenger uncharacteristically remonstrated with him from the touchline. It's hard to recall him expressing such anger at the likes of Theo Walcott, Alex Oxlade-Chamberlain and Sanchez, who regularly cede possession.
Asked later about the growing frustration of fans over Xhaka, Wenger's response seemed a tad self-righteous. "That is part of the job," he said. "People want you to buy players but when you buy them we only pick 11 and not 22, and they feel sorry for the 11 who do not play."
His sniffy approach with Swiss dynamo is made all the more perplexing because in the past he has frequently shown enormous loyalty to players of far inferior quality. And yet it's here that we perhaps solve the Xhaka mystery.
Arsene's downfall
READ THESE
FourFourTwo's Best 100 Football Players in the World 2016
As Patrick Vieira once noted, Wenger's loyalty is his greatest strength and his biggest weakness. He has generally been loathed to buy stars who will replace more modest players he has worked hard with.
In 2009, he revealed that he turned down the chance to sign Xabi Alonso or Gareth Barry as such arrivals may have stunted the progress of his younger midfielders at the Emirates Stadium. "If I signed them, I would have killed Song, Diaby and Denilson," he said. Is he worried that Xhaka will "kill" Francis Coquelin and Mohamed Elneny?
Against Bournemouth at the weekend, the 24-year-old formed a formidable partnership with Elneny, the pair showing promising chemistry as the Gunners returned to winning ways.
But will that game prove to be a belated springboard to an Arsenal midfield built around the £35m man? Or will the Xhaka mystery take another twist?
Thank you for reading 5 articles this month* Join now for unlimited access
Enjoy your first month for just £1 / $1 / €1
*Read 5 free articles per month without a subscription
Join now for unlimited access
Try first month for just £1 / $1 / €1
Quizzes, features and footballing fun
Get the best features, fun and footballing frolics straight to your inbox every week.
Thank you for signing up to Four Four Two. You will receive a verification email shortly.
There was a problem. Please refresh the page and try again.