What on earth can Gary Neville expect at Valencia?
The England assistant-cum-Sky Sports punditry prince has leapt into the deep end to join his younger brother at Mestalla. Lee Roden evaluates G-Nev's intriguing job ahead...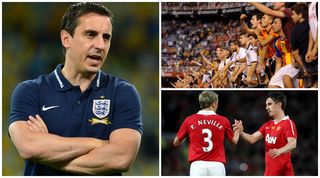 In the words of Ron Burgundy: that escalated quickly.
When Valencia sent a press release out to journalists at lunchtime on Wednesday, few, if any, were expecting to be informed of Spain's managerial bombshell of the year.
News that Phil Neville and club legend Salvador 'Voro' González would take charge of the team on an interim basis was barely 48 hours old when a far more significant announcement was made: Gary Neville would be the new coach until June 30.  
Task at hand
The former Manchester United right-back sure knows how to make an entrance. The confirmation of his arrival at Mestalla came mere hours after outgoing coach Nuno Espirito Santo had held a press conference to explain why he felt the need to depart.
Supporters and media alike are still trying to digest the rapid succession of events, but Neville himself won't have much time to contemplate matters before getting to the task at hand. Valencia are in need of some significant work.
For months they have looked like a team without a plan, no longer able to rely upon brute force to overpower opponents like they did last season (something that was made possible by the extra rest afforded by a lack of European football). Their rapid decline was summed up brutally by their failure to register a single shot on goal in last weekend's 1-0 away loss to Sevilla.
Off the pitch, things aren't much better. Star forward signing Alvaro Negredo, who they paid over €25m to Manchester City for, has been ostracised having failed to appear in the last nine matchday squads. Fellow 2014 arrivals Rodrigo and Lucas Orban have also become outcasts, suggesting a general disharmony behind the scenes that goes beyond individual problems.
First hurdle
So no one can accuse the new guy in town of shirking a challenge. While Neville has dodged the bullet of making his debut against Barcelona this weekend – brother Phil and fellow interim Voro will take charge of that match as previously planned – his bow will instead come in a must-win Champions League fixture at home to Lyon in seven days. Los Che's slender hopes of progression to the knockout stage rest upon beating the Ligue 1 side, then praying that already-qualified Zenit at least draw against Gent, who are currently second in Group H.
Neville is unlikely to be judged too harshly if he can't pull off a miracle at the first time of asking, but turning things around in Europe would make an instant impact and win the Englishman some valuable brownie points at this delicate early stage of his tenure.
Valencia's lumbering season so far means optimism is at a premium these days. A strong start against Lyon would give fans a reason to believe that better things are to come.
Getting the notoriously vocal Mestalla crowd onside will be vital, but not easy. Previous manager Nuno felt the full weight of what can happen when that particular audience is lost, with chants of "Nuno, leave already!" echoing around the stadium for months before he resigned, creating an irreversible atmosphere of negativity that will linger. This, after he'd led Valencia into the Champions League for the first time since 2012/13.
Tough crowd
Neville should expect cynicism from the start. Supporters are more than aware that owner Peter Lim is not only a big Manchester United fan, but also a fellow shareholder in Salford City with Neville. They will want proof that the Singaporean's decision has come from the head, and not from the heart.
Then there is the small matter of actually communicating with the squad. David Moyes provides recent evidence of how quickly things can turn sour for a British coach abroad if he doesn't have a grasp of the language.
Players in La Liga are accustomed to a more hands-on, detail-oriented style of coaching than the old-fashioned, supervisory role of the manager that still persists in some English quarters. Neville's work as an assistant to Roy Hodgson with the English national team suggests he is more the former than the latter, but he shouldn't presume that he will be able to get his message across fully with only English at his disposal.
He would do well to follow the example of his brother Phil by throwing himself into intensive Spanish courses. It isn't unfathomable that he could pick up some of the language after a few months of hard work. The younger Neville already has a decent grasp of the basics, and has even made an effort to learn some of the local Valencian version of Catalan. Small details like that will not only go down well in the city, but also make the process of getting tactical ideas and changes across to players far simpler.
Devil in the detail
Given the current climate at the club, it's not by accident that Valencia's statement made sure to highlight Neville's proven record as a leader. He will need to make full use of those particular talents to try to raise spirits in an anaemic squad which, while pleased by the change in manager, is said to be surprised by the appointment of an inexperienced coach.
The new manager's ability as an analyst will certainly come in handy too: structural deficiencies in the team need to be addressed, particularly in the attack. Valencia have scored only 1.3 goals per game on average in all competitions. Their highest scorer, Paco Alcácer, only has six in 18 games; the next best is midfielder Dani Parejo with five.
Improving those numbers won't be easy. Now would be a good time for Neville to delve into the depths of his mind and look for any details he remembers from analysing Negredo's time at Manchester City that could help turn him back into 'The Beast' once more.
Rescue the star striker, revitalise the dressing room, win over the fans and achieve concrete results in just over half a season. The task is a daunting one for any coach, let alone someone taking on his first big job – but it isn't all doom and gloom. Valencia are a huge club with a rich history, play in one of the most intimidating stadiums in Spain, and have a squad that in principle contains more talent than plenty of others currently above them in the league table.
There is potential for it all to go pear shaped, for the white hankies to be out by Christmas, yet equally there is also scope to achieve something of note – hauling los Che back into the top four, or a good run in Europe. Neville's appointment has already caused a stir. At this club it isn't likely to end with a whimper either.
Quizzes, features and footballing fun
Get the best features, fun and footballing frolics straight to your inbox every week.
Thank you for signing up to Four Four Two. You will receive a verification email shortly.
There was a problem. Please refresh the page and try again.