What is the Women's World Cup 2023 official matchball? Take a look at the Adidas Oceaunz
The Women's World Cup 2023 ball includes technology that will help referees make offside decisions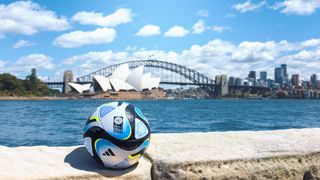 (Image credit: Adidas)
The Adidas Oceaunz has been revealed as the official matchball for the Women's World Cup 2023, with in-built technology that will help assist officials in making offside calls.
The tournament will take place in Australia and New Zealand in July and August this year, and will see an expansion to 32 countries for the first time.
Adidas has been the official ball supplier for the FIFA Women's World Cup going back to 1991, and this is the ninth successive matchball they have supplied.
The Oceaunz is priced at £130 in the UK, (opens in new tab) and its initial release saw it sell out within hours.
Adidas says that the blue and green components of Oceaunz's design is inspired by the Australasian landscape, incorporating New Zealand's mountain ranges and the ocean around Australia.
And if you were wondering about the funny spelling, it's because it incorporates the initials of both Australia and New Zealand. Clever, eh?
Image 1 of 3
In terms of the help in making offside calls, the Oceaunz features 'connected ball technology'. Adidas says that "a suspension system in the center of the ball hosts and stabilizes a 500Hz inertial measurement unit (IMU) motion sensor, providing unprecedented insight into every element of the movement of the ball. The sensor is powered by a rechargeable battery, which can be charged by induction."
Franziska Loeffelmann, Design Director Football Graphics at Adidas: "With record viewing figures for the Women's Euros tournament last year, the upcoming World Cup is set to be a massive moment for the game that we love.
"We're turning up with a match ball that we're incredibly proud of-featuring our innovative technology and with a design that represents the natural beauty of the landscape in which it will be played.
"The game is always evolving, and the design of the Oceaunz is built to help players cope with the pace and demands of the modern game. We're hugely excited for the FIFA Women's World Cup and to see the women's game lifted to even further heights, in two fantastic host nations."
Thank you for reading 5 articles this month* Join now for unlimited access
Enjoy your first month for just £1 / $1 / €1
*Read 5 free articles per month without a subscription
Join now for unlimited access
Try first month for just £1 / $1 / €1