What Premier League clubs can learn from Europa kings Sevilla
Sevilla have won the Europa League three times in nine years, while also finishing at the business end of La Liga. David Cartlidge investigates how the Andalusians get it so right...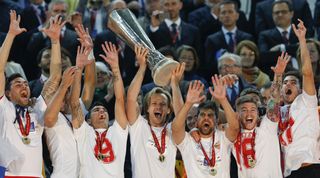 On Wednesday, Sevilla face their fourth Europa League final in 10 years – and many clubs would love to know the secret of their success.
But the truth is, the Ramon Sanchez Pizjuan-based outfit do something any club could do, and any owner could sign off: they plan, meticulously so, and always have foresight at the top of their agenda.
This is not a rich club. Like many, Sevilla are in debt, and their income from TV coverage remains relatively paltry: €32 million for the current season, half the money made by recently relegated Premier League teams like QPR and Cardiff, and way behind the €300m+ pot split by Barcelona and Real Madrid.
The difference is that Sevilla work within their restraints, maximising every euro. Buy low, sell high; replace a big player with two smaller names. Manipulate the free transfer market; highlight who is performing well in minor divisions. Again, this is no magic formula, just basic intelligence behind the scenes from Monchi, the club's hugely respected sporting director, and his tireless technical staff.
It so happens that as well as the players, they've also found the right manager. For the most part, the Spanish have underestimated Unai Emery. Seen by some as a figure of fun due to his repetition of mistakes at key points in games, and even lowballed several times over a new deal by his president at Valencia, the 43-year-old Basque boss is finally enjoying the spotlight for all the right reasons. Sevilla's dream team is allowing them to compete on all fronts to the absolute maximum.
Balancing act
In England, combining campaigns in the Europa and Premier Leagues has long been a divisive issue. From Champions League chasers like Tottenham Hotspur to lesser lights like Stoke City and Bolton Wanderers, clubs have put out weaker teams in European competition – much to the chagrin of fans, and often without obvious benefit in the subsequent domestic fixture.
Such a lacklustre attitude from the managers and supporters can rid the players of their motivation and competitive drive, but Sevilla operate with the opposite attitude: every game is an opportunity.
"This is for all Sevilla fans, because we care about this competition more than anyone," said Emery after successfully achieving a place in this year's Europa League final in Warsaw, where they will attempt to retain their title against Ukrainian side Dnipro Dnipropetrovsk. Part of Sevilla's success has come through realism. They know they won't finish above both of Spanish football's big two – every summer since 2002 they have finished between third and 10th – so they strive to compete where they can.
Perhaps Spurs and Everton should realise this too: neither is likely to stand toe-to-toe with the English superpowers. It means balancing your objectives, not giving one lesser priority against the other.
Sevilla have shown that balance this month: on Saturday May 2 they were unlucky to lose 3-2 to Real Madrid at the Ramón Sánchez Pizjuán, where five days later they thrashed Fiorentina 3-0 in the Europa League semi-final first leg. And just three days after winning the return leg in Florence, they beat Almeria 2-1; in the end they finished fifth behind Valencia, but just two points off third placed Atletico Madrid.
The Europa League has been a particularly happy hunting ground in recent seasons for Sevilla. Last May's trophy win against Benfica was their third in nine years, equalling the all-time UEFA Cup/Europa League record jointly held by Liverpool, Juventus and Inter Milan.
Having recaptured the cup they won in 2006 and 2007 under Juande Ramos, they have systematically set about retaining it again. Of their 14 games so far, they have won 10; in the knockout rounds, they have won seven of the eight fixtures (Zenit held them to a draw in St Petersburg).
Rotation rotation rotation
Savvy Sevilla know how to rotate and alter systems, not so much impacting in a negative way as increasing the level of competition within the squad. At the weekend they may opt to use a front two, or Carlos Bacca leading the line on his own. Come midweek, Kevin Gameiro will be allowed to lead the line. These are two players brought in for a collective total of €15m – €10m less than Manchester City paid for Alvaro Negredo.
The Europa League may be seen as a second-rate competition in England, but for Sevilla it's an equal to challenging the chasing pack in La Liga. The players harbour that desire, too: most of them are seen as not good enough for the big clubs, others simply never dreamed of such an opportunity, and all of them can use Sevilla as a platform for greater things. Just a few seasons ago Aleix Vidal was playing in the third tier for Mallorca B; now he's linked with Barcelona as a potential Dani Alves replacement.
While he's performed well in La Liga, without Europe he perhaps wouldn't gain such a platform to purvey his underrated talents. Among Sevilla's most regular starters this season, most are players that didn't really stand up anywhere else. The rest are cherry-picked from Europe after intensive scouting.
Sales bonuses
Despite their pride and individual characteristics, football clubs exist in a fairly rigid hierarchy. Even Manchester United eventually had to admit defeat and sell Cristiano Ronaldo to Real Madrid. Nevertheless, few teams in football like to think of themselves as selling clubs.
Sevilla are different. For the Andalusians, sales are not a necessary evil: they are an ongoing part of the club's overachievement. "We sell to achieve a higher level than your possibilities," Monchi told El Pais in a recent interview. "We are a selling club because with our regular income, you cannot get to where we have come." It's an unusual take on things. While most quiver at the thought of their assets being sold, Sevilla view it as an opportunity. Without the sales of Negredo, Jesus Navas (£17m), Alberto Moreno (£12m) and others, they would find it difficult to maintain this level of success. With the money generated, they distribute the wealth on the playing squad as a whole instead of one or two stars, reducing the risk by buying several players for lower fees.
This is a model that has recently been copied – albeit at a higher fiscal level – by Spurs and Liverpool, who have reinvested the money from selling Gareth Bale and Luis Suarez on half-a-dozen squad players.
It hasn't helped them kick on, but then they haven't got Monchi – despite previous attempts to lure him. It is no coincidence that both clubs would love to harness his transfer-market ability, but his work is enabled by an acceptance that Sevilla will sell players – a realism that many Premier League clubs appear not to share.
Scouts honoured
At Sevilla there is total confidence that Monchi, his technical staff and the coach will find a new player and get the best from him. When their former academy product Moreno looked likely to leave, they learned that Benoit Tremoulinas would be available from Dynamo Kyiv for a reasonable fee of €3m.
The Frenchman has been a solid, if unspectacular, replacement; he didn't need to be anything else. Others, like defensive midfielder Grzegorz Krychowiak, have been very impressive indeed.
Monchi and his staff constantly monitor players in several European leagues: France, Poland, Italy, Austria and others. Each member of Monchi's staff controls a particular league, and feeds back the data at the end of each four-week period to gather and create teams of the month.
They define players in categories from A to E: an A-rated player is worth signing immediately, a C requires more scouting, an E not worth considering. Having had him monitored at Ligue 1 side Reims, Monchi insisted Krychowiak was an A – and the Pole, bought for €6m, has been one of the outstanding players of the season, a bustling presence in defensive midfield with unlimited levels of stamina and tenacity.
In typical style, Krychowiak – who has since been linked with a move up the footballing food-chain to Arsenal – was signed with money made from a sale. Ivan Rakitic, bought by Barcelona for €20m, was always going to be a difficult player to replace, so Sevilla bought two players: Krychowiak and Ever Banega.
Banega took little scouting; his ability was well-known, but his state of mind often isn't. He certainly wasn't a surefire winner for Sevilla, but at €2.5m it was less of a fiscal risk than a sporting gamble: would the 26-year-old, banished by Valencia on loan to Newell's Old Boys, ever recover his form?
Having had the midfielder monitored during his time back in his native Argentina, Monchi decided to roll the dice. It paid off handsomely. A constant presence this season, reunited with his former Valencia mentor Emery, Banega has grown in stature and influence as the season went on; in 2015, he has been inspirational. When focused, Banega can rival any central midfielder in the world.
His passing range, dribbling, vision and technical quality are up there with the best. As Monchi has noted: "He's the player I've signed in all my years here that has the most quality."
Resale opportunities
Still in his mid-twenties, Banega still has resale potential. So do two more signings who have proven Monchi right yet again. Aleix Vidal and Vitolo had performed well with minnows Almeria and UD Las Palmas.
These were not unknowns – numerous scouts in Europe had extensively watched them but refused to take the risk; Monchi landed them both, and each has been vital this campaign.
ALSO ON FFT.COM
Right-footed left-winger Vitolo now has a Spain call-up to his name, while Vidal – or Dani Alves MKII, as he's been named – isn't far away himself. Meanwhile Daniel Carriço, snapped up from a failed adventure at Reading, recently became the player to make the most Europa League appearances in history. With typical Sevilla flexibility, Emery has used him adeptly both in defence and midfield. All of the parts at Sevilla come together and form a fully functioning whole, a model of how a modern club should be run: competitive, clear in its ideas, and with both vision of present and future. Warsaw awaits, and potentially another trophy. By selling players, Sevilla are buying success at their own price.
Thank you for reading 5 articles this month* Join now for unlimited access
Enjoy your first month for just £1 / $1 / €1
*Read 5 free articles per month without a subscription
Join now for unlimited access
Try first month for just £1 / $1 / €1
Get FourFourTwo Newsletter
The best features, fun and footballing quizzes, straight to your inbox every week.