Where are they now? Leeds United's 2000/01 Champions League semi-finalists
David O'Leary's "babies" took on Milan, Barcelona and Real Madrid on their way to a Champions League semi-final spot in 2000/01. But what became of that young side?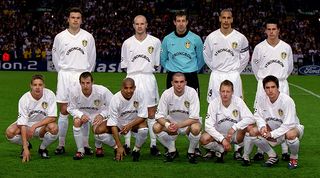 Sixteen years is a long time in life, and an eternity in football.
At least, that's how it must feel for Leeds fans, who have suffered 16 years of despair since the Champions League anthem last rang round the stands at Elland Road in 2001.
David O'Leary's babes had been riding high, stiffing Lazio, Anderlecht and Deportivo La Coruna on the way to a semi-final clash against Valencia. After a drawn first leg, Leeds' dream would be shattered at the Mestalla as Gaizka Mendieta & Co. broke Yorkshire hearts with a thumping 3-0 reverse.
Still, O'Leary's frontiersmen are remembered fondly in the Dales even today..
Nigel Martyn
By 2001, Nigel Martyn had already established a reputation as one of the finest goalkeepers in England. A regular understudy for David Seaman in the national team, the Cornwall native's sharp reflexes were a crucial part of Leeds' historic progress that year.
After seven years and over 200 appearances, he left the club in 2003, enjoying a glorious Indian Summer at Everton under David Moyes, who would eventually describe him as his "greatest ever signing". Martyn retired from the game in 2006 aged 40, a legend at Crystal Palace, Leeds and the Toffees.
Danny Mills
In a team of young artisans, Danny Mills brought his bald head and bite. At the time, he was knee-deep in a dogfight with Gary Neville for the England right-back spot. He was, however, undisputed as an uncompromising and brutal exponent of the dark arts.
Nowadays, Mills has swapped studs for soliloquies, becoming one of the more forthright pundits in the football media. He can regularly be found questioning players' commitment for the likes of the BBC and talkSPORT.
Rio Ferdinand
The Peckham native's stint up north is oft-forgotten, but back then he was indispensable in a rearguard that was loathe to concede goals. Ferdinand even became the first ever player to receive 10/10 in the Yorkshire Evening Post for his dominant performance against Deportivo in the quarter-finals.
After just two years at Elland Road, Ferdinand joined Manchester United in 2002. The £30m fee made him the most expensive defender in football history for a second time.
A ban for a missed drug test in 2003 notwithstanding, he remained at the heart of the Man United defence for over a decade, winning 15 trophies and forming an impregnable wall with Nemanja Vidic as the club won the Champions League in 2008.
Ferdinand retired after a spell at QPR in 2015, and now forms one of the more erudite members of the punditry team on BT Sport.
Dominic Matteo
The criminally underrated Scotland international added crucial balance to the Leeds defence, his uncompromising displays the grit to Rio Ferdinand's glamour. Leaving Leeds after their relegation in 2004, Matteo joined Lancashire club Blackburn Rovers.
However, his football career suffered under the weight of a crippling gambling addiction which eventually saw him accrue a whopping £1m in debts.
After getting his life clean, Matteo rejoined Leeds as a club ambassador in 2013, staying just a year until Massimo Cellino's takeover of the club in 2014.
Ian Harte
The perma-gelled left-back was a fan favourite at Elland Road, his pinpoint deliveries and devastating free-kicks making him one of the Premier League's most effective wing-backs.
After leaving Leeds in 2004, he began a three-year sojourn in Spain with Levante. The Irishman returned to England and in 2009/10 scored 16 league goals in a single season for Carlisle, before finishing his career at Reading. He now works as a football agent.
Olivier Dacourt
Often lamented as a budget Patrick Vieira, Dacourt was nevertheless vital during Leeds' progress in Europe.
The unassuming Frenchman was quietly efficient in Yorkshire, before moving on to Roma in 2003, and following that with a spell at Inter from 2006 to 2009.
After a brief return to England with Fulham, Dacourt retired without ceremony at Standard Liege in 2010.
Rather than basking in his golden years, however, Dacourt found time to sue Donald Trump in 2010 when a planned property investment went south. Dacourt won and for that alone he receives a commendation, but the Frenchman has also appeared as a pundit for French TV with Canal+, as well as becoming involved with the creation of the Indian Super League.
Lee Bowyer
When he wasn't busy fighting his own team-mates or getting involved in late-night brawls, Bowyer was one of the most combative and technically gifted players in England. He scored vital goals for Leeds despite the distractions of his high-profile court case, but eventually fell out with the club's hierarchy.
He left Leeds in January 2003 for spells at West Ham, Newcastle, West Ham (again), Birmingham (where he won the League Cup in 2011) and Ipswich.
Bowyer retired from playing in 2012 to manage a carp fishing lake in France, but can now be found in the dugout at The Valley, plying his trade as an assistant coach to Karl Robinson at Charlton.
David Batty
He may be widely remembered for one ill-fated spot-kick at the 1998 World Cup, but Batty was worth much more than that. A ruthless enforcer, he made Bowyer look like a kitten, snapping into tackles and becoming a vital cog in the Leeds midfield.
The experienced Batty, a member of the Leeds team that won the league title in 1992, was an unassuming character off the pitch. He has remained similarly quiet in his retirement, appearing regularly as a guest in charity football matches after ending his career in 2004.
Harry Kewell
Before debilitating injuries hampered his career, Kewell was one of the most dangerous playmakers in the Premier League. The Australian was a constant threat from the left wing, his incisive running and powerful shot making him a thorn in the side of all comers.
Liverpool fought off stiff competition from Arsenal for the Sydney boy's signature in 2003, but the Anfield faithful never truly saw him at his best. Still, a 2005 Champions League medal offered some comfort, not to mention the award he received in late 2016 for his outstanding contribution to Antipodean football.
Unfortunately, Kewell's contribution to football in Watford has been less honoured: he'd been coach of the Hornet's U23 side since 2015, but was let go in April 2017 following a run of poor results. This season he's been a pundit with BT Sport.
Mark Viduka
After tearing it up with Celtic north of the border, Viduka arrived with much fanfare as the spearhead of a renewed Leeds attack in 2000.
The Aussie striker wouldn't disappoint, scoring four goals in a single match as Leeds beat Liverpool 4-3 and becoming a cult hero with his occasionally lethargic yet technically exquisite style.
After leaving for Middlesbrough in 2004, Viduka helped Steve McClaren's Teesiders to the 2006 UEFA Cup Final, before retiring at Newcastle three years later.
He can now be found operating as a coach for Australian side Melbourne Knights.
Alan Smith
Before his career became one of the great 'what-if?'s of English football, Smith was a bleach-blond prodigy at Elland Road, combining a bloody temperament with a talent for important goals.
Despite swearing he would never play for Manchester United, Smith signed for Leeds' Old Trafford rivals in the Summer of 2004, being groomed as the midfield heir to Roy Keane before injury ravaged his chances.
Now aged 36, he is playing out the last of his days with Notts County in League Two.
Thank you for reading 5 articles this month* Join now for unlimited access
Enjoy your first month for just £1 / $1 / €1
*Read 5 free articles per month without a subscription
Join now for unlimited access
Try first month for just £1 / $1 / €1
Get FourFourTwo Newsletter
The best features, fun and footballing quizzes, straight to your inbox every week.