Who the heck is potential Chelsea new boy Marco Amelia?
The Blues have drafted in a former Milan goalkeeper to cover for injured No.1 shot-stopper Thibaut Courtois. Adam Digby tells them what to expect...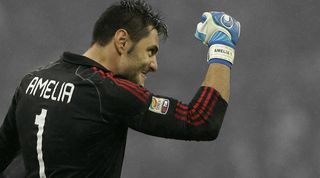 Given their current problems, both in terms of injuries and defensive fragility, Chelsea signing an Italian World Cup-winning goalkeeper would usually be seen as a positive step. But very few would be aware that description applies to Marco Amelia. The 33-year-old has spent time at eight different clubs in an intriguing career which has prompted a number of interesting decisions.
He is seemingly set to join the West London side as emergency cover after first-choice keeper Thibaut Courtois underwent surgery on a knee problem that means he will now miss up to three months of action. With only Asmir Begovic and the inexperienced Jamal Blackman available, Jose Mourinho has handed Amelia a trial, and it's expected the free agent will sign a short-term deal soon.
Daddy Don Fabio
Born in the small town of Frascati, Amelia joined Roma in 1991, progressing through the ranks until Fabio Capello made him part of the first-team squad some nine years later. Still a teenager, his maiden campaign would be a memorable one, receiving a medal as the Giallorossi clinched the Serie A title for only the third time. No sooner had he done so than he was on the move, however, sent to third division Livorno where he established himself as the regular No.1 almost immediately. Playing a major role in the Tuscan club's return to Serie A, Amelia also experienced the beginning of what would become a rewarding international career.
He helped Italy win the European Under-21 Championship in 2004 and went on to claim an Olympic bronze medal in Thessalonika that same summer. His time with the Azzurri – and a year spent out on loan at Parma – meant bigger clubs began to pay attention. Yet he chose to remain with the Amaranto, blossoming into an excellent shot-stopper with good reflexes and sound fundamentals, as Marcello Lippi included him in the full Italy squad on a regular basis. That ensured he travelled to Germany, and although he didn't play a single minute in 2006 – behind Gianluigi Buffon in the pecking order, of course – Amelia lifted the World Cup, something that almost instantly spurred on his club career. Livorno took part in the UEFA Cup in the 2006/07 season and Amelia played a starring role, even netting a headed goal in injury time to earn his side a draw at Partizan Belgrade and eventually secure their place in the knockout rounds.
Beating off Barça
Twelve months on from those heroics, Amelia was on the move again when Livorno's relegation prompted him to join Palermo, before switching to Genoa in 2009. A single season with the Rossoblu was enough to convince Milan to sign him, however, and in his first year at San Siro he won the Serie A title for the second time. Over a four-year spell with the Rossoneri he made just 41 appearances as understudy to Christian Abbiati, which may bode well for his time at Stamford Bridge where playing time is also likely to be scarce. One memorable performance came against Barcelona in 2013, with Amelia making a flurry of excellent saves to thwart the Catalan giants and help his side claim a notable 1-1 draw.
Yet less than a year later, Amelia asked to be released from his Milan contract, believing it to be "the best solution for everybody" and, without a club, what he did next came as a huge surprise. Dropping five divisions to join amateur side Rocca Priora, he became honorary president of the tiny Roman outfit but appeared to be content with the decision. "I'm happy doing my own thing at home," Amelia remarked at the time. "I've got my family by my side and I'm running this club, enjoying myself."
Just a few months later he even offered former team-mate Mario Balotelli a chance to join him, saying that his friend could escape his problems at Liverpool and "show to everyone what he's really made of".
That didn't happen, of course, becoming just another footnote in a career in which Amelia arguably made as many high-profile mistakes as he enjoyed memorable moments. A penalty save from Ronaldinho and that aforementioned European goal in Belgrade were offset by some woeful errors, including being beaten from the halfway line during a hotly contested Sicilian derby. It's unlikely Amelia will see much action at Chelsea, but it'll add another interesting twist to what has already been an enthralling journey.