Why doesn't Louis go loopy for Ander Herrera?
The Spaniard netted as Manchester United brushed aside Club Brugge in the Champions League play-offs on Wednesday evening but still, writes Aanu Adeoye, his place in the side is frustratingly unclear...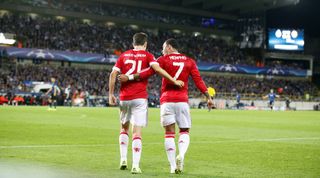 Ander Herrera's Manchester United career has been a particularly curious one; periods of genius interspersed with spells of watching forlornly from the sidelines as the team struggle to break down the opposition.
This was the case again in United's limp goalless draw against Newcastle last Saturday, as United enjoyed 69% of the total possession but were unable to pick a hole through the visitors' organised defence. Herrera was an unused substitute in a game that was screaming out for a player of his creative abilities.
The Spaniard has never gained the full trust of Louis van Gaal following his £28 million move from Athletic Bilbao last summer. Despite being a certified fans' favourite, Herrera found his playing opportunities limited during the first half of last season. Following the embarrassing 5-3 defeat at Leicester last September, Van Gaal rang the changes and Herrera was perhaps the most high-profile casualty.
He was hauled off at half-time in a 2-2 draw at West Brom and in the 17 games between his next 90-minute appearance at Swansea, he was afforded a meagre total of 384 minutes out of a possible 1530. Herrera was an unused substitute in six of those and completely left out of the matchday squad three times. The message was clear: Van Gaal was distinctly unimpressed.
In and out
Yet when United went on a six-game unbeaten run, Herrera was one of the first names on Van Gaal's team-sheet, starting and finishing five of those matches. Perhaps Van Gaal realised the folly of his ways in underusing the former Bilbao man, as Herrera produced some of his best displays in a United shirt alongside Michael Carrick, intelligently distributing the ball and setting the tempo of play.
The 26-year-old was imperious against Liverpool at Anfield in particular, and it was his perfectly weighted slide-rule pass that assisted Juan Mata's opener. United legend Bryan Robson was impressed, heaping praise on the player. "He is always on the move, trying to close people down really quickly," said the Red Devils hero. "He is quite good defensively and, when I watch him, I can see he has a lot of energy and likes to get involved. What I like about him is that, when people are on the ball, he is always on the move to try to receive the pass."
Herrera finished the season with eight goals and five assists in 31 appearances, and it was expected that he would play an integral part this season. The summer arrivals of Bastian Schweinsteiger and Morgan Schneiderlin, however, have seen the Spaniard slip further down the pecking order.
Reinforcements in central midfield were long overdue given United's failure to adequately stock their options since the departures of Paul Scholes and, to an extent, Roy Keane. The club acted swiftly to plug a gaping hole but Herrera's omission this season still remains a strange decision on Van Gaal's part.
Van Gaal often speaks of a 'philosophy' or 'process' that his United team abide by; a system of slow, methodical possession-based football. In practice, it's one that ensures United keep the ball and dominate the possession charts without necessarily creating enough clear-cut chances for their forward men.
This is hugely reliant on central midfielders hogging the ball and generally playing safe, short passes into the feet of team-mates. Sure, United dominate most games but it creates a scenario Arsene Wenger once referred to as "sterile domination".
In Schweinsteiger, Schneiderlin and Carrick, United had no problems dominating the game against Newcastle as they were allowed the lion's share of possession, safe in the knowledge that while most of the football was played in front of them, the hosts would find it difficult to produce a defence-splitting pass. After all, the player arguably most capable of producing such brilliance was watching on from the sidelines.
Home ambitions
Herrera's continued omission raises two tactical questions. Firstly, with Newcastle arriving at Old Trafford on the back of seven consecutive away losses – conceding 18 goals in the process – it was obvious the Magpies would settle for a draw and the decision to play Schneiderlin and Schweinsteiger against a team of such limited ambition was surprising. Van Gaal's need for control is well documented and perhaps Herrera's tendency to take risks is at odds with his manager's increasingly slow-burn approach.
In the bigger games where United are likely to be under the cosh and on the receiving end of more frequent attacks, Schweinsteiger and Carrick's experience and ability to control a game would come in handy, but against teams of limited ambition, playing Herrera should be a no-brainer. With Schneiderlin already providing ample protection for United's backline, including another controlling midfielder is a recipe for dour, uninspiring and listless displays. Herrera's skill set includes the ability to unlock a defence which is perhaps rivalled only by compatriot Juan Mata. The former Chelsea man himself is arguably being wasted out wide in one of Van Gaal's tactical experiments, which segues nicely into the second tactical question.
Mata operates best as a central midfielder behind the striker, essentially as a No.10 in the same way David Silva operates at Manchester City. Van Gaal, however, has elected to play Mata on the right side of attack to accommodate Adnan Januzaj as the team's creator-in-chief. Januzaj, for his part, is best suited to a role on the flanks, cutting in on his favoured left foot. Nowhere was this more perfectly illustrated than in United's 1-0 victory at Aston Villa. Drifting in from his position out wide, Mata occupied a yard of space in the central area to play in Januzaj who sold Micah Richards a dummy before slotting past Brad Guzan from the left. A simple case of players performing well in their favourite positions.
Square peg
When quizzed after the Villa game to explain the reason behind Herrera's omission, Van Gaal said: "I like a second striker in that position behind [Wayne] Rooney more than a third midfielder. That is why Herrera is not playing but is always coming on as a substitute, because he is more of a controlling midfielder there."
It's hard to even know whether Herrera even went up or down in Van Gaal's estimations during his goalscoring display against Club Brugge on Wednesday night. "He started not so good I think," Van Gaal admitted post-match. "He had a lot of ball losses and also a yellow card, so it was at the moment that I wanted to change him, but then I saw that he was coming back. And then after that moment he plays a good match, I think, in the double-six position, but later on [at] 10 he was better. So I'm very pleased also for him."
Van Gaal's sterile control has often seen his team serve up dull fares in the past and win few admirers in the process. If United are to convert possession to victories more often, Herrera is surely the way forward.
Quizzes, features and footballing fun
Get the best features, fun and footballing frolics straight to your inbox every week.
Thank you for signing up to Four Four Two. You will receive a verification email shortly.
There was a problem. Please refresh the page and try again.