Why injuries, anger and poor form have put Gareth Bale's Real Madrid place in danger
The Welsh ace has been a hit in Madrid, but a series of ineffective displays and the rise of a new generation have put his place under serious threat, says Thore Haugstad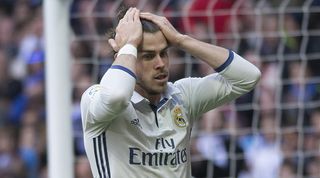 Gareth Bale has rarely had to worry about his first-team place since joining Real Madrid in 2013. Yet as things stand, Zinedine Zidane will have few reasons to be overly concerned about the 27-year-old's potential absence in the Clasico against Barcelona on Sunday.
You could even say that Madrid would be better off without Bale. And what happened at the Bernabeu on Tuesday night did little to help him.
Since coming off injured in Madrid's Champions League first-leg quarter-final 2-1 win at Bayern Munich last week, Bale has witnessed glittering displays from two direct competitors. On Saturday, at Sporting Gijon, Isco shone as Zidane changed nine players. The popular playmaker scored an eye-catching equaliser and ran the show, then drove home a stoppage-time winner to seal a crucial 3-2 success.
In the second leg against Bayern, Isco heard his name sung by the Bernabeu as he warmed up, before taking Bale's place as Zidane switched to a 4-4-2 diamond. Yet on this occasion, the rival who stole the limelight was second-half sub Marco Asensio, who pulled off a superb solo goal in extra time.
Such developments would not worry Bale had his own performances stood up to scrutiny. But in recent weeks, they haven't.
A bench to envy
So strong is the depth of the Madrid squad that any prolonged spell of poor form is bound to trigger debate. When Bale plays and the whole starting XI is fit, the names sacrificed include Isco, Asensio, James Rodriguez, Lucas Vazquez and Alvaro Morata. That's a sparkling list of talent and many in the Madrid press believe they should play more.
That said, Bale also retains formidable standing at Madrid in the wake of his £85.3m transfer from Tottenham. The winger is a favourite of president Florentino Perez and was made a central part of the team at the start of the 2015/16 season in several senses, when newly appointed Rafa Benitez gave him his preferred role behind the striker in a 4-2-3-1 system.
When Zidane replaced Benitez in January 2016, Bale returned to the right wing as part of the Frenchman's favoured 4-3-3. But Zidane made a promise: the 'BBC' – Bale, Karim Benzema, Cristiano Ronaldo – would always play.
Zizou has since kept his vow, to the frustration of some observers who feel certain members of the trio have not always merited such a privilege, and others who believe the team is better balanced with more industrious players. Both views are valid.
Yet the 4-3-3 also suits Madrid. The midfield trio of Casemiro, Luka Modric and Toni Kroos works well, Ronaldo is undroppable and Benzema is a key link-up player. Bale, too, has mostly delivered the goods.
Losing his cool
In fact, the Welshman was the standout player at this stage last season, scoring a series of crucial goals that helped Madrid win their last 12 league games and keep up the pressure on Barcelona, who eventually won La Liga by one point. Though hampered by injuries, Bale ended the campaign on 19 goals and 10 assists in 23 league games – a superb return.
Things ticked along nicely at the start of this season too. By mid-November, he'd hit five goals in 11 league games. But then he damaged his ankle in a Champions League win at Sporting which sidelined him for three months. He scored on his return at home to Espanyol, but has since registered one goal and zero assists in eight appearances. That is far below his usual standards.
Rarely has he looked himself. At home to Las Palmas, he kicked Jonathan Viera and then pushed him in the chest, an uncharacteristic loss of control that earned him two quick bookings. It was his first red card in a competitive game since October 2008.
Dazzling deputies
Since that dismissal, Bale has played 388 minutes for Madrid without being involved in a goal. He offered little at home to Atletico Madrid and was quiet in Munich until coming off near the hour mark, only to see Asensio take his place and set up Ronaldo's winner.
A few days later, Isco spellbound the crowd in Gijon, ramping up the pressure on Zidane to play him. Journalists soon bombarded the coach with questions about whether Isco would replace Bale in the return leg against Bayern. Madrid-based paper Diario AS polled readers for their preferred line-up and, even with Bale available, they named Isco alongside Ronaldo and Benzema.
Isco duly did replace Bale and produced some neat touches, while Asensio showed why he is one of Spain's most exciting talents. The two have generally delivered whenever called upon this season. Isco has started just 15 league games, but still managed to score nine goals, and gives Madrid intricate footwork and incisive passing in the final third. "It feels wrong that Isco doesn't play more," AS editor Alfredo Relano wrote on Monday.
High stakes
That means Isco and Asensio are both strong contenders for a starting place in the Clasico, for which Bale is currently rated doubtful. Generally Bale will always have a higher maximum level, his explosive running and aerial power yielding elite displays when his confidence flows and injuries stay away.
That was evident from his performances late last season and, when Ronaldo eventually calls it a day, the plan is still that Bale becomes the main player.
Yet this hardly applies as long as Bale is a shadow of himself. The ankle injury has disrupted him badly and Zidane will have to consider whether it is worth trying to wait for his form to return at a stage of the season where Madrid are fighting for a successive Champions League title and a first league success in five years.
The first call will be whether Bale plays in the Clasico. Should he be ruled out, Madrid are unlikely to miss him.
Quizzes, features and footballing fun
Get the best features, fun and footballing frolics straight to your inbox every week.
Thank you for signing up to Four Four Two. You will receive a verification email shortly.
There was a problem. Please refresh the page and try again.