Why it's in everybody's best interest for Divock Origi to stay with Lille this month
French football expert Andrew Gibney explains why moving to Anfield now may not be the best option for the young Belgian..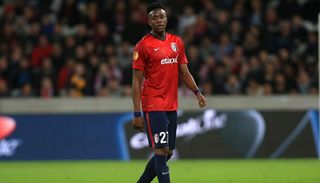 ORIGI IN 2014/15
Games 16
Goals 3
Assists 2
Shots 31
Take-ons 31/65
Pass completion 77.3%
Before the 2014 World Cup, not many Liverpool fans would have taken too much notice of Divock Origi's blossoming career. A few short weeks and a couple of goals on the biggest stage of them all later, and his name was on lips all over the red half of Merseyside.
However, after returning to Lille on loan, rumours continue to suggest the Anfield club would prefer the 19-year-old to re-join Liverpool this season. Doing so would be a huge risk for all involved and could damage the young forward's development.
Having made his debut in 2013, last season was the forward's first full campaign in senior football. He more than played his part as Lille finished a creditable third in Ligue 1; his solo goals against Monaco and Evian helping Les Dogues win vital points away from home.
Origi finished the season with five goals, the only player under 21 in Ligue 1 to score as many. This statistic is even more impressive when you consider he was just 18 at the start of the season.
In the last 10 years, some of the best players to play in Ligue 1 failed to score five or more as teenagers. Karim Benzema was 20 and Loic Remy was 21 when they really began to net with regularity.
Alexandre Lacazette is the current top scorer in Ligue 1, but even he was 20 the first time he scored five times in a season. He then managed just three goals the following campaign, the same two-year goal return that has led to Origi receiving somewhat underserved criticism.
The biggest difference between the two is that Lacazette has kept his focus fully on Ligue 1. The France international is now 23 and one of the most sought-after players in Europe. Lyon took their time, the player was smart in his decisions, and with 32 goals in 55 league games it's hard to argue with his progress.
TALENTSPOTTER Everything you need to know about Alexandre Lacazette
When Brendan Rodgers agreed to spend €12 million on the Lille forward, there is little doubt it was a risk. At his age and the price, you are paying for potential and the hope that he does go on to great things, but signing him at this stage of his career may end up doing more harm than good.
Liverpool fans are excited by the prospect of Origi joining the club, but this is mostly based on Vine clips of goals or short YouTube videos. In small doses Origi has certainly impressed.
His tendency to shift the ball onto his right foot and shoot from distance can be superb when it works – that's what you see in the short clips – but too often it's ineffective, off-target and lacks intelligence. Sometimes you are praying he lifts his head and attempts to pick out team-mates in a better position.
Knowledge of the game and an understanding of when and where to pass are just two parts of his game that need work, but that will only come with playing matches. This is exactly where Lacazette has improved over the last two seasons while being left to develop under Remi Garde and now Hubert Fournier.
Watching Origi over 90 minutes regularly this season, you can see why the home fans have become frustrated. The team is at an all-time low. Origi clearly has talent, but a player with his physical attributes and skill will eventually need to deliver on a more on a consistent basis.
Too often this season, Origi has looked disinterested and off the pace. He lacks team-mates with the same level of quality, but instead of lifting the team from its gloomy demeanour, he is dropping down to their level.
In the three league games in which Origi did manage to score, he didn't offer a whole lot else of note. Criticism has not come just because he has only scored three goals, but also because of his poor level of play and lack of effort shown from a player that is clearly talented. You can see that he is not giving 100% each game, not even in small doses.
His penalty miss against Wolfsburg in December's Europa League group game was the final straw for a small number of fans. It was uncalled for and unhelpful to a struggling team, but they began to boo the 19-year-old Belgian.
Yet staying at Stade Pierre-Mauroy is the best thing for his young career. He needs to be playing every week to best develop the mental side of his game. When you look at the scoring records of Benzema, Remy and Lacazette at the same age, it reaffirms that France is defensively a very tough league, so ideal for his progression.
Remy only blossomed after he made a permanent move to Nice, but he played in France until he was 25. Benzema was 22 when he moved to Real Madrid, by then the star of Ligue 1 and ready for the move.
Thierry Henry scored nine goals in one season for Monaco when he was 19 years old, but even he continued his apprenticeship in France until he was 21. There is a huge chance that Origi has been blinded by the bright lights, making the jump to England too quickly. But if his attitude improves, he could still take advantage of the six months he has left in France.
Moving to the Premier League in July will be extremely tough if his head is not in the right place, especially with his new club struggling for consistency up front after the loss of Luis Suarez. Given two or three years to develop properly, Origi could go on to emulate Benzema and Lacazette, but moving to Merseyside this quickly could put him at least two years behind schedule.
Lille may not be a great team with Origi, but they would be even worse without him. The 19-year-old needs to grab this opportunity with both hands, play to his potential and show what he is still capable of with the amount of time he will be given on the pitch.
Moving to Anfield now would either mean time on the bench to settle, or pushed into the limelight early and met with the same pressure he faces now, just in a more volatile environment. If he can't step up for Lille this season, he's definitely not ready for the Premier League.
Quizzes, features and footballing fun
Get the best features, fun and footballing frolics straight to your inbox every week.
Thank you for signing up to Four Four Two. You will receive a verification email shortly.
There was a problem. Please refresh the page and try again.