Why Jose Mourinho is picking the wrong kind of fight with Antonio Conte
Garry Hayes explains why the Chelsea boss won't be drawn into Mou's mind games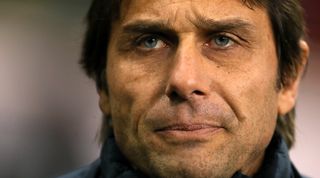 Perhaps it was when watching his Manchester United side being humbled by Chelsea in October that Jose Mourinho decided he ought to consider different ways and means of defeating Antonio Conte. The football, after all, wasn't quite cutting it.
A few months on from the Blues' 4-0 thrashing of United, Mourinho has stumbled upon his weapon of choice: mind games. Yes, he's rolling out that old chestnut. Again.
According to the Portuguese, Chelsea aren't exactly the height of entertainment these days, despite leading the Premier League by eight points while his own United side lag way behind them back in sixth.
"They defend very well and with lots of players," he quipped mischievously last weekend, conveniently forgetting that Chelsea have only been outscored by Arsenal and Liverpool in the Premier League this season. Indeed, compare their goals return to United's and it's not even close: Conte's men have netted 52 to United's 38.
No games
It's all a façade, of course. Giving him the benefit of the doubt, we shouldn't fool ourselves into thinking Mourinho actually believes what comes out of his mouth – there's an ill-judged strategy behind it.
By transforming the team that so dramatically failed under Mourinho last season, Conte has got under his predecessor's skin by the simple virtue of being successful. That's won him fans, and now the ex is biting back in a fit of jealousy; the only problem is that Mourinho is picking the wrong fight and with the wrong man. It's a flawed tactic which isn't going to work.
"He's playing," Conte responded in the wake of Chelsea's 1-1 draw with Burnley on Sunday. It had been 24 hours since Mourinho went on the offensive and news desks were demanding their journalists get a response.
There wasn't much else that could be asked beyond Conte's reaction. It was a polite, abrupt refusal from the Italian to be drawn into Mourinho's world of spite and obnoxious barbs across the fault lines of a media room.
Personal touch
Emotional and unrelenting on the touchline, Chelsea's current manager is a different character in person. Animated Conte may be throughout the 90 minutes of matches, the contrast is striking when you're in his company.
The Italian is engaging in press conferences. He will laugh at your jokes (as he did when asked earlier this season if he was the Armani of football managers); he will answer your questions directly and honestly, avoiding hostility. He's the antithesis of what Mourinho would become in his second spell at Stamford Bridge.
Conte has even invited journalists out for social gatherings in an attempt to get to know those in the media beyond the confines of the professional environment in which they usually engage.
Football remained the topic of conversation that afternoon in The Plough pub that sits adjacent to Chelsea's training ground. But this wasn't Conte the manager we were speaking with; this was Conte the football fanatic.
As he casually sipped at his glass of red wine, the guard of the football manager was lifted. He regaled stories from the old country about his time with Juventus and what he respected about the major figures of the Italian game – notably ex-Chelsea boss Carlo Ancelotti, who coached him in Turin.
Creating a relationship
We were endeared by a man who follows the same passion as the rest of us. The only difference is that Conte happens to be incredibly talented at applying his knowledge and affection for the game into something structured and successful, as we've seen at Chelsea this term.
Conte was having that much enjoyment with the 'enemy' that he even left his chauffeur with the engine running outside when the time came for him to depart. He wasn't interested in heading back into London at that moment, instead wanting to continue the conversation about his love for the English game and what it was that attracted him to the Premier League in the first place.
That afternoon, he removed the fourth wall that can exist under the media glare – even for the journalists who spend their time tracking his every move. He brought us into his world and proved himself to be normal in the best possible way; the Italian demonstrated that he lives for football in the same way most of us do. He showed he has a character; he showed himself to be human.
Chelsea haven't got a narcissist in their midst, and that's why attempts at prodding Conte's psyche with digs at his team's style of play won't make an impact. He doesn't have to feed a glorious impression of himself in the public eye, and he's not the sort of character that believes the hype – meaning Mourinho won't be able to manipulate him.
Air of calm
Besides, what Chelsea are achieving now isn't just about Conte. He may be the man in the spotlight at Stamford Bridge, yet what we've seen this campaign has been a collective effort throughout the club.
The manager breeds a strong principle of family values; there isn't a divide anymore. The atmosphere is different, and it's one that allows the unfancied figures like Victor Moses and Marcos Alonso to flourish where in the past they would have failed.
Conte is building different foundations at Chelsea, and they are the basis for much of what we're seeing now. The Italian's attitude is complemented by his very deliberate approach when it comes to the public persona, proving himself to be relaxed with the barriers down. Overcoming that will require much more than a few insults for the TV cameras.
If Mourinho's really worried about Conte, he'd be best served by focusing on the thing he used to be widely acclaimed for: coaching.
Quizzes, features and footballing fun
Get the best features, fun and footballing frolics straight to your inbox every week.
Thank you for signing up to Four Four Two. You will receive a verification email shortly.
There was a problem. Please refresh the page and try again.