Why Milan offer the best hopes of catching Juventus next season
The Rossoneri have performed woefully for two seasons but Adam Digby says a new part-owner, manager and playing staff finally make the future bright...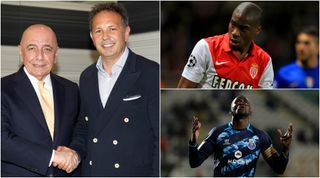 The season may have only just ended, but Italian giants AC Milan have already been busy preparing for the future. Owner Silvio Berlusconi has seemingly agreed to sell a 48% stake in the club to Thai businessman Bee Taechaubol and, emboldened by the imminent influx of funds, the Rossoneri have quickly begun trying to restore some of the lustre they've lost in recent seasons.
Finishing 10th in Serie A means the club have missed out on European football for the second consecutive season, but they're determined not to do so next time around. On Tuesday they announced the firing of Filippo Inzaghi, the retired striker following former team-mate Clarence Seedorf in being unceremoniously dumped by Milan. Both men may yet prove to be excellent coaches, but the San Siro club – particularly in the current climate – has neither the time nor patience to find out.
Carlo Ancelotti was in talks over a return before opting against the idea, leading to the appointment of Siniša Mihajlović, who'll be hoping he can repeat the transformation he oversaw at Sampdoria over the last 18 months. The Genoa-based side had salvaged his career as a player, and he arrived there in November 2013 determined not only to repay them, but prove he was so much more than the aggressive and confrontational defender many remembered.
Regularly quoting from figures as diverse as Dante and John F. Kennedy, the Serbian has demonstrated he can be an excellent motivator and tactician, able to build confidence in his squad while quickly eradicating any sign of complacency. "Ask not what your club can do for you," he mused at his inaugural press conference with Sampdoria, "but what you can do for your club."
Siniša's shopping list
That same message will undoubtedly be applied to the group of players he will inherit at Milan, where some talented youngsters have visibly stagnated in recent years. The likes of Stephan El Shaarawy and Mattia De Sciglio will hope their careers enjoy the same boosts that Lorenzo De Silvestri, Roberto Soriano and Manolo Gabbiadini gained under Mihajlović at Sampdoria.
Yet even above the change of coach and a possible shift in boardroom control, it's in the transfer market where Milan seem determined to make the biggest splash. Recent seasons have seen them chase cut-price ageing stars, but vice-president Adriano Galliani now appears to be working under a vastly different brief. Geoffrey Kondogbia, impressive in Monaco's run to the Champions League quarter-finals, has been identified as an early target, and the Frenchman would strengthen the team in arguably its weakest area.
ALSO ON FFT.COM
Problems remain in defence, but the transfer window is open until September and Milan are also looking to make a big name signing in attack. With a move for Zlatan Ibrahimovic ruled out, Porto president Jorge Nuno Pinto da Costa revealed last week that the Rossoneri had agreed to meet the €35 million buyout clause in Jackson Martinez's contract.
Blessed with the ability to unleash powerful shots with either foot, excellent in the air and deadly in the box, the Colombian striker has netted a staggering 92 goals in just 133 appearances for the Portuguese giants. At 28, he is entering the prime years of his career, has experience of high-pressure environments and would be ready to contribute to the team immediately rather than Milan having to wait for a younger player to realise his potential.
Other players will be needed – particularly in central defence where a longstanding issue must be resolved – but signing Kondogbia and Martinez would be a major statement of intent. The pair arriving would also facilitate a relatively easy shift to Mihajlović's preferred 4-2-3-1 formation, joining the likes of Nigel de Jong and Jérémy Ménez to form what would appear to be, on paper at least, a very strong team.
ALSO ON FFT.COM
The club have plenty of reasons for optimism moving forwards, despite finishing some 35 points behind eventual title winners Juventus and 17 away from a return to the Champions League.
With Mr Taechaubol and his backers set to invest around €500 million according to most reports, it seems the Rossoneri are set to do exactly that. Serie A champions as recently as 2010/11, Milan are arguably the club best placed to challenge the dominance established by Juventus over the last four years.
Impressive seasons from the Bianconeri and Europa League semi-finalists Napoli have seen the duo become the only Italian clubs in the top 20 of UEFA's club coefficient rankings, but Milan miss out by only two places and remain above the likes of Roma and Inter, despite that two-year absence from continental competition.
The Deloitte Money League also has them trailing only Juve as they grossed the 12th-highest income of all European clubs last season, and both tables add to the air of optimism sweeping through Milan.
Much of that is down to Berlusconi's daughter Barbara, who was appointed joint-CEO in August 2013 and is already responsible for instilling a modern approach throughout the club. Their new purpose-built HQ – named Casa Milan and built in her vision – is home to administrative offices, restaurants, an official store, ticket office and museum, all within a single modern building close to the stadium.
Her approach is refreshing in the usually inward-looking and somewhat antiquated Italian football landscape, putting Milan on the road to follow the peninsula's small band of forward-thinking clubs.
With Miss Berlusconi's intelligent business acumen and their newfound financial backing, Milan's off-field future is in safe hands, but it will now fall to Mihajlović to provide the same improvement on the pitch.
"It's easy to be loved at a club where you played, but an even greater challenge to convince the sceptics," said Mihajlović, who spent the last two years of his playing career with cross-town rivals Inter before retiring in 2006. Since then he has had brief spells as coach of Bologna, Catania, Fiorentina and the Serbia national team before his most recent role with Sampdoria.
Milan's playing squad has many weaknesses that, even with those rumoured big-name additions, will need to be addressed. Like Inzaghi and Seedorf before him, the 46-year-old Mihajlović will find patience in short supply. But if they can capitalise on the arrival of Mr Taechaubol and the desire to make the club competitive as quickly as possible, the Rossoneri may be set to rise again.
Thank you for reading 5 articles this month* Join now for unlimited access
Enjoy your first month for just £1 / $1 / €1
*Read 5 free articles per month without a subscription
Join now for unlimited access
Try first month for just £1 / $1 / €1