Why the Ox's premature departure proved key to Barça's Emirates success
Robert O'Connor on why Alex Oxlade-Chamberlain's performance against Barcelona had offered plenty of positives until injury struck in Tuesday's Champions League loss...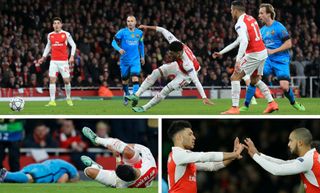 Whatever the answer to Barcelona's pace, poise and precision was likely to be, Arsenal were always going to need to find some way of going toe to toe with their stellar rivals from Camp Nou. As long as the team's concentration levels remained suitably heightened there would be a chance that they could break-up Barça's possession game with persistent and disciplined harrying, and then streak away from the Catalans with speed on the counter-attack.
In the aftermath of what we know happened next it seems almost churlish to speculate, but while the industrious Alex Oxlade-Chamberlain remained on the pitch, so much seemed possible.
ANALYSIS How Barça have clearly evolved – yet still manage to dominate Europe's best
Pestering
In an Arsenal midfield that sat high and was constantly on top of their Barcelona counterparts when out of possession, Oxlade-Chamberlain was the most pestering. When the visitors switched the play as they did numerous times in the first half, the busy winger was a reliable hook upon which Arsenal's shape could hang, narrowing angles and helping suffocate the channels through which the Barcelona machine picks its way forward.
In the 50 minutes he spent on the pitch before injury forced him off, he won the ball back on four occasions, against a side for which conceding possession is a rare occurrence. Plenty more times he was tight enough, quickly enough, to force rushed decisions, as Barcelona struggled to dominate the first half despite their possession figures.
In possession he was as effective a ball player as anyone in red. The 16 successful passes he completed pale in comparison with the 500 plus managed by Barcelona, but he found a sound balance between looking to attack down his flank and bringing the play infield when it felt necessary.
After a reluctant first 20 minutes in which he rarely found the ball, the chance he helped create for himself, playing the ball wide to Hector Bellerin before scuffing badly when getting on the end of the Spaniard's low cross, seemed to wake the England man up and remind him of his duty as an attacking threat.
On another night that miss might have sat heavily on the mind of a player prone to dwelling on his own shortcomings and going missing in tough situations, but his tame scuff into the arms of Marc-Andre ter Stegen with the goal gaping seemed to light a fire beneath Oxlade-Chamberlain, who scarcely allowed himself or the opposition a moment's peace thereafter.
With possession such a scarce commodity for the hosts it was always going to be essential that they were precise and purposeful when they were able to get the ball, and in the face of the reigning European champions, Oxlade-Chamberlain showed a maturity first seen four years ago when as an 18-year-old he was instrumental in helping Arsenal beat Milan 3-0 at this stage of the Champions League. He was let down only by two moments of impetuousness when opportunity beckoned.
The moment that ultimately led to his withdrawal was a clear indicator of the importance of a player like Oxlade-Chamberlain on a night like this for Arsenal. His lightening run late in the first half could, perhaps should, have provided a clearer opening before he collided full pelt with Javier Mascherano.
It was the second time that the occasion seemed to have gotten to the Arsenal winger and composure deserted him at the crucial moment, but that shouldn't detract from the role that Oxlade-Chamberlain played in providing his side with a presence in the first half against Barcelona.
An energetic and willing ball player, disciplined in and out of possession but whose pace could turn Barça's final-third possession against them in a flash, was always going to have been an asset. His departure five minutes following the restart marked the beginning of the visitors' dominance.
Lightweight and laboured
When Theo Walcott trotted on to face a side against which he was so influential six years ago in helping to drag his team back from 2-0 down, Arsenal began to look lightweight. His influence on the game amounted to three touches, one a well-won knockdown for Olivier Giroud and one a five-yard pass inside his own half.
As predictable as it was that the game would move more permanently into the Arsenal defensive third as the second half progressed, the freezing of Walcott out of the game nullified what threat Arsenal had posed on the break. With Alexis Sanchez also out of form and largely anonymous, Arsenal's game became slow and laboured, and as their attacking potential dwindled the challenge began to feel hopeless.
When, with 25 minutes to go, Arsenal produced their most serious threat of the second half, there was a conspicuous hole left by the departed Oxlade-Chamberlain. With Giroud in space on the right side of the penalty area, he played a ball blindly outside of him in the expectation that Walcott would be overlapping, but the frustrated substitute was nowhere in sight. Within minutes Barça had broken up field and broken Arsenal's resistance with a slick move and finish courtesy as Neymar picked out Lionel Messi.
Walcott wasn't able to influence the way his team sought to break up their opponents' attacking moves with the same gusto as the man he replaced, failing to make a single tackle or interception and leaving full-back Bellerin exposed after the Spaniard had become used to the protection afforded him by Oxlade-Chamberlain.
On a night when sharper finishing and decision-making could have made a difference for a second-best Arsenal, the chance to leave his mark on what had been for the most part a solid technical performance passed Oxlade-Chamberlain by. In the second leg, when Barcelona can expect even more of the ball and will surely play a higher line, he might find more of the same space to dash into and exploit. But it may already be too late.
Analyse Arsenal 0-2 Barcelona yourself with Stats Zone
More features every day on FFT.com • Analysis
STATS ZONE Free on iOS • Free on Android
Quizzes, features and footballing fun
Get the best features, fun and footballing frolics straight to your inbox every week.
Thank you for signing up to Four Four Two. You will receive a verification email shortly.
There was a problem. Please refresh the page and try again.