Why Van Gaal should consider recalling Januzaj at Crystal Palace
Alex Keble says the young Belgian could hold the key to unlocking the Eagles' rearguard on Saturday...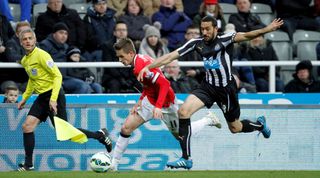 ALSO ON FFT.COM
The attacking rigidity that has characterised Manchester United's losing streak has been sobering, and serves as a reminder that this is still a club in transition. With fear returning to the mindset of visiting teams, United are increasingly facing deep-lying defensive structures and managers happy to concede the vast majority of possession; Everton held 35% a fortnight ago, and West Brom a staggering 19% in their 1-0 victory at Old Trafford. Crystal Palace, the league's most consistent counter-attacking team, will adopt an identical tactical model.
The most important characteristic of United's revival had been those long, diagonal passes to Marouane Fellaini who, doubling up on the left with Ashley Young, created a confusingly lopsided attack that opened up space for Young and Daley Blind. However, opponents are beginning to realise that a deep and compact defensive shell – closing off the space in behind, and clogging up the attacking third with bodies – completely nullifies this approach.
Against Everton and West Bromwich Albion, Fellaini resumed the role that had threatened to derail his career, meandering across central midfield in search of the ball.
Note how squashed together Everton were; Gareth Barry and James McCarthy sat fewer than five yards in front of the centre-backs, making Fellaini an impossible target to hit.
ALSO ON FFT.COM
Without doubt, Crystal Palace will play with a similar brick wall, and present a similar conundrum. Palace's primary strategy involves deep-lying defending and lightning counter-attacks; they make fewer short passes (232 per match), hold less possession (45%), and have a lower pass accuracy (70%) than any other team in the Premier League this season.
A compressed defensive shape needs to be stretched and dragged open for creative success. This can only be achieved via quick transitions from flank to flank, pulling the web apart or creating crossing opportunities from the byline. This requires tireless energy and high-tempo passing, so that the mass of defensive bodies cannot shift back and forth in the cohesive rhythm they crave.
As this Stats Zone video shows, Man United were far too narrow; rather than playing in the area packed with defenders, they should have attempted to move around the compact shell.
If they're to challenge for the title next season, United need to learn how to break through these tactics, and Louis van Gaal must put more faith in pace, youth, and width (hello there, Memphis).
In Adnan Januzaj, Van Gaal possesses a player with the youthful energy and touchline-hugging characteristics necessary to achieve this goal. United must let go of their inverted winger strategy and embrace the raw talent – and the refreshing creativity – that Januzaj can bring.
Januzaj's dribbling and crossing ability could break through – or move around – Palace's defence.
Quizzes, features and footballing fun
Get the best features, fun and footballing frolics straight to your inbox every week.
Thank you for signing up to Four Four Two. You will receive a verification email shortly.
There was a problem. Please refresh the page and try again.