Why THIS is the weekend for Ibra and Pogba to let loose for Manchester United
Thore Haugstad examines why the two summer signings are perfectly poised to fulfil functions Jose Mourinho has profited from throughout his career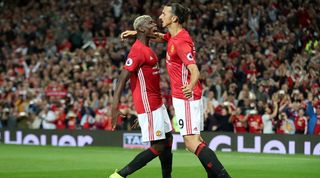 Jose Mourinho has long favoured a few attacking moves that are almost comically simple yet highly effective, and one of these may come into effect at Old Trafford this weekend. The Portuguese likes his chief playmaker to hit passes over the top for a physical lone striker, two roles that, come Sunday, are likely to be filled by Paul Pogba and Zlatan Ibrahimovic, whose understanding has shown signs of promise in recent weeks.
The ball over the top is by no means a Mourinho invention, but it's been a notable aspect of his tactics for a while, particularly in the Premier League. In some ways it can be seen as complementary to his defensive organisation skills, which have always been greater than his ability to engineer intricate passing patterns in the manner of, say, Pep Guardiola. On many occasions, Mourinho has shut up shop and sealed a big win through a long pass seemingly out of nowhere.
Some of the partnerships are worth recalling. At Chelsea a decade ago, Frank Lampard would loft passes into space for Didier Drogba, while Wesley Sneijder had a comparable role at Inter; recall, for instance, his early delivery to Samuel Eto'o when the Nerazzurri knocked out Carlo Ancelotti's Chelsea in the Champions League in 2010. Returning to west London, Mourinho reestablished the connection through Cesc Fàbregas and Diego Costa.
So intuitive did this dynamic become that it's survived even under Antonio Conte, the two best examples being in Chelsea's 2-1 win at Watford in August and their equaliser at Manchester City last weekend.
Direct danger
Mourinho knew he wouldn't be able to replicate this effectively with the squad Manchester United had last season, but Pogba and Ibrahimovic suit the template. Not everything has gone to plan so far, as reflected by United managing one win in eight league games and being nine points off the top four, but a partnership seems to be developing between Pogba, who recently recorded his first league assist since returning, and Ibrahimovic, who's hit seven goals in six games.
Perhaps the earliest hint of promise came at home to Leicester, when Pogba chipped a pass over the defence that Ibrahimovic controlled and volleyed off target. It would have been one of the goals of the season at Old Trafford and highlighted what Mourinho had hoped for when he signed the duo. Ibrahimovic was also the player Pogba found the most often (13 times) in that game; later, at home to Stoke, the Frenchman set up another pair of chances for the striker from similar positions.
Still, only recently has the dynamic expressed itself in more direct ways. At home to West Ham, Ibrahimovic flicked in Pogba's ball over the top for 1-1. Incidentally, he also ran onto a long ball for the opener in the next league game at Everton, this time from Anthony Martial – but when United met Zorya in the Europa League on Thursday, the French-Swedish connection struck for the second time in less than two weeks, Pogba releasing Ibrahimovic for 2-0. That goal meant that, excluding the League Cup, Ibrahimovic's last three goals have all come from passes in behind the opposition backline.
Hit the big man
This will surely have been noted by Mauricio Pochettino, particularly as Tottenham tend to play a high line. Still, even if the visitors manage to close down Pogba on Sunday, there are other ways in which Ibrahimovic can be used directly. Mourinho, who's been happy to take advantage of physique on several occasions already, knows the ex-PSG man is capable of brushing off defenders and creating goals from nothing, an ability he demonstrated when he took down a long ball, combined with Wayne Rooney and fired home his second goal in the 3-1 win at Swansea.
In fact, Ibrahimovic has never been more of a classic targetman than right now – at least not statistically. His average of 3.2 aerial duels won per league game is the joint-second-highest in the United squad, only 0.1 behind Marcos Rojo, and crushes his highest previous average from the 2010/11 season at Milan, when he won 2.4 per game.
As such, Mourinho could well use him as a direct outlet to bypass the Spurs pressure, which is certain to be as fervent as ever. Only City can rival the north Londoners in terms of closing down and disrupting the passing rhythm of the opposition, and the pragmatist in Mourinho may decide a long ball is more effective than trying to outpass one of the most aggressive and durable teams in the league.
Swedish ace
Indeed, Mourinho tried to use Ibrahimovic's physique in the only home game in which he's faced a similar pressing side at United. In September's 2-1 defeat by Manchester City, he put the striker up against Nicolas Otamendi on the right edge of the box in order to feed him with diagonals. Though it didn't lead to a goal directly, the move came off several times.
Even when United haven't had Ibrahimovic, Mourinho has still gone long. In the 1-1 draw with Arsenal, the only other big team United have met at home this term, his side lofted high passes towards Marcus Rashford, who had replaced the suspended Swede. They knew he would lose the aerial battles, but the idea was to push Pogba and Ander Herrera forward to win the second balls and quickly attack the backline. For the 69 minutes United chased a goal, they were extremely aggressive in these advanced zones and created several chances from it.
As such, with Pogba and Ibrahimovic likely to start on Sunday, Mourinho has several direct weapons at his disposal: either use Ibrahimovic as a targetman, play diagonals to him inside the box or look for early passes over the top. Perhaps we'll see a mixture of all three. Either way, whichever central defensive duo Spurs pick will be in for a testing afternoon.
Now read these...
Thank you for reading 5 articles this month* Join now for unlimited access
Enjoy your first month for just £1 / $1 / €1
*Read 5 free articles per month without a subscription
Join now for unlimited access
Try first month for just £1 / $1 / €1
Get FourFourTwo Newsletter
The best features, fun and footballing quizzes, straight to your inbox every week.