Will MLS's biggest season yet even start on time?
With its latest batch of stars ready to go (well, almost all of them), Kristan Heneage explains why Friday's big kick-off might well be a non-event...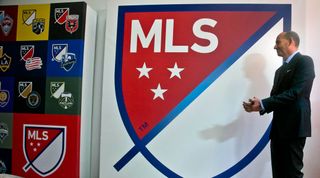 The return of Major League Soccer is almost upon us... or at least it should be.
On the cusp of its 20th season a clutch of big names, including Kaka and Sebastian Giovinco, have arrived ahead of a exciting next chapter in American soccer history. But there is tension in the air.
The nervousness surrounding the league, however, is not about whether these new faces will perform, but whether they will see pitch time at all.
Talks over the Collective Bargaining Agreement between the MLS Players Union and the League itself appear deadlocked over the players' demand for free agency.
FIFPro have lent their support to the Players Union, but there's no doubt that they face an uphill struggle to see their demands met. "The principle of free agency is one we support wholeheartedly," said FIFPro spokesman Andrew Orsatti. "We stand by our colleagues in the United States who are presently locked in this battle, which we want to see end favourably for the players of course, but also in a manner which guarantees a fair and reasonable balance between all parties."
Strike out
Unlike any other in the world, MLS is a single entity league. Consequently, that means they control players' contracts and often orchestrate their transfers.
Players are sent to clubs without having to agree to the move. Take Ambroise Oyongo, for example. The defender was with New York Red Bulls and claimed he turned down suitors in Europe in order to stay in the Big Apple after being given assurances of his future.
Weeks later he was sent to Canadian side Montreal Impact along with Eric Alexander and other incentives in exchange for Felipe Martins, an international player spot and allocation money.
This single entity nature stops clubs within MLS competing with each other for talent, but also stifles the salaries of players at the bottom. Perhaps understandaby, advocates of the structure view it as a way to stop overspending – a significant factor behind the North American Soccer League's folding in 1985.
It's not the first time strike action has been proposed; the current situation seems similar to that of 2010. Under the previous rules, clubs could exercise a 48-hour first right of refusal on players whose contracts had expired or didn't have their options picked up. To satisfy those complaints, MLS set up the Re-Entry Draft in 2010, in which teams select out-of-contract players. The new system provided internal movement for veteran players.
However, the process has been subject to criticism, with the topic of free agency resurfacing again during the off-season. The argument of player salaries has also been a point of discussion thanks to the significant increase in earnings for those at the very top. Chicago Fire midfielder Harry Shipp, currently earning $95,000 per season, voiced his displeasure at the financial disparity when he tweeted: "I wonder if Giovinco knows that he will literally make more money in two days than some of his team-mates will the entire year @MLS."
I wonder if Giovinco knows that he will literally make more money in 2 days than some of his teammates will the entire year January 20, 2015
It was a valid argument in ways, and has set the two parties on a collision course. With some stars in the league, including Giovinco, earning 200 times that of their team-mates, it has led to a gulf of wealth within the league. Members of the Players Union, now ready to strike, have revealed they have been preparing for this moment for almost two years.
Tuesday's Washington Post reported a compromise offered to the players – free agency for players 32 and older who had spent 10 years at a single club.
Unsurprisingly given that theoretically, only 21 players in the league's 20-year history would be eligible under the proposed guidelines, it was rejected. By late Tuesday night that offer had evolved to players aged 28 or older with eight years' experience in Major League Soccer.
Money talks
With the season scheduled to begin on Friday, strike action now seems likely. The Union is understood to have financial reserves in order to combat any lockout, although a long-term strike would be difficult for some players to take, and has even led to claims that they could seek offers from NASL or in Mexico.
On the surface it sounds like an issue of footballers simply wanting more money, but the situation many players find themselves in is difficult. At the lowest end, players earn between $35,000 and $40,000 per year, taking up second and sometimes third jobs in order to play the game.
Players like Joe Nasco, who was interviewed for the March edition of FourFourTwo, even took spare food from the training complex to make ends meet.
The figures do, however, represent a significant improvement from a decade ago, when some players earned as little as $13-14,000 per year. The rationale for such meagre contracts was that the league lacked the finances to offer more; that these players were apprentices and should they contribute more to their team, they could increase their salary.
Some, like United States and Sporting KC duo Graham Zusi and Matt Besler, have achieved that success, but there is a limit to the number of Designated Player contracts on offer. The percentage of young players in the U.S. making it in professional soccer is already low, and those numbers decrease further when it comes to those making a solid living from it.
Capital crunch
Player representatives, including Shipp, are currently engaged in discussions in Washington D.C., where they have been joined by owners of the clubs for the first time in an attempt to avert strike action.
Speaking about the talks, D.C. United defender Bobby Boswell revealed that concessions had been made. "Our question now is, are they going to make any back toward us?" he told the Washington Post. "The jury is still out on that one."
From the owners' perspective, public discussion has been minimal at best. Real Salt Lake's owner Dell Loy Hansen broke the silence when he said during a radio interview: "[Free agency] is not going to change. That's a go-nowhere conversation. The players have tried it twice, and it's been defeated by the courts.
"It's just a foolish place to waste time. It can't exist where everyone is employed by the same employer."
His comments earned him a whopping fine of around $150,000, according to reports, with Commissioner Don Garber explaining: "The comments made by Mr. Hansen are not permitted under the League's constitution. We are engaged in constructive negotiations with our players and such comments are not appropriate, nor helpful to the negotiations."
The coming days will show how true Garber's evaluation is. Those closest to the league are far from optimistic that Friday's game between LA Galaxy and Chicago Fire will go ahead.
And while that could harm the momentum of MLS in the short term, the implementation of free agency could be far more important in pushing the sport forward.
Quizzes, features and footballing fun
Get the best features, fun and footballing frolics straight to your inbox every week.
Thank you for signing up to Four Four Two. You will receive a verification email shortly.
There was a problem. Please refresh the page and try again.