Zico: Perfect XI
"He had great positional sense and he was a real team player – he showed that in England"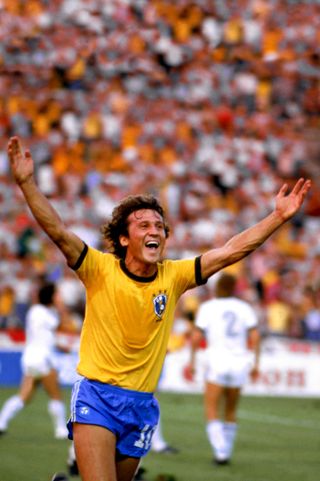 Goalkeeper
Sepp Maier
I came up against Maier a lot in internationals and he was always the hardest keeper to score against. He always knew how to position himself to best effect, which made it very difficult to find a way past him. He didn't have incredible technique by any means, but he was still a fantastic keeper.
Right-back
Leandro
A terrific player, who could play with his right or left foot. He was very talented, very intelligent. He's maybe the least celebrated player in this team but he played in the 1982 World Cup and he was also in the Flamengo team that played Liverpool in the final of the World Club Championships in Tokyo. He had tremendous ability.
Centre-back
Franco Baresi
The consummate libero, capable of doing whatever he wanted with the ball whether he was defending or attacking. He had great positional sense and with his speed, he could bring the defence out quickly and launch an attack. And that was always half a goal in itself.
Centre-back
Daniel Passarella
Passarella was very similar to Franco, but in addition to all Baresi's qualities he also had a very powerful shot. And he really knew how to mark.
Left-back
Junior
Junior combined tactical discipline and positional sense with a big dose of creativity. He could defend so well, and he could always surprise you with something a bit special too.
Midfielder
Socrates
Socrates was such a creative, intelligent player, and you could always count on him to make your job much easier. His passes always put you in a great position or set you up for a shot on goal. I think we worked really well together.
Midfielder
Falcao
He had such elegance. He always positioned himself so well and was always very quick in his thinking. And he was also very good at closing the opposition down in the middle of the park, which is an underrated attribute.
Midfielder
Diego Maradona
The best of the lot, no question. In my generation, my era, he was simply the best. I saw Maradona do things that God himself would doubt were possible. He always had someone marking him, he always had someone hanging on to him, and yet he could still always conjure up wonderful pieces of magic. A genius.
Midfielder
Michel Platini
Platini played with an effortless ease. His vision was amazing – all those probing passes from deep that were his trademark. He was decisive, both with his passes and with his finishing.
Striker
Karl-Heinz Rummenigge
He always managed to turn up in the right place at the right time inside the area. If you ever needed someone to be there to apply the final touch, there was nobody better or more reliable than this guy.
Striker
Kevin Keegan
I had the pleasure of playing with him in Franz Beckenbauer's 50th birthday game and it merely confirmed what I'd always thought. Keegan's movement always impressed me; he seemed to cover the whole pitch. He could play anywhere and he always contributed something extra. He could play on the right or left, he created chances, and he could finish so well.
Substitute
Gaetano Scirea
Another player who could play the ball out of defence incredibly cleanly. He was a leader of men and he also had great vision on the field. He marked attackers like it was second nature to him and he had a great positional sense.
Substitutes
Zbigniew Boniek
The Pole enchanted me with the way he played, both in midfield and up front. He was one of the great creative players and very important for his team because he could make and score goals. He was the main man for Poland in the 1982 World Cup and his absence in the semi-final against Italy cost them a place in the final.
Osvaldo Ardiles
Another player I always admired. He was a player who you were hungry to see play. He wasn't showy but he was always productive. I played against him and saw up close several times how he ran the game. He had great positional sense and he was a real team player. He showed that in England.
Manager
Tele Santana
He was a manager that I liked and admired for his talent and his creativity. He liked to play real football – he wasn't one of those managers who wanted to win at all costs. He didn't tell his players to commit fouls or stop the game, he wanted to win by playing the game the right way.
Interview: Andrew Downie/Libero Language Lab. From the November 2005 issue of FourFourTwo.
Thank you for reading 5 articles this month* Join now for unlimited access
Enjoy your first month for just £1 / $1 / €1
*Read 5 free articles per month without a subscription
Join now for unlimited access
Try first month for just £1 / $1 / €1
Get FourFourTwo Newsletter
The best features, fun and footballing quizzes, straight to your inbox every week.