The 100 most influential people in football right now
Who truly holds the power in the beautiful game?
The power brokers
We all know the superstars, the managers, the club owners. The figures who fill our screens on a weekly basis.
But who truly holds the power in the beautiful game? Allow us to explain...
Glenn Thompson
We had always imagined that the fixture list was cranked out by some clanking, room-sized supercomputer which occasionally broke down and had to be jarred back into life by Richard Scudamore hitting it with a broom handle. But no, it turns out it's just a bloke called Glenn.
Thompson works for IT services company Atos, and is charged with making sure the league calendar meets various criteria surrounding policing, travel 'pinch points' and requests from clubs. There are 2,036 matches in the Premier League alone and, with the help of the fixture computer, Thompson will aim to minimise the distance travelled on New Year's Day and Boxing Day, as well as try to ensure there aren't too many away fans travelling on the same train lines on the same day.
In theory, it shouldn't matter what order you play your fixtures in. Although a quick glance at Chelsea and Tottenham's contrasting run-ins this season, or the weakened team Huddersfield put out against Birmingham in the Championship, suggests otherwise. As such, Thompson plays a small but significant role in every title race and relegation battle.
Diego Simeone
The bond between Simeone and Atletico Madrid is more than just any manager-club relationship. Given where Atleti were when the former midfielder returned to the Vicente Calderon in December 2011, there's no other coach in the world today so inextricably linked with a club and its success.
While there has been speculation over when he might decide to leave and where he could go, for now the Argentine is continuing to do what he does best - he became one of the only coaches this season to outwit Liverpool's Jurgen Klopp when Atleti dumped the Champions League holders out in typically bullish style in the last 16.
Miles Jacobson
In 1994 Jacobson traded two Blur tickets for an advance copy of Championship Manager 2. That was his first involvement with Sports Interactive; 26 years later he works as the video game developer's studio director and head of the Football Manager series.
Football Manager is not only one of the most popular sports games in history, but a uniquely detailed, data-driven simulation that requires thorough scouting of virtually every football nation on the planet. It's for that reason that Jacobson, an avid Watford fan, makes the cut.
Johan Cruyff
We know, we know: Cruyff passed away four years ago, and his day-to-day involvement in top-level football ended when he resigned from Ajax's board of advisers in 2012.
Even so, the Dutch visionary is arguably the most influential football figure in the history of the game, and you don't have to look too hard to find European clubs following his example today. A revolutionary player and coach, his ideas continue to disseminate across the world, with Pep Guardiola among his notable students. The whole of modern football is Cruyff's legacy.
Peter Lim
Valencia's appointment of Gary Neville as manager in 2015 came as a bolt from the blue, but it became more comprehensible once the club's owner had been taken into account.
Lim, a Singaporean business magnate, owns a 40% share of Salford City, with Neville and the rest of the Class of 92 in control of the remaining 60%. Lim has been at the helm of Valencia since 2014, although he's not always been a popular figure with the club's supporters.
Victor Montagliani
The disgraced Jack Warner saw his 21-year reign at CONCACAF come to an ignominious end when he was indicted for corruption by the US Department of Justice in 2011. Since then four more presidents have come and gone, before the incumbent Montagliani took over in 2016.
The Canadian, who is also a member of the FIFA Council, has restored a sense of stability to the role, which involves overseeing various international competitions in the 41 member nations of North America, Central America and the Caribbean.
Rio Ferdinand
The former defender started dabbling in the media world while still a player. There was the unforgettable Rio's World Cup Wind-Ups, of course, and in 2009 he launched a lifestyle magazine called #5 (although judging by his social media feeds, it seems to have morphed into a line of hats).
Still, Ferdinand is one of the few successful pundits with enough credibility to pull off a move like that. Can you imagine Michael Owen or Garth Crooks trying to launch their own range of baseball caps?
On-screen, Ferdinand is a solid pundit for the BBC and BT Sport. His words carry weight because of what he's won, and he's not afraid to voice strong opinions, even if he's not quite as well-prepared and drilled as former team-mate Gary Neville over on Sky.
His touching BBC documentary, Being Mum and Dad, which aired in 2017 and covered the tragic loss of his wife Rebecca to breast cancer, showed a different side to the tough footballer, and was well received.
Kelly Simmons
Quite simply, football in England wouldn't be the same without Simmons, the FA director for the national women's game. She was one of the first women on the FA's senior management team, and is widely regarded as being the key figurehead for the successful transition of the women's game into professionalism.
Simmons, who has an MBE to her name, was also recognised at the BT Sports awards in 2016 with the prestigious 'Leadership In Sports' gong – previous winners of which include Olympic sailor Ben Ainslie and cycling guru Dave Brailsford.
Ada Hegerberg
The Ballon d'Or Féminin holder and winner of the presitigious BBC Women's Footballer of the Year award in 2019, Hegerberg is one of the best female footballers around. The prolific Lyon striker holds the record for the most goals (15) in a Champions League campaign.
Her influence extends beyond the pitch, too: Hegerberg made a huge personal sacrifice by boycotting last summer's World Cup as part of a two-year absence from the Norway national team. She still has some points to prove.
Jamie Carragher
Carragher's deep love for the game was well known during his playing days, and he's put his knowledge to good use since retiring in 2013. He joined Sky Sports a few months later and was an instant hit, quickly becoming one of the broadcaster's leading pundits alongside Gary Neville.
The Liverpudlian, who brings insight, intelligence and humour to the role, has further elevated the standard of football coverage in the UK. When Carragher speaks, supporters of all affiliations listen.
Charlie Stillitano
Pre-season tours are no longer just about building up form and fitness. They now represent a lucrative source of revenue for clubs and an avenue to international marketing.
No competition has become as synonymous with summer friendlies as the International Champions Cup. Stillitano is executive chairman of Relevant Sports, the company that hosts the intercontinental tournament, which pits the biggest clubs in the world against each other in front of new audiences, from the USA to Australia, China and Singapore.
Gordon Taylor
A former winger for Bolton, Birmingham, Blackburn and Bury, Taylor has served as chief executive of the PFA since 1981 - an extraordinary tenure during which time the game has changed immeasurably.
The 75-year-old has come in for increasing criticism in recent times, with his handling of dementia and abuse cases attracting particular disapproval. Nevertheless, for as long as he heads the PFA, Taylor will be one of the most powerful figures in English football.
Mohamed Salah
After an underwhelming spell at Chelsea, Salah showed what he was capable of with a stint in Serie A with Fiorentina and Roma. It was only after his move to Liverpool that he became a global superstar, though, and the Egyptian is now undoubtedly one of the world's leading footballers.
A European champion last term, Salah is set to add a Premier League winner's medal to his collection this season. The 'King of Egypt' is a hero in his homeland, where passion for the game is arguably as strong as anywhere else on the planet.
Raheem Sterling
First and foremost, Sterling is a fabulous footballer who's become one of Europe's best in recent years. But his inclusion on this list has more to do with his natural ability.
A frequent target of tabloid abuse - much of which has carried racial overtones - Sterling has repeatedly spoken out on the treatment of black players and ethnic minorities in wider society. In doing so he has become a highly respected figure both within and outside of the game.
Marta
Widely considered the best female footballer of all time, Marta is coming towards the end of what has been a magnificent playing career. The first player of either gender to score at five World Cups, she has been named the planet's best player on no fewer than six occasions.
Marta has also done plenty to promote the women's game in her native Brazil – and further afield too. "The women's game depends on you to survive," she said in an emotional address to young Brazilian girls at last summer's World Cup. "So think about that. Value it more. Cry in the beginning so you can smile in the end."
Mike Riley
In a climate where match officials are increasingly thrust under a bright spotlight, the PGMOL – the body that provides and trains referees for England's top-end competitions – are growing increasingly prominent.
As manager of the PGMOL, Riley – a former referee himself – effectively runs the rule over all of England's footballing officialdom. The PGMOL employs sports scientists, sports psychologists, physiotherapists, sprint coaches, podiatrists and vision scientists, as well as exhaustive statistical data, in order to train its 'select group' of 18 full-time professional referees who officiate top-flight games.
Karren Brady
A politician, author, businesswoman and television personality, Brady still finds the time to serve as West Ham's vice-chairwoman.
A close associate of the club's owners, Davids Gold and Sullivan, Brady previously served as Birmingham's managing director – a role she began at the tender age of 23.
Zhang Jindong
Zhang has been one of the most prominent figures in the recent entrance of China to top-level football. The founder and largest shareholder of Suning.com, the 57-year-old purchased a majority stake in Italian giants Inter in 2016, ousting Erick Thohir from the San Siro hot seat.
"The acquisition of Inter Milan is part of Suning's strategy in the development of the sports industry," Zhang said after adding the Nerazzurri to a portfolio that already contained Chinese Super League side Jiangsu Suning.
Gary Neville
Neville's brief foray into management with Valencia in 2015 didn't go well, but he remains one of the most respected figures within the English game. The former Manchester United right-back is the principal reason for the huge improvement in TV punditry in recent years, with Neville still widely considered the best around almost a decade after he entered the media.
The ex-England international is also a joint-owner of League Two side Salford City, while his various business ventures - including proprietorship of Hotel Football, which overlooks Old Trafford - show that he has plenty of strings to his bow.
Kylian Mbappe
Although Mbappe isn't on the same level as the likes of Cristiano Ronaldo and Lionel Messi yet, in terms of either on or off-field influence, he looks more likely than anyone to emerge as the next great global superstar.
It is remarkable to think that the PSG striker is still only 21 years old. His stunning performances that fired Monaco to the Ligue 1 title and Champions League semi-finals don't seem long ago, but since then he's moved to the French capital for a nine-figure sum, won two more leagues and lifted the World Cup with France. An iconic player in the making.
Diego Maradona
Maradona is currently manager of Gimnasia de La Plata, but he'll always be more than that. So revered in his native Argentina is the former forward that he's regularly given a hero's welcome at opposition grounds, with fans of all colours keen to show their appreciation for his achievements with the national team.
Controversy is never far away when it comes to Maradona, but the ex-Napoli and Boca Juniors star remains one of the greatest footballers of all time - and therefore one of the most influential around today. And although some believe Lionel Messi to be superior, even the Barcelona captain struggles to match Maradona's popularity in Argentina.
Ralf Rangnick
A defensive midfielder during his playing days, Rangnick has had 13 different spells as a manager - but it's for his work behind the scenes that he's best known today. Red Bull's head of sport and development has overseen the energy drink company's successful move into football, which has seen them take control of teams in Germany, Austria and the United States.
Rangnick has always been the brains behind the operation, creating a world-class scouting network and implementing a network-wide modern style of play based heavily upon quick transitions. RB Leipzig, Red Bull Salzburg and New York Red Bulls are better off for his involvement.
Xi Jinping
Xi has more on his plate than most other individuals on this list, but China's president is arguably the most powerful person on the planet - and so his interest in football automatically makes him one of the game's most influential figures.
Xi has given the green light to huge Chinese investment both at home and abroad, and is reportedly determined to bring the World Cup to the planet's most populous country as soon as possible.
Javier Hernandez
In footballing terms, Hernandez took a step down when he decided to join LA Galaxy from Sevilla earlier this year. Now 31, the former Manchester United striker is unlikely to return to one of Europe's top five leagues before retirement.
However, as the most famous Mexican footballer plying his trade in MLS, Hernandez's influence has probably increased in recent months. He's already his football-mad country's all-time leading goalscorer, and has plenty of time to pull further clear of second-placed Jared Borgetti.
Tite
After their seismic 7-1 shellacking at the hands of Germany in 2014, Brazil had the chance to push the reset button. Instead they re-appointed Dunga as national-team manager, an experiment that duly ended in failure.
Tite was next in line, and the former Corinthians boss had put the Selecao back on track. Granted, they lost to Belgium in the quarter-finals of the 2018 World Cup, but victory in last year's Copa America means Tite will almost certainly still be in charge come Qatar 2022.
Peter Kenyon
The businessman made his name at Manchester United in the early 2000s, when he helped convince Alex Ferguson to change his mind about retirement. He sanctioned the breaking of United's strict wage structure for the acquisitions of Rio Ferdinand and Juan Sebastian Veron, but actually put the club on a more secure financial footing with lucrative sponsorship deals.
The lifelong United supporter then moved to Chelsea, before leaving in 2009. Since then, he's embarked on a career in player representation in association with super-agent Jorge Mendes, and works as a gun-for-hire for various clubs looking to make their financial situation more stable. He's worked in an advisory role at Middlesbrough and Atletico Madrid – he helped the Spanish side clear a multi-million pound debt and hang on to some of their big names.
Zlatan Ibrahimovic
Recent reports in Italy suggest that Ibrahimovic is set to hang up his boots at the end of the season, with the former Sweden international seemingly keen on a career in management.
Ibrahimovic has enjoyed a glittering career, during which time he's represented some of Europe's biggest clubs and won more than 20 major trophies. His outspoken nature rubs some up the wrong way, but Ibrahimovic is undoubtedly one of the game's biggest characters.
Kia Joorabchian
Joorabchian was catapulted into football's consciousness in 2007 when Carlos Tevez and Javier Mascherano turned up, dazed and disorientated, at Upton Park in a transfer that was later found to have utilised illegal strategies of third-party ownership.
The self-styled super agent, then a figure of great infamy, has receded into the relative background in the years since, but that's not to say he hasn't been a busy boy: his client list features the likes of Philippe Coutinho, Willian and Andres Pereira.
Sheikh Hamad Bin Jassim Bin Jaber Al Thani
Al Thani, one of the world's richest men, was prime minister and foreign minister of Qatar until 2013, and as such was hugely influential in the winning bid to host the 2022 World Cup.
Significant suspicions surrounded the controversial decision, but Al Thani denied that Qatar bribed senior FIFA officials, claiming that critics are driven by Islamophobia. "All the talk is about Qatar, because it comes to a small, Arab, Islamic country," he huffed in 2015.
Al Thani doesn't hold an official post at the moment, but he continues to be very influential as a member of the ruling family, and football will be hearing a lot more about Qatar in the next few years.
Jonathan Barnett
Forbes ranked Barnett as the world's most powerful sports agent last year, which is testament to his standing within the industry. Jorge Mendes and Mino Raiola might have something to say about that, but Barnett - who previously represented Lennox Lewis and Brian Lara - is undoubtedly an influential figure within the game.
Gareth Bale is his most famous client, but Barnett also works with Saul Niguez, Jordan Pickford, Ruben Loftus-Cheek and Mason Mount.
Gary Lineker
On screen, when he's not gurning through crisp adverts, Lineker is a consummate professional who you always suspect has better informed and more reasoned opinions than the pundits he's paid to extract soundbites from.
As the face of Match of the Day and BT Sport's Champions League coverage, he's the face most people see when they watch their football, and it was nice to see his genuine fandom coming through when Leicester won the Premier League.
Lineker's social media persona has caused controversy among some of the more right-leaning papers, but it's not all that different from how he is on screen or in real life – well-informed, eloquent and saying pretty reasonable stuff that most sane people would find it hard to disagree with. If only everyone was more like Gary.
Antonio Conte
Conte has been hugely successful since he was appointed Juventus manager in 2011. The former Bianconeri midfielder won three Serie A titles in Turin, before taking Italy to the last eight of Euro 2016 and then winning the Premier League with Chelsea.
Now in charge of Inter, Conte is again demonstrating his prowess as a coach - and his combustible personality. There are few better managers around.
Mark Bullingham
Bullingham replaced Martin Glenn as the FA's CEO in 2019 with his reputation preceding him as the man responsible for a 25 per cent rise in annual revenue at the organisation.
At his unveiling, the qualified coach admitted he had a "long to-do list" that included improving the quality of pitches across the country and increasing participation in the women's game, but now he faces an unexpected and enormous challenge: how to tackle the fixture disruption caused by the coronavirus outbreak.
Andrew Wilson
EA Sports… it's in the game. Quite literally, and very prominently these days. The Australia-born Wilson – EA's main man – has been heading things up since 2000. Fuelled by his love of the beautiful game, Wilson and his company have slowly but steadily made FIFA the dominant force in sports gaming, ousting former market leader Pro Evolution Soccer.
It was a remarkable turnaround. EA were plummeting in the four years prior to his appointment, shipping billions and even being given the unwanted tag of "Worst Company in America" by Consumerist.
Fast-forward to 2014 and Wilson was at the helm as EA doubled its stock price. The FIFA series is now EA's best-established brand – and, in fact, now the biggest sports franchise title in the world.
Over 100 million copies have been sold worldwide since its first release in 1993, facilitating the incredible rise of sports e-gaming which has led to pro club-affiliated players, investment from the likes of Ronaldo, and a FIFA-recognised Interactive World Cup.
Aurelio De Laurentiis
Napoli were in danger of disappearing in 2004 after going bankrupt, but De Laurentiis took over and refounded the club in the third division. Their progress has been phenomenal ever since, and the Partenopei became one of the top Serie A teams once again under the flamboyant president, who loves to take the establishment on and sees Juventus as a true enemy.
The 67-year-old is a film producer, and he tends to treat football as a good script as well. Presenting Gokhan Inler masked as a lion in 2011 was one of his famous jokes, but De Laurentiis is a very serious shrewd dealer in the transfer market who loves to find unexpected jewels that the club can later sell on at a huge profit.
Gareth Southgate
Southgate's rise has been remarkable to watch. The England manager earned his promotion to the senior manager's job after years of diligent work at the FA as head of elite development and Under-21 boss.
The FA's faith in the waistcoat-wearing tactician was well-placed. Not only did he lead England to a fourth-placed finish at the 2018 World Cup, their best finish since 1990, but he did so with an attractive style of play and a young, diverse team that brought the country together.
Les Reed
At St. George's Park, a talented team of coaches and sports scientists with world-class facilities are busy plotting the future for the English national team – one hopefully free from farce and failure – under the watchful eye of technical director Les Reed.
The 67-year-old returned for his second stint in the role in December 2018, replacing Brighton-bound Dan Ashworth. He arrived with good pedigree, having overseen Southampton's rise from League One to the top-flight while vice-chairman at St Mary's.
Jose Otin
Otin, a former footballer who was never good enough to play in the first division, used to work as radio host and pundit, and his reputation in Spain enabled him to become a successful agent after he opened the business curiously named Bahia Internacional.
His clients now include on-loan Arsenal midfielder Dani Ceballos, Bayern Munich's Javi Martinez, Chelsea's Pedro and Atletico Madrid winger Vitolo: Otin has been a diehard Atletico fan from the very beginning – his father first took him to the Vicente Calderon when he was 11 months old.
Raul Sanllehi
Arsenal promoted former Barcelona Sporting Director Sanllehi to the new role of Head of Football in the summer of 2018, after previously serving as Head of Football Relations.
The failure of Unai Emery, who arrived recommended by Sanllehi before eventually being sacked midway through this season, has heaped pressure on the Spaniard. There is a feeling that his future as one of the key decision-makers at one of English football's biggest clubs could depend on the success of new boss Mikel Arteta.
Alexey Miller
What influence can the CEO of a Russian energy company really have on football, you ask? Quite a big one, it turns out.
Gazprom bought a controlling stake in Zenit St Petersburg back in 2005 and pumped millions into a new stadium and a playing squad that has won five of their six Russian titles since then, not to mention the Europa League.
With Miller at the helm, Gazprom have become official partners for the two biggest competitions in the world, the Champions League and World Cup, as well as penning lucrative sponsorship deals with clubs across the continent like Schalke, Chelsea and Red Star Belgrade.
Philippe Blatter
The Blatter family continues to carry huge influence in FIFA – regardless of Sepp's disgraced reputation. Step forward nephew Philippe, president and CEO of Infront Sports & Media, the firm that just so happened to secure the deal to sell television rights for the 2018 and 2022 World Cups back in 2011.
The younger Blatter's influence is substantial. He now heads the sports division of Chinese parent owner Wanda, who by extension have exclusive broadcast rights for the next two tournaments in 26 Asian territories – including China. It also has links with FIFA's exclusive hospitality provider Match Hospitality.
Phillipe's dealings with FIFA are longstanding – as far back as 2000 he worked for McKinsey & Company, who were subsequently hired by Sepp on a consultancy basis for FIFA. The Blatter 'legacy' lives on.
Pinhas Zahavi
The 76-year-old Israeli may not be as much of a household name on the agent scene as the likes of Mino Raiola or Jorge Mendes, but his influence in the upper echelons of European football is undeniable.
His previous work involves playing a key role in Roman Abramovich's Chelsea takeover and Rio Ferdinand's moves to Leeds and then Manchester United, while his current list of clients includes Robert Lewandowski and Wilfried Zaha.
Jorge Nuno Pinto da Costa
It is virtually impossible to imagine Porto without their flamboyant president. Pinto da Costa has been calling the shots at one of the biggest clubs in Portugal since 1982, and oversaw the historic European Cup triumph in 1987 at the beginning of his remarkable tenure.
In the new era after the Bosman ruling, Pinto da Costa made a name for himself for his uncanny abilities in the transfer market, signing relatively anonymous players – many of them from South America – and selling them at a huge profit.
The examples of Deco and Radamel Falcao stand out, but Porto managed to make money for players who were not too impressive after leaving the club, including Eliaquim Mangala, Jackson Martinez, Giannelli Imbula and Danilo. A notoriously tough negotiator, Pinto da Costa has led Porto to no fewer than 21 championship titles during his time as president, making him one of the most successful bosses in football history.
Daniel Levy
Probably low on this list by his own design: Levy is notoriously private and his reputation depends almost solely on second-hand anecdotes. His 19 years as Tottenham's chairman have characterised him as one of the savviest financial negotiators in the game and, by virtue of his willingness to bounce between managers and organisational philosophies, as a latter-day Doug Ellis.
The ends, however, have justified the means; Levy may not have always been universally appreciated at White Hart Lane, but his rigid stewardship has allowed Spurs to climb to their highest point in the modern era and provide them with the largest club stadium in London.
His ability to successfully navigate that narrow sea, between commercial sustainability and sporting performance, portrays him as one of the shrewdest chairmen currently working in football.
Monchi
You can't really put a true number on the value that Ramon Rodriguez Verdejo brought to Sevilla over the past 20 years – with a forgettable year at Roma in between - but he is estimated to have made hundreds of millions of euros worth of profit from player sales.
However, as 'Monchi' himself quite rightly states: "No one ever takes a 'great economic results' banner to the stadium," so he would prefer to be judged by the nine trophies won since 2006, compared with just four in the club's 116-year existence prior to that.
Jose Mourinho
Mourinho's star has faded somewhat in recent years as he fights the suggestion that football has outgrown his tactical style, after he was sacked by Manchester United before replacing Mauricio Pochettino at Tottenham.
But he remains one of the most sought-after personalities in the game and has an ability to divide opinion and fascinate the media that few other managers possess. Plus, his trophy cabinet, as he often reminds us, isn't to be sniffed at.
David Beckham
We don't seem to see as much of Becks these days as we used to, but that's not to underestimate his pulling power.
At this point, Beckham transcends football. He's much more likely to appear at the UN than on 'Match of the Day', and spends
most of his time doing charity or promotional work.
But after several delays, he returned to football this year as his MLS franchise Inter Miami kicked off their debut season.
Michael Zorc
A true one-club man, Zorc spent his entire playing career at Borussia Dortmund, lifting the Champions League trophy in 1997, and is now one of the longest-serving sporting directors in Europe.
He learned important lessons when Dortmund very nearly went bankrupt in 2005, and has been extremely instrumental in establishing a new long-term strategy that ensures financial stability and success on the field at the same time.
With Zorc calling the shots, Dortmund can be seen as a selling club – most of their stars move on at some point in their career but key players are ably replaced with the help of a magnificent scouting network.
Arsene Wenger
After 22 years in north London, Wenger left his post as Arsenal manager at the end of the 2017/18 campaign. In truth the Frenchman's departure was overdue, but that doesn't take anything away from his awesome accomplishments in the first half of his Gunners tenure.
Wenger has regularly been linked with a return to the dugout in the last two years, but it's looking increasingly unlikely that he'll take up another coaching role. The 70-year-old is currently employed as FIFA's Chief of Global Football Development, responsible for overseeing the growth and development of the sport around the world.
Zinedine Zidane
A world-class player in his day, Zidane has already achieved so much as a manager - yet the feeling persists that he doesn't get the credit he deserves. It's true that his Real Madrid teams have not really moved the game on tactically à la Pep Guardiola or Arrigo Sacchi, but winning three Champions Leagues on the bounce is no mean feat.
Zidane could find himself under pressure if his side win nothing this season - that, after all, is the Real Madrid way - but his accomplishments on the pitch and in the dugout ensure that he'll always be a high-profile figure.
Stan Kroenke
The man they call 'Silent Stan' because he hardly ever says anything oversaw the biggest sea change in the club's modern history in 2018, when Arsene Wenger departed the club after a 22-year spell in charge.
The same year, Kroenke became the club's sole shareholder. But things haven't gone brilliantly since, with Unai Emery turning out to be the wrong man for the job and the Gunners now facing the very real prospect of a fourth consecutive season without Champions League football.
Will we see Arsenal falling into a long slumber, or will Kroenke pump in investment and introduce another major player in the transfer market?
Don Garber
Garber became the commissioner of MLS in 1999 and remains in situ more than 20 years on. When he took charge the United States' top division was in a lull after an initial post-1994 World Cup flourish. Fast forward two decades and MLS is one of the strongest domestic competitions outside Europe.
The league had just 10 teams back in the late 1990s; these days it has 26, and has been able to attract genuine superstars such as Thierry Henry, Kaka, Zlatan Ibrahimovic, Andrea Pirlo and David Beckham.
Greg Clarke
A former chairman and director of Leicester, Clarke served as chairman of the Football League between 2010 and 2016. He left that role to take up the same position at the FA, replacing his namesake Greg Dyke.
Clarke has been criticised for his handling of the Mark Sampson and Eni Aluko race row, as well as the FA's response to the sexual abuse scandal in football. He nevertheless remains a key figure in English football, and was elected as a FIFA vice-president last year.
Jurgen Klopp
Klopp was already regarded as one of Europe's best managers after his exploits at Borussia Dortmund, but the German has managed to further enhance his reputation at Liverpool.
Klopp won the Champions League last season and is on course to scoop the Premier League title this term, but there's more to him than just trophies. The 52-year-old has helped to revolutionise the game tactically, while he's never afraid to share his opinion on non-football matters.
Sanjay Bhandari
The work of Kick It Out, the organisation that campaigns against discrimination in football, is more vital than ever as a new wave of racist behaviour casts a shadow on the game, and their new chair Sanjay Bhandari is the driving force behind their work.
Bhandari replaced founder Lord Herman Ouseley as only the second chair of the organisation in November 2019. The Manchester United fan has got straight to work, embarking on a three-month 'listening tour' around the country, speaking with around 150 of the game's stakeholders.
Pierluigi Collina
Widely regarded as one of the best referees of all time - he was named FIFA's official of the year on six occasions - Collina remains a prominent figure 15 years after hanging up his whistle.
These days the 60-year-old is an influential member of UEFA's Referees Committee, while he also works as a consultant to the Italian Football Referees Association and, curiously, the head of referees for the Football Federation of Ukraine.
John W. Henry
What Henry represents is as key to his influence as who he is. The Fenway Sports Group's purchase of Liverpool in 2010 afforded him plenty of visibility, but it's his neophyte approach to the industry which lends his voice such weight.
Henry is a noted advocate of sabermetrics – the empirical analysis of baseball – which would explain the shape and nature of Liverpool's recruiting practices, and he is also not shy in making bold appointments.
The hiring of Jurgen Klopp was one of those, and has led to the Reds' return to the summit of English and European football, with a Champions League title in the bag and the long-awaited Premier League trophy appearing certain to follow.
Alex Morgan
The joint-top scorer at the 2019 World Cup, Morgan found the back of the net six times as the United States won the tournament for the second time on the bounce.
She also registered three assists in France, enough for her to win the Silver Ball as the competition's second-best player behind team-mate Megan Rapinoe.
Morgan represents Orlando Pride at club level and previously enjoyed one of the most fruitful loan spells in history, winning Division 1 Féminine, the Coupe de France Féminine and the Women's Champions League during 16 appearances for Lyon in 2016/17.
Nathalie Boy de la Tour
Boy de la Tour's election as president of France's Ligue de Football Professionnel in November 2016 offers hope to women who want to take their share in management of the most popular sport.
The 48-year-old – the first ever woman to hold the post – might have been fortunate given unusual political circumstances, and claimed that even she was surprised to win, but she is still going strong in the post almost four years later.
Ivan Gazidis
Gazidis' first position within football came as part of the management team of the newly-launched MLS in 1994. He's remained in the game ever since, becoming chief executive of Arsenal in 2008 and later overhauling the entire managerial structure in preparation for Arsene Wenger's departure.
Gazidis surprisingly left the Emirates Stadium to join Milan towards the end of 2018. He recently asserted his authority at San Siro, with his pursuit of Ralf Rangnick leading to the departure of club icon Zvonimir Boban as chief football officer.
Roman Abramovich
More than a decade and a half have passed since Abramovich's groundbreaking takeover of Chelsea, a deal which transformed European football in an instant. The Blues have been hugely successful since the oligarch's arrival in 2003, winning five Premier League titles, five FA Cups, two Europa Leagues and the Champions League.
Abramovich has always been a silent benefactor, shunning interviews and leaving the day-to-day running of Chelsea to others. Numerous managers will attest to his ruthless streak, though, and he remains one of the richest people involved in football.
Alejandro Dominguez
The need for Dominguez to clean up CONMEBOL, the South American football federation, was clear when he was elected President in 2016; the three previous incumbents are facing US indictments for corruption.
He hasn't been afraid to speak out when he feels the need to, accusing Gianni Infantino of exaggerating the financial potential of his revamped Club World Cup, but his greatest challenge may lie ahead of him after the Copa America was postponed by a year amid a coronavirus crisis that could bring dire financial consequences.
Javier Tebas
When he's not being heckled by Gerard Pique about questionable refereeing decisions, Javier Tebas considers it his mission to clean up the image of Spain's domestic game.
A self-confessed Real Madrid fan since childhood, his experience for the role of league president is unquestionable after a quarter of century spent working in the boardroom of 11 different clubs and three terms served as vice-president. He was re-elected for a third term in December 2019.
Tebas landed the top job in April 2013 with the league embroiled in a match-fixing scandal, and the tenacity with which he has tackled the issue of maletines (little briefcases) can only be applauded.
Txiki Begiristain
Manchester City were willing to play the long game to tempt Pep Guardiola to the Etihad Stadium, and part of that strategy involved the hiring of Begiristain in 2012.
The former Barcelona man worked alongside Guardiola at the Camp Nou as director of football, a position he currently holds at City. He's overseen an unprecedented spending spree in recent years, helping the former Premier League also-rans win the title three times.
Court of Arbitration for Sport
CAS has come up on the radar of the average Premier League fan more often recently, with the Switzerland-based international judicial body casting the final vote on some big moments in English football.
In December 2019, Chelsea had their FIFA-imposed two-window transfer ban halved following an appeal to CAS, and now Manchester City are hoping for some help from the Court as they await the result of an appeal against UEFA's decision to ban them from European competitions for two years and fine them €30m for breaking Financial Fair Play rules.
Sunil Gulati
The most powerful man in U.S. soccer, and president of the federation from 2006 to 2018, has underlined his influence in recent years, not least when insider accounts depicted just how much sway he had in Gianni Infantino's successful bid to become FIFA President in 2016.
Gulati was the driving force between the successful joint 2026 World Cup bid between the United States, Mexico and Canada – a bid which will see the U.S. host 60 of the 80 games played in the expanded format.
Rui Pinto
Pinto is the man behind Football Leaks, the largest and most explosive leak in the history of sport. The website created by the Portuguese alleged all sorts of tricks were being used by European football stars to dodge tax, as well as shining a light on murky financial activity in the game.
Pinto was arrested in January 2019 in Hungary, extradited to Portugal and charged with 147 crimes.
Mark Parker
So, how do you take the reins at one of the world's best-established sports firms and then double sales within a decade? Ask Mark Parker, CEO of Nike from 2006 to January 2020, when he stepped down to become executive chairman of the company.
Parker's ascent from influential designer to head honcho was swift. It was he who first implemented the category structure at the company in 2009, giving football a distinct presence alongside Nike's more recognisable brands of Athletics and Basketball.
He was also the driving force behind Nike's takeover of UK-based football brand Umbro in 2009, which led to profits in 2014 of over $2.3 billion solely from its football products. Today, the Nike Football account has more than 44 million followers on Instagram.
Christian Seifert
Bayern Munich might be dominating German football, but the attendances are outstanding at all matches and the Bundesliga is flourishing. Christian Seifert, CEO of the Deutsche Fussball Liga (DFL), is one of the men responsible for that.
Having taken the post in 2005, he has overseen a magnificent long-term programme to run all the aspects of German club football, which is now much healthier – both financially and socially – than any other league in Europe. Most of the clubs have no debt, and the commitment to affordable ticket prices and security helped to make watching football from the stands attractive for families.
Rupert Murdoch
The story is well-known: Murdoch used football as a means of forcing as many satellite dishes onto the exteriors of as many British households as possible. It worked – over the past two-and-a-half decades, the sport's broadcasting value has allowed it to shift its shape entirely.
To a degree, every aspect of its evolution can be traced back to Murdoch: he effectively built the stage, amplified the interest, and provided the marketing platform upon which it continues to build. Competitors may have subsequently entered the market, but Sky Sports (BSkyB) remains the Premier League's principal backer.
And, of course, had it not been for the Monopolies and Mergers Commission's intervention in his 1999 takeover of Manchester United, Murdoch would have been considerably higher on this list.
Dmitry Rybolovlev
In 2011, Russian billionaire Rybolovlev bought fallen giants AS Monaco, who were languishing in the second tier of French football at the time. In the nine years since, the club have broken PSG's stranglehold on the Ligue 1 title and stormed to the Champions League semi-finals.
Things have gone sour on the field more recently, but last year's €55m investment into a new training centre and renovations to the Stade Louis II shows that the future could be bright again soon.
Perhaps not surprisingly, Rybolovlev 's wealth has not come without significant controversies, including industrial-scale pollution and even murder allegations that saw him spend 11 months in jail before being fully acquitted. In 2016, the Football Leaks website alleged him to have been tampering with his player's market prices through illegal third-party ownership strategies – allegations that have been denied by Monaco.
David Elleray
Englishman Elleray has held the position of Technical Director at the International Football Association Board since 2016.
The Oxbridge-educated former referee's time at the helm of the game's lawmakers has been eventful to say the least. Since his arrival, we've seen the hotly-debated introduction of Video Assistant Referees (VAR) across European and international football, as well as controversial changes to the handball rule.
Megan Rapinoe
Now 34, Rapinoe has shown no signs of slowing down in recent times. The forward was one of the stars of last year's Women's World Cup, culminating in a player-of-the-match display in the final against the Netherlands.
Rapinoe has also generated headlines off the pitch as well as on it: a fierce advocate of equal pay between men and women internationals, she has also supported Colin Kaepernick's protests against social inequality and spoken out against Donald Trump.
Sheikh Salman Bin Ibrahim Al Khalifa
A member of Bahrain's royal family, Al Khalifa has been president of the Asian Football Confederation since May 2013 and was one of the candidates for the FIFA Presidential elections of 2016, eventually won by Gianni Infantino.
A controversial figure, Sheikh Salman's campaign was undermined by repeated accusations of human rights violations in the aftermath of the 2011 pro-democracy protests in Bahrain.
He does, though, hold significant influence nonetheless: in his current role, Salman's principle focus lies in eradicating match-fixing and general corruption from Asian football. Naturally, he exerts great authority over the Asian Champions League, which he seeks to enhance and diversify, and he will also be a substantial figure in the 2022 World Cup in Qatar.
Paul Pogba
Pogba's influence on the pitch may not be what it once was, after an injury-hit campaign followed a summer transfer window of incessant transfer speculation, but the France World Cup remains a massive asset off the pitch.
He is more than a midfielder. He is a global phenomenon, the kind of player who not only helps shirts fly off shelves but who can single-handedly win sponsorship deals and endorsements, not to mention an influx of new fans. He ticks all the 'Galactico' boxes – no wonder Real Madrid are so keen on him.
Ahmad Ahmad
Ahmad's election as president of the Confederation of African Football (CAF) in 2017 came as something of a shock, with the head of the Madagascan FA ousting Cameroon's Isas Haytou from the role after 29 years at the helm.
He started a new era for African football in promising fashion by refusing to accept a salary, and pushing for reform and transparency. He has since had to battle allegations of financial irregularities and sexual harassment but has denied all of them, and was released without charge after being questioned by French anti-corruption officials last year.
Neymar
The most expensive player in history, Neymar's £198m move to PSG in 2017 was an earth-shattering event throughout the world of football. The Brazilian has failed to kick on as much as he would have liked since his switch to the Parc des Princes, yet there are few footballers as exhilarating as the 28-year-old when he's on song.
Neymar has his fair share of critics, but there's no doubting his influence. Only Pele and Ronaldo have scored more goals for Brazil, and Forbes ranked him as the world's third highest-paid athlete in 2019.
Kasper Rorsted
Adidas have long been one of the biggest brands in the game, and CEO Rorsted is the man tasked with helping the German sportswear giants to grow and continue exerting their sizeable influence off the field.
His predecessor Herbert Heiner's public criticism of Louis van Gaal at Manchester United in 2016 ("We are satisfied, even if the current playing style is not exactly what we want to see," he opined ominously) preceded the Dutchman's swift departure a short time later. Coincidence? Maybe. Or maybe not.
David Gill
The former Manchester United chief executive and FA vice-chairman remains a powerful figure in the game; since leaving Old Trafford in 2013 along with Sir Alex Ferguson, Gill's voice has been heard on the UEFA Executive Committee and FIFA Council.
He earned extra kudos for stepping down as Britain's FIFA Vice-President in protest at Sepp Blatter's re-election as FIFA President in 2015. Blatter's fourth term lasted just four days before he resigned, and Gill was restored to his role before as his own resignation was yet to be formalised.
Marina Granovskaia
Roman Abramovich's right-hand woman, Granovskaia is among the most powerful figures in English football. Tasked with the day-to-day running of Chelsea in her position as chief executive, the Russian-Canadian handles all transfers and contracts at Stamford Bridge.
Much like her boss, Granovskaia prefers to stay out of the limelight – but behind the scenes she's arguably the most important figure at one of English football's biggest clubs.
Barney Francis
Francis is set to depart Sky Sports later this year, but for now he remains one of the most influential individuals in the European game. He first joined the broadcaster in 2000 and initially worked on its cricket coverage, before becoming executive produce of Sky Sports Football in 2007.
After two years in that position Francis was appointed as the company's managing director, and he then became chief executive of future sport last May. According to Sky group chief executive Jeremy Darroch, Francis has "transformed Sky Sports" over the last decade.
Ferran Soriano
Soriano is the chief executive of three different clubs: Manchester City, New York City and Melbourne City, all of which operate under the Spaniard's brainchild: City Football Group.
A pro-globalisation visionary, Soriano takes much of his inspiration from the Walt Disney business model and approaches football as an extension of the entertainment industry, considering the matchday experience outside the stadium to be equally important as what happens on the pitch. It's a vision that has come to fruition in Manchester, with the outside perimeter of the Etihad Stadium resembling a theme park on Saturdays or Sundays every other week.
However, it's the launch of the City Football Academy at a cost of £200m for which Soriano's reputation in the English game is likely to be judged. At nearly twice the price of the FA's own equivalent, St George's Park, and modelled on the strengths of the famed La Masia academy, City will be expected to develop most of the country's best young talent and launch countless top-level careers in the years to come.
It's a construction that also paved the way for Pep Guardiola's arrival – and the domestic dominance that followed.
Avram and Joel Glazer
Whatever happened to 'green and gold until we're sold'? You still see the odd smattering of Newton Heath colours on Old Trafford matchdays, but much of the ire that greeted Manchester United's controversial takeover by the Glazer family has seemingly abated.
After the death of Malcolm Glazer in 2014, the family's 90% stake in the club was split between his six children, but it's billionaire brothers Avram (56) and Joel (49) who control things as co-chairmen at Old Trafford. Those six years have been turbulent ones on the pitch for United, but the Glazers have remained a relatively hands-off presence – popping up only occasionally to raise money by selling shares in the club on foreign stock exchanges.
It's all very different from the early years of their father's reign, when the vast debt they'd taken on in order to buy the club was blamed for a lack of investment. Now, with sponsorship revenues rising and the club's position at the top of the global game seemingly untouchable even without Premier League success, fans are more taciturn. There has clearly been investment – it took a while, but the fans got Paul Pogba and Jose Mourinho before this season's splurge on Harry Maguire, Aaron Wan-Bissaka and Bruno Fernandes.
Clearly, though, as the owners of Manchester United, the Glazers wield huge influence in football at large, even if they do rely on Ed Woodward for much of the daily management of the club.
Pep Guardiola
Naturally, as someone who has hoarded domestic trophies in three countries and won the Champions League twice, Guardiola has acquired vast gravitas.
His true influence lies in his methods, though, and in his approach to game preparation. Winning is an evergreen quality, but there are few contemporary coaches who are as intertwined with a particular style as Guardiola is with his.
The true worth of that will probably be seen in the next generation: in coaches who mimic his possession phases and replicate the way his forward players move without the ball. The notion of a technical philosophy may have been worn thin by over-reference, but his will still be real and relevant decades from now; still visible in coaching DNA many years after his retirement
Herbert Hainer
A former Adidas CEO, Hainer became president of Bayern Munich in 2019, taking over from Uli Hoeness. He may not have as lofty a reputation within the football world as his predecessor, but Hainer's position now makes him one of the most powerful figures within the game.
Bayern are on course to win a eighth consecutive Bundesliga title this term, and are among the richest and most successful clubs on the planet. Alongside chairman Karl-Heinz Rummenigge, Hainer is the man who calls the shots behind the scenes.
Mino Raiola
Raiola divides opinion. Sir Alex Ferguson never liked him, and some see the 49-year-old as the most egregious example of the curse of agents. But talk to his players and they'll tell you a different story – of an attentive, loyal man who genuinely has the best interests of his charges at heart, and little time for the pretensions of others.
Raiola told a young Zlatan Ibrahimovic to forget about the trappings of wealth – the watches and cars – and knuckle down. That turned him into a superstar. With Paul Pogba, he spotted an untried youth team prospect and helped him blossom at Juventus into the world's most expensive player.
His own story has that rags-to-riches quality to it too. As a teenager, Raiola waited tables in his family's pizza restaurant in Haarlem, but has worked his way up to being one of the most influential figures in the game, with the likes of Pogba, Ibrahimovic, Erling Haaland and Matthijs De Ligt on his books.
Khaldoon Al Mubarak
When Sheikh Mansour purchased Manchester City, he rightly concluded that what happened from that point onwards would reflect not just on him personally, but on Abu Dhabi itself.
It's a testament to Khaldoon Al Mubarak, then, that he was entrusted with that responsibility – or, at least, that was seen as the antidote to the publicity-courting Sulaiman al-Fahim (the ubiquitous hype man who acted as fixer in the original deal).
Khaldoon has ensured that City didn't enter the realm of cliché. Rather than being a rich man's toy, they have been governed by strong philosophy over the last decade. Beyond the heavy spending, their infrastructural development – both physical and hierarchical – is deeply impressive. Khaldoon, as chairman, was active in the appointments of Ferran Soriano and Txiki Begiristain – helping to establish the club's footballing structure – but also in the planning, approval, and execution stages of the Etihad Campus's development, the sprawling talent development complex which City hope to use in their continued bid for sustainability.
Nasser Al-Khelaifi
Al-Khelaifi is hugely influential in more ways than one – he is the chairman of a top European club, chairman and chief executive officer at one of the leading sports TV networks and member of the organising committee for the 2022 World Cup. The Qatari businessman, a former tennis player, has found keen interest in football, and proceeded to make a lot of headlines ever since Qatar Sports Investments took over Paris Saint-Germain in the summer of 2011.
PSG were the perennial underachievers of French football, having only won two championship titles in more than four decades. Al-Khelaifi and his group have changed that, and their investments enabled the club from the capital to win six titles in the last seven seasons.
As the chairman of beIN Sports, an offshoot of the Al Jazeera media network, Al-Khelaifi is also extremely influential in buying TV rights around the globe, including Serie A, Bundesliga and Ligue 1. His knowledge is important in preparing Qatar for the controversial World Cup tournament, and at the age of 46 he still has a lot to achieve in the future.
Sheikh Mansour
It's rather extraordinary that Sheikh Mansour is ranked so highly given that we very rarely hear from him, but the Emirati royal irrevocably changed the European football landscape when he purchased Manchester City in 2008.
Mansour was also responsible for the creation of City Football Group, which owns stakes in clubs from the United States, Australia, India, Japan, Spain, Uruguay and China.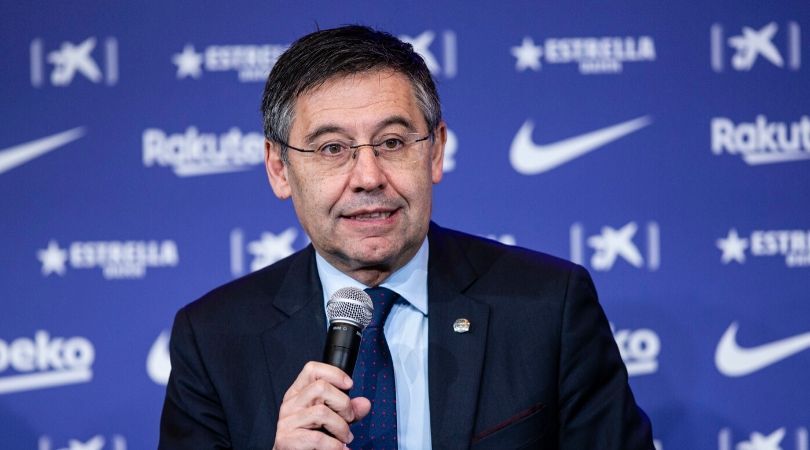 Josep Maria Bartomeu
Bartomeu became the president of Barcelona in 2014, taking over after Sandro Rosell resigned from the position. Having now served in the role for more than six years, the Catalan is the longest-serving president since the legendary Josep Lluis Nunez's 22-year tenure came to an end in 2000.
Barcelona have won three La Liga titles, four Copas del Rey and a Champions League during Bartomeu's time in the hot seat, with the 57-year-old seemingly having a firm grip on one of the world's biggest clubs.
Karl-Heinz Rummenigge
The Bayern Munich chairman, and former chairman of the European Club Association, is as well-connected as they come.
His power base stretches far, and he was alleged by 'Der Spiegel' to have plotted a breakaway Super League, after the German magazine obtained documents from whistleblowers Football Leaks.
He rejected the accusation outright, but suspicions remain that the man who previously sat at the head of the table when all the superclubs gathered together will still be working behind the scenes to their benefit.
Cristiano Ronaldo
Everything Ronaldo has, he's carved out for himself – and there's enough stuff he's won to fill a museum on his home island of Madeira. That self-obsessed streak is a stick that's often used to beat Ronaldo with – and it does sometimes seem like he takes more joy from individual success than collective glory.
Perhaps that's just indicative of modern football, though. In an age when we're told many fans follow individual players rather than teams, and transfer value is as much about how many followers you have as how many goals you've scored, Ronaldo is perhaps the ultimate footballer.
His move to Juventus in the summer of 2018 was a coup for the Italian giants on and off the pitch, as the global icon pulled on the famous black-and-white shirt and notched 21 goals on the way to the league title in his debut season. Aged 35, he's still not slowing down, having equalled a Serie A in February record by scoring in 11 consecutive games.
Andrea Agnelli
The Juventus chairman has become one of the most influential figures in European football in recent years, running Italian football's biggest club, serving as chairman of the European Club Association and also sitting on the UEFA Executive Committee.
He is a divisive figure due to his apparent dedication to making the rich clubs richer and protecting the elite, as he wants to remove the threat of big teams failing to qualify for the Champions League – he even questioned Atalanta's right to be in the competition "thanks to just one great season", despite the Serie A side racing to the quarter-finals in some style.
Ed Woodward
Avram and Joel Glazer are at the top of United's management structure, but most of the day-to-day dealing falls to Ed Woodward, executive vice-chairman and director of the club.
Despite their inability to compete for major silverware since Sir Alex Ferguson's retirement, the Red Devils remain one of the wealthiest and most influential clubs on the planet, and Woodward seems to have signed more sponsorship deals in foreign countries than he has players. United now have an official noodles partner, an official mattress partner and an official lubricant partner.
But a series of expensive flops, from Angel Di Maria to Fred, hasn't endeared him to a demanding fanbase, and he has been accused of having too much influence on Ole Gunnar Solskjaer's squad – something he has denied.
Florentino Perez
At most football clubs, it's the coach who is largely seen to be in charge, while the executives take something of a back seat. Real Madrid, however, is not most football clubs.
With the exception of a three-year hiatus in the late-noughties, Florentino Perez has been president of Spain's self-styled superclub since the turn of the millennium.
In that time he sparked the galacticos era, but most basely Perez's legacy can be counted in the many trophies Real Madrid have hoovered up during his time as president.
On a more pervasive level, his influence can be felt in the way top-level football has become inextricable from ostentatious displays of transfer market brawn - hello PSG - and how ability often plays second fiddle to marketability when the juggernauts draw up their summer shortlists.
Lionel Messi
The icon. The greatest player to ever play the game. Characterising the nature of Messi's influence is difficult, because it's rather implied: like the value of Michael Jordan to the NBA in the 1990s, or Joe Namath to the post-merger NFL.
Defining his actual function is impossible because, really, he's been a symbol of his era rather than a creator of it. He's naturally ubiquitous, of course, throughout Barcelona's successful La Liga campaigns and their periodic surges through Europe. He's also, quite understandably, the most desirable marketing property in the game, acting as the key piece within Adidas's brand activation strategy and enjoying all manner of commercial deals across an ever-broadening range of fields.
Messi is not only the world's best player, but also the game's most bankable asset. While his influence doesn't necessarily come from any formalised power, his inarguable excellence (and brand neutrality) helps to set the generational tone of the game itself. For as long as he is playing, the current era will be adorned with his name; as a result, the range of his influence – in the marketing, sporting and aspirational senses – is incalculable. What Messi does at the Camp Nou one day will have rippled across the world by the next morning, making him the purest kind of agenda-setter.
Richard Masters
In our list of football's most influential figures from 2017, Premier League chief executive Richard Scudamore topped the bill. He has since stepped down, and was eventually replaced by 53-year-old Richard Masters.
Succeeding a man who ran the biggest football division in the world for 20 years is no small task, and one of his first jobs will be to address the imbalance of power between the 'Bix Six' and everyone else.
However, the first item on his agenda remains keeping the Premier League money-making machine at the top of global football - and in a place where it continues to attract some of the world's finest footballers.
Jorge Mendes
The dictionary definition of a 'super-agent', Mendes uses his four mobile phones to remain the most connected man in the game, ringing up managers and club presidents to secure deals for a lucrative list of clients headlined by Cristiano Ronaldo, and now effectively including Wolverhampton Wanderers.
But Mendes doesn't just represent players. He's the man you call if you're a billionaire who's just bought a new club and you want to make a splash. In fact, Mendes has even helped engineer those kinds of takeovers – particularly with Peter Lim at Valencia, and Dmitry Rybolovlev at Monaco.
You can question his methods, and his previous involvement in third-party ownership schemes, but you can't deny his influence.
Aleksander Ceferin
Ceferin described his ascendancy to the UEFA presidency in September 2016 as "an anti-establishment vote", as he vowed to satisfy Europe's appetite for change.
He has so far rallied against the idea of a breakaway Super League, led by a handful of elite clubs, but waved through Champions League rule changes that handed 16 of the 32 group stage spots to the top four clubs in the four most powerful leagues.
Plans to revolutionise the competition for 2024, with four groups of eight clubs, are set to be delayed or scrapped, but a third continental competition, the UEFA Europa Conference League, will begin next year and the UEFA Nations League has proved a relatively popular addition to the international calendar.
Gianni Infantino
Now in his fifth year at the top of the football administration tree, Infantino has been a busy man as he looks to restore some faith in world football's governing body.
He was a driving force behind expanding the World Cup from 32 to 48 teams from 2026, while the Club World Cup has also been revamped into a competition that will be played every four years and feature 24 teams, replacing the Confederations Cup.
Irrespective of how his organisation continues to be perceived, Infantino has – and will continue to – shape global football.