"I was surprised" - Bacary Sagna hits back at Cesc Fabregas over Arsenal criticism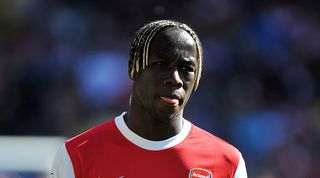 Bacary Sagna has hit back at criticism from Cesc Fabregas after the Spanish midfielder complained about a lack of quality in Arsenal's squad towards the end of his eight-year stay in north London.
In a recent interview with Arseblog, Fabregas said that he felt that Robin van Persie and Samir Nasri were the only two team-mates on his level in his final two or three seasons at the club.
But Sagna, who played alongside Fabregas before the latter's departure in 2011, says he was shocked by his former team-mate's assessment.
"I was surprised to read this," Sagna told Goal. "From him I was surprised because he was supposed to be one of the leaders of the team, he was one of the great prospects and as a leader and a true player, you don't speak like that about your club.
"So I was surprised because he is a nice guy, he's still a nice guy, this doesn't change anything. But I was kind of surprised.
"Arsenal made him so saying that some players were not at his level was a bit harsh because I'm not sure out of all the seasons he was playing at the club, he was always an exemplary player.
"At that time the press was talking about him not running enough or tracking back. So other players could have said 'you should be running more or doing more'.
"If you look at Liverpool today, all of them are running. This is a team. And maybe, because we didn't have the right spirit at that time we didn't make this little extra push, or make that little extra run to track players, maybe this is the reason we didn't win.
"Obviously in the team, we all have different levels. Some will be good physically, others will be good technically, but this is not a reason to speak in that way about other players.
"I don't agree with that statement. It's his opinion and he's right to have an opinion, but we all have good moments and bad moments in our career and I'm not sure he always had great moments with Arsenal.
"Yes, he is a great player, he has amazing quality, but maybe some people were expecting more from him."
READ MORE
No going back to normal: The way football works will have to change completely when this hiatus ends
Do you remember the first time? Why actual football is so rarely what makes us fall in love with the game
Quiz! Can you name the 30 most expensive transfers of the past 12 months?
Quizzes, features and footballing fun
Get the best features, fun and footballing frolics straight to your inbox every week.
Thank you for signing up to Four Four Two. You will receive a verification email shortly.
There was a problem. Please refresh the page and try again.