Beckham scores again in front of Fabio
ROME - Inter Milan moved six points clear at the top of Serie A by beating Catania 2-0 with 10 men on Wednesday, while David Beckham's second goal in two games could not stop AC Milan being held 1-1 at home by Genoa.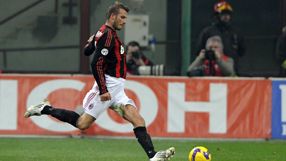 Second-placed Juventus lost ground with a 2-1 defeat at Udinese, while Milan are two points further behind them after the draw.
Watch Beckham's free-kick for Milan on the VPlayer now
View photo gallery of Beckham's goal against Genoa
With England manager Fabio Capello watching in the stands, loan signing Beckham surprised Genoa keeper Rubinho when he went straight for goal with a free kick from the far left in the 33rd minute but Argentine forward Diego Milito tapped in a late equaliser.
Champions Inter, who were a man down from the 32nd minute when midfielder Sulley Muntari was red carded for a challenge on Giacomo Tedesco, prevailed in Sicily with goals in either half by Dejan Stankovic and Zlatan Ibrahimovic.
Inter were rewarded for a strong start in the fifth minute, when Stankovic sprinted into the box to head in a Julio Cruz cross.
The hosts, who had a Michele Paolucci goal disallowed apparently for dangerous play by Japanese forward Takayuki Morimoto, surged forward after Muntari's expulsion.
Inter midfielder Esteban Cambiasso produced a desperate clearance off the line to deny Morimoto just before the break and Giuseppe Mascara hit the post on the hour.
Sweden striker Ibrahimovic wrapped it up for Inter in the 71st, running on to an offside-splitting pass from Stankovic before chipping over oncoming keeper Albano Bizarri and slotting into the net.
STRONG PERFORMANCE
At the San Siro, Milan could have easily been more than 1-0 up at halftime. Beckham had a powerful shot well saved in the first minute and Andrea Pirlo twice hit the crossbar with free kicks.
Ronaldinho came close with a free kick after coming off the bench in the second half before Milito stunned the home crowd three minutes from time.
Beckham, who came off in the second half, produced another strong performance after scoring in Sunday's 4-1 win at Bologna, which is set to add to the clamour for him to stay in Serie A.
Chief executive Adriano Galliani has said Milan are willing to pay Los Angeles Galaxy a fee to keep Beckham and coach Carlo Ancelotti believes the matter is now up to the player.
"It's Beckham's problem. He'll have to resolve it with his club," Ancelotti told Sky. "He knows that he's appreciated and esteemed and if he stays we'll be happy. But it's his problem to resolve."
Juventus were undone by Fabio Quagliarella, who slipped the ball past Gianluigi Buffon on 20 minutes, and Antonio Di Natale, who topped off a strong run in the 74th by curling the ball home, giving Udinese their first league win since October.
Former Udinese forward Vincenzo Iaquinta, in for injured captain Alessandro Del Piero, pulle
Thank you for reading 5 articles this month* Join now for unlimited access
Enjoy your first month for just £1 / $1 / €1
*Read 5 free articles per month without a subscription
Join now for unlimited access
Try first month for just £1 / $1 / €1