Djemba-Djemba: Fergie said he signed me too soon
Former Manchester United misfit Eric Djemba-Djemba has revealed Sir Alex Ferguson later told him he wished he'd signed the midfielder years after his brief United spell.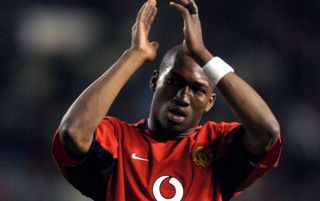 The Cameroonian, who is now starring for the Indian Super League leaders Chennaiyin, moved to Manchester back in 2003, with the intention of being a possible long-term replacement for the then 31-year-old United skipper Roy Keane.
However, after making an explosive start in the Red Devils' 2003 Community Shield victory over Arsenal, the much-travelled 33-year-old ultimately failed to live up to his billing, and was sold to Aston Villa two years later.
After a spell out on loan at Burnley and in the west Asian peninsula of Qatar, Djemba-Djemba then settled in Denmark, where he starred with Odense BK and was linked with a move back to West Bromwich Albion.
And it was while in Denmark that Djemba-Djemba came to face-to-face with a man he describes as a "father figure" and was told that the United chieftain wished things had been different.
"I bumped into him [Ferguson] in Denmark at an event," Djemba-Djemba told FFT.
"I was playing my best football of my life at the time and we had just narrowly missed out on qualifying for the Champions League after losing to Villarreal.
"He said to me that he had seen how I'd been playing, and congratulated me. Then he told me that he wished he'd signed me later in my career, after seeing how I'd been doing in Denmark. It was quite a compliment from a man who I looked up to."
Djemba-Djemba's spell at Old Trafford is often ridiculed after failing to make the grade and quickly being shipped out.
Despite admitting being aware this attitude exists, the combustible midfielder has no regrets about his time in Manchester, and singled out one United legend for special admiration.
"Maybe I was too young, I don't know," Djemba-Djemba added. "But I learned a lot from time in Manchester, and got to play with some great players.
"Ruud van Nistelrooy, Ryan Giggs and Paul Scholes were unbelievable. Scholes was just the best. He could pick you out anywhere on the pitch.
"I don't know how he could do it, but it happened all the time."