England don't feel pressure to match Germany protest, says Gareth Southgate
England manager Gareth Southgate says the team will not rush into a gesture like Germany's after OneLove armband frustration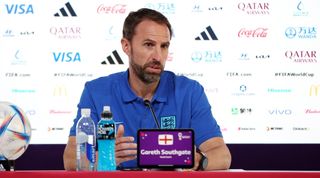 (Image credit: Getty Images)
England manager Gareth Southgate says the Three Lions will not be pressured into making a protest at Qatar 2022 like Germany's on Wednesday after the frustration surrounding the OneLove armband.
Captains of seven nations had been set to wear the OneLove armband, which stands for tolerance, diversity and LGBTQ+ rights, as a form of gentle protest at Qatar's chequered human rights record.
But after pressure from FIFA and the threat of yellow or even red cards for their players, those nations backed down at the last minute.
England were the first of those teams to play in the tournament and the players took the knee ahead of their 6-2 win over Iran on Monday, with captain Harry Kane ordered to wear a FIFA armband instead of the OneLove version.
Kane later said he was disappointed, but Germany went a step further on Wednesday as all of their starting XI covered their mouths in the official photograph in a signal that they will not be silenced by FIFA or Qatar.
Asked if England planned something similar against USA on Friday, Southgate said: "I don't think we should feel any pressure – I think we've spoken on these particular topics for over a year and we've supported all manner of good causes either as individuals or the collective.
"I think there's a risk that everybody tries to escalate – if we tried to do a better video than Australia did, that would be impossible; whether we try to come up with a better gesture than Germany.
"I think we've got to be comfortable that we know what we stand for. That's not to say we won't do anything moving forward if the timing's right, but I think we are rushing to be seen to be doing something, we could make an error that doesn't land well."
Gareth Southgate confirmed in his pre-match media conference earlier that #ThreeLions skipper @HKane would be available for selection against USA tomorrow, while @HarryMaguire93 will earn his 50th cap. pic.twitter.com/83QJ7XfPQINovember 24, 2022
England have faced criticism for their U-turn on the armband, along with other nations, and Southgate says he understands that.
"We're definitely highly supportive of our LGBTQ fanbase and I know some of them feel a little disappointed in terms of the armband not being worn," he said.
"We will be criticised for that, but sometimes we've just got to accept the criticism and move on with it. I think if we're confident about ourselves and where we stand, we shouldn't worry about needing to do something [in order] to be seen to be doing it."
And he added: "At this moment in time, for the players and myself especially, we've got to be focused on the games."
Thank you for reading 5 articles this month* Join now for unlimited access
Enjoy your first month for just £1 / $1 / €1
*Read 5 free articles per month without a subscription
Join now for unlimited access
Try first month for just £1 / $1 / €1