FA to investigate Ivorians' celebrations
The FA are to investigate the goal celebrations by Salomon Kalou and Didier Drogba during Chelsea's 2–0 win against Middlesbrough. Kalou has denied that he celebrated his goals with a political 'handcuff' gesture in support of, Ivory Coast activist, Antoine Assalé Tiémoko, saying: "People are always going to think there is something in what you do, but it didn't mean anything. "I was just happy. I don't even know the guy. It has nothing to do with football. It wasn't for him, I don't know him so I don't know why I should celebrate for him?"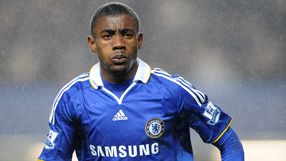 However, Chelsea team-mate and fellow Ivorian Didier Drogba also appeared to perform the same celebration, leading the FA to investigate the incidents further.

Tiémoko was recently released from a one-year prison sentence after being convicted of "libelling the prosecutor's office" and being in "contempt of court."

He was arrested in December 2007 after newspaper Le Nouveau Reveil published his opinion piece on judicial corruption.
"Salomon says there was nothing in it," said a Chelsea spokesman. "He was just trying out a new celebration and it was a crossing of the arms. He also sometimes puts his hand over his face like a mask."

The incident follows a similar 'handcuff' goal celebration by Ipswich Town's David Norris.
Norris celebrated netting at Blackpool in November by crossing his arms, which was alleged to have been a tribute to former Plymouth Argyle team-mate Luke McCormick, who was jailed for seven years and four months for causing the death of two children on the M6 in Staffordshire last June.
Norris later apologised for any distress caused by his actions and was fined by Ipswich.
CHELSEA FANS! Check FourFourTwo.com's ever-expandinginterviews archivefor more stuff to read:
One on One Gianfranco Zola, Nicolas Anelka
Boy's A Bit Special Michael Mancienne, Scott Sinclair
Perfect XI Ruud Gullit, Marcel Desailly
Sing When You're Winning Vidal Sassoon
And Another Thing Being a Big Four fan

Plus! Ruud Gullit on Weekend Wonders (opens in new tab) and Chelsea on Talentspotter (opens in new tab)
Thank you for reading 5 articles this month* Join now for unlimited access
Enjoy your first month for just £1 / $1 / €1
*Read 5 free articles per month without a subscription
Join now for unlimited access
Try first month for just £1 / $1 / €1