'Honest' Harry Paton is no diver, says County boss Stuart Kettlewell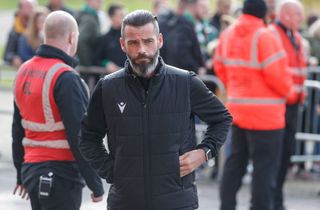 (Image credit: Steve Welsh)
Stuart Kettlewell has launched a staunch defence of Harry Paton – but the Ross County boss admits there is no point appealing against his playmaker's caution for diving.
The Staggies manager was left furious with Craig Napier when the referee failed to award his side a "stonewall" spot-kick during Saturday's defeat to Dundee United.
And to make matters worse, Paton was shown a yellow card for going down easily following his collision with Terrors skipper Mark Connolly.
But Kettlewell insists the Canadian is "one of the most honest guys" he has known as he revealed Paton even suffered a dead leg during the first-half incident.
And what stings more than that knock is the hurt of being branded a diver, according to the Dingwall chief.
Kettlewell, whose side have taken seven points from the first 12 available, said: "It's one of those ones where of course you're angry at the time.
"When your player is getting treatment from a dead leg on a Monday morning from a tackle that was adjudged to be a dive with no contact then that of course it is a problem.
"With there being no fans in the grounds right now, you can hear contact and I know I heard a clatter on Harry.
"Harry is one of the most honest guys I've ever come across in my life. We see our guys here in training kicking lumps out of him at times but he just picks himself up continuously.
"The penalty is one thing but the biggest aspect for me, as someone who's never taken a dive in his entire life, if someone says one of my players has gone down easily, then that annoys me.
"We didn't get the penalty so we'll just have to lick our wounds on that one."
But Kettlewell admits the footage of the incident has done their appeal case no favours.
"We looked at it, but watching the highlights, I don't think the camera angle was particularly great," he said.
"I believe if we appeal (against) that one we'll simply be told that it's inconclusive from the camera angle and they will go with the original decision from the referee.
"But Mark Connolly's reaction tells you a lot. He knew he'd given away a penalty.
"I could go on my soap box about this one, but I believe that referees at times just need to have a look at the reaction of the players involved. That will normally tell you if it is a penalty for or against."
Napier vowed to apologise if he had got the decision wrong, but Kettlewell is still waiting on a call.
The Staggies boss said: "I haven't had an apology yet. Craig said to one of my staff he is 100 per cent sure it wasn't a penalty and would apologise if he was wrong the next time he saw us.
"Fair play, I dare say the next time we see him he'll apologise. In the grand scheme, that really doesn't make any difference, does it?"
Quizzes, features and footballing fun
Get the best features, fun and footballing frolics straight to your inbox every week.
Thank you for signing up to Four Four Two. You will receive a verification email shortly.
There was a problem. Please refresh the page and try again.