Ivan Rakitic admits the motivation to succeed in his first seven months at Sevilla had nothing to do with football
Ivan Rakitic has enjoyed two successful spells playing for Sevilla - but his personal life has benefitted greatly while being at the club, too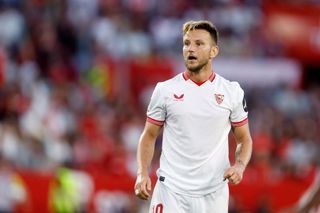 (Image credit: Getty Images)
Ivan Rakitic joined Sevilla for his first spell at the club in January 2011 as a 22-year-old, looking to fight for his place in the starting XI under manager Gregorio Manzano and later his replacement Marcelino.
While he would later go on to win the Europa League with Sevilla in 2013/14, becoming one of the standout players in La Liga and earning a summer move to Barcelona, Rakitic admits the real motivation to succeed in his first seven months in Spain was to convince his future wife to go out with him.
"It is true, and it's still true today," Rakitic told FourFourTwo when he spoke to us recently. "I met her on my first day in Seville – I was just aiming to go to the bar to have a drink with my brother, and she was working there.
"Different clubs were calling me, saying, 'Don't sign for Sevilla' and wanting me to move to other countries, but I told my brother that I'd already given my word to Sevilla's president. I said, 'Tomorrow morning, I have to sign. I will stay here and I will marry that girl.'
"So that I could speak to her, I used to go back into that bar all the time, to order the same coffee again and again! Everything was really special from the first day: to see her, to meet her and finally, after seven months, to be with her.
"Later I married her and today we are close to 12 years together," he adds. "We have two daughters. My daughter's birthday is today – she's 10 years old. All of this is like a Hollywood story for me to say to Brad Pitt or George Clooney, 'Do you want to do a new movie?' Sevilla did so much for my professional career, but also for my private life."
Indeed, nine years after winning the Europa League for the first time with Sevilla, Rakitic lifted the same trophy last season, during his second spell at the club. In between he won countless trophies at Barcelona, but the love he has for the Andalusian city and club is clear to see.
More Ivan Rakitic stories
The Croatian midfielder believes his "big friend" Manuel Neuer is one of the best goalkeepers in history.
Rakitic thinks "England were a little bit surprised" during the 2018 World Cup semi-final defeat to Croatia.
He also explains what it's like to play alongside Lionel Messi.
Thank you for reading 5 articles this month* Join now for unlimited access
Enjoy your first month for just £1 / $1 / €1
*Read 5 free articles per month without a subscription
Join now for unlimited access
Try first month for just £1 / $1 / €1