Jorginho says Chelsea players must take responsibility and not use youth as an excuse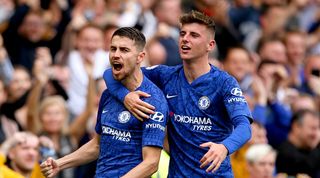 Chelsea midfielder Jorginho has called on his team to stop being "soft".
A 2-1 victory over Arsenal on Sunday moved Frank Lampard's side four points clear of Manchester United in the race for the top four.
However, the Blues have been defeated at home by West Ham, Bournemouth and Southampton in recent weeks.
And Jorginho insists Chelsea should not use youth as an excuse for such results.
"[Beating Arsenal] was very important for us. It's quite hard to win away, especially when it's a derby, and the feeling is crazy. But now we need to change our mindset and win at home as well because we are losing too many points.
"I tried to push my mates [when I came on]. We were a bit soft at the beginning and I tried to change [that] because we needed to change our mindset. We were not fighting enough. I don't know why. Sometimes it can happen.
"Sometimes you go on the pitch and you are not right and, when you want to change because you realise you are not fighting enough, it's hard. Today we could change that but sometimes we can't so maybe we need to prepare ourselves better.
"I think what's important is that all the players talk and help. Today I came on from the bench and could help my mates. The most important thing is the result because we worked a lot and I think honestly we deserved it.
"You know you have to fight. Sometimes you go on the pitch and play a bit soft at home, I think is what we have to change. Sometimes we play against teams that don't want to play, just defend and make counter-attacks, and it's harder to find space.
"We need to work hard to break that. I think you should push and break the lines, run more behind the lines. Sometimes we don't do that, we want to play just ball into feet, and maybe we could change that. Again, it's mentality."
Chelsea travel to Brighton on New Year's Day, before a clash with Nottingham Forest in the third round of the FA Cup this weekend.
READ MORE
7 of the biggest post-Christmas title collapses in English football
Ranked! The 10 best Premier League managers of the decade
Jose Mourinho will be the one who has to adapt to get the best out of this Tottenham team
Thank you for reading 5 articles this month* Join now for unlimited access
Enjoy your first month for just £1 / $1 / €1
*Read 5 free articles per month without a subscription
Join now for unlimited access
Try first month for just £1 / $1 / €1