"We must rise to meet every challenge" - Jurgen Klopp calls on Liverpool players to continue winning run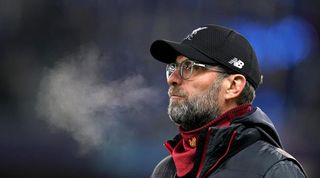 Jurgen Klopp has called on his Liverpool players to fight with fatigue and continue their winning run against Wolves.
A 4-0 thrashing of Leicester on Boxing Day moved Liverpool 13 points clear of the chasing pack in the Premier League title race.
The Reds have now won each of their last nine fixtures in the top flight, and are still without defeat this season.
And Klopp has warned his players that they should not use their hectic fixture schedule as an excuse as they prepare to face Wolves.
"This group of players know they set their own agenda and their own benchmarks," he wrote in his programme notes.
"They know they have the capacity to decide if going into a game we allow ourselves to feel fatigue or we choose to be fresh in body and mind. It's a choice we can make – we have the power to decide our own approach.
"I'm not stupid and we know what faces us in this particular period is a big, big test. But this is the Premier League and our ambition is to be the most successful team in it and that means rising to meet every challenge.
"Talking about a particular subject is completely different to using it as an excuse. These players have a 'no excuse culture' running through them.
"We will have setbacks, we will lose games, of course we will. But we will never look to external factors to explain it, no matter how legitimate they may appear.
"Our approach must always be about opportunity. To win the FIFA World Club Cup for the first time in our history was an opportunity and we took it.
"To come back to the fierce intensity of competition in the Premier League on the back of that – to this schedule – is an opportunity for us to perform if we choose to approach it as such, and we will.
"That is what I have seen from the players since we came back together in July and August. We set our agenda. We decide what is possible.
"It is in our gift to view the 'pressure' we are supposedly all under as a positive not a negative. The right sort of pressure, which is linked to achieving something special, is a motivator and not a backpack to carry."
READ MORE
7 of the biggest post-Christmas title collapses in English football
Ranked! The 10 best Premier League managers of the decade
Jose Mourinho will be the one who has to adapt to get the best out of this Tottenham team
Quizzes, features and footballing fun
Get the best features, fun and footballing frolics straight to your inbox every week.
Thank you for signing up to Four Four Two. You will receive a verification email shortly.
There was a problem. Please refresh the page and try again.