Kaka's exit a fresh blow for Italian football
MILAN, June 8 - Kaka's departure from AC Milan to Real Madrid is another indication of the decline of Italian soccer and may prompt an exodus of other top Serie A players.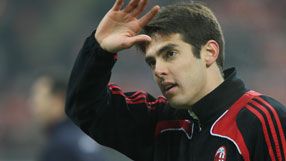 Unprecedented financial worries have prompted the Rossoneri to sell their best player when they had almost always been a buying club.
In just over a week they have watched Paolo Maldini retire, coach Carlo Ancelotti move to Chelsea and Kaka head for Spain.
Further damage could follow if reports are true that Ancelotti is keen on taking striker Alexandre Pato and midfielder Andrea Pirlo to London with him.
Serie A top scorer Zlatan Ibrahimovic has also said several times that he is restless at champions Inter Milan, with a move to Barcelona mooted by his agent.
"I don't see myself in the shirt of the same club for lots of years," Ibrahimovic told reporters. "I've won everything in Italy, I don't know what I still have to achieve here."
Italian football, hit by a match-fixing scandal and hooligan problems in recent years, had hoped the arrival of Ronaldinho and David Beckham at Milan and charismatic coach Jose Mourinho at Inter Milan would signal a return to Serie A's glory days.
Ronaldinho, however, has continued to struggle, Los Angeles Galaxy refused to be cowed by Milan and dragged Beckham back to the United States, while Mourinho found winning the league a little easy in his first season and links with Real persist.
TAX LAWS
The exit of Kaka is a hammer blow though, given that fans had hoped he was staying for good after turning down Manchester City for more money in January.
Milan, European champions two years ago, managed to beat off several approaches from Real for the Brazil playmaker last year but eventually they could not resist Florentino Perez's money and neither could Kaka and his agent-father.
The Rossoneri have repeatedly said that tax laws in Italy make it difficult for Italian clubs to compete with England and Spain in the transfer market.
Serie A sides also lose out on revenue because they do not own their own stadiums, many of which are decaying under local council control.
Milan, who along with sources from Dubai have denied reports of a possible Arab investment in the club, have stagnated since 2007 and finished third in Serie A this term following a disappointing fifth place the season before.
The Rossoneri were also easily beaten as holders by Arsenal in the 2008 Champions League knockout stages while all four Italian clubs failed to reach the quarter-finals this year.
TOP FIVE
Serie A is no longer attracting the top-level players as it did in the 1990s. New Juventus recruit Diego is decent but the days of Marco van Basten, Ruud Gullit and Zinedine Zidane are long gone.
The top five nominees for 2008's FIFA world player of the year award are now all based in England or Spain (Cristiano Ronaldo, Lionel Messi, Fernando Torres, Kaka and Xavi).
"Ten years ago Messi and Ronaldo could have played in Italy but now no one even considers it," Milan chief executive Adriano Galliani said when
Thank you for reading 5 articles this month* Join now for unlimited access
Enjoy your first month for just £1 / $1 / €1
*Read 5 free articles per month without a subscription
Join now for unlimited access
Try first month for just £1 / $1 / €1