Liverpool hit out at 'unacceptable' PGMOL explanation for VAR errors in Spurs defeat
The Reds released a statement on their official website calling for 'improvements to processes' to avoid further mistakes in future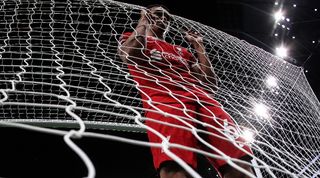 (Image credit: Getty Images)
Liverpool have rejected the PGMOL's explanation for the mistakes in their 2-1 defeat at Tottenham on Saturday as 'unacceptable' in a call for improvements to officiating.
The Reds had two players sent off at the Tottenham Hotspur statement, but looked to be holding out for a point until Joel Matip's own goal handed victory to Spurs in the sixth minute of added time.
And after the match, PGMOL admitted Liverpool had been hard done by following an erroneous offside offside decision in the first half, when a Luis Diaz effort was quickly and incorrectly ruled out by VAR.
In a statement on their official website, the Anfield club said: "Liverpool Football Club acknowledges PGMOL's admission of their failures last night. It is clear that the correct application of the laws of the game did not occur, resulting in sporting integrity being undermined.
"We fully accept the pressures that match officials work under but these pressures are supposed to be alleviated, not exacerbated, by the existence and implementation of VAR.
"It is therefore unsatisfactory that sufficient time was not afforded to allow the correct decision to be made and that there was no subsequent intervention. That such failings have already been categorised as "significant human error" is also unacceptable.
"Any and all outcomes should be established only by the review and with full transparency. This is vital for the reliability of future decision-making as it applies to all clubs with learnings being used to make improvements to processes in order to ensure this kind of situation cannot occur again.
"In the meantime, we will explore the range of options available, given the clear need for escalation and resolution."
More Tottenham-Liverpool stories
Tottenham vs Liverpool: why was Luis Diaz's goal wrongly disallowed by VAR?
Reds boss Jurgen Klopp blasts 'unfair' and 'crazy' decisions in Saturday's Premier League clash, while Spurs boss Ange Postecoglou admits he is not a fan of VAR.
EXCLUSIVE: Tottenham defender Micky van de Ven on Saturday's epic win over Liverpool and life in north London so far.
Thank you for reading 5 articles this month* Join now for unlimited access
Enjoy your first month for just £1 / $1 / €1
*Read 5 free articles per month without a subscription
Join now for unlimited access
Try first month for just £1 / $1 / €1