Tottenham manager Ange Postecoglou: VAR controversies still down to 'human beings'
The Spurs boss admits he is not a fan of the technology in football – even though it helped his side to defeat Liverpool on Saturday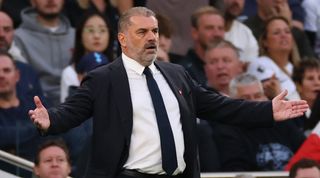 (Image credit: Getty Images)
Tottenham manager Ange Postecoglou admits he is not a fan of VAR and insists the technology is still vulnerable to mistakes because of 'human error'.
Spurs' 2-1 win over Liverpool in the Premier League on Saturday came after VAR upgraded Curtis Jones' first-half yellow card to a red and then disallowed a perfectly good goal scored by Luis Diaz following a monumental mix-up.
"I think I'm on record saying that I've never really been a fan of it since it came in," Postecoglou told reporters after the game.
"Not for any other reason than I think that it complicates areas of the game that I thought were pretty clear in the past, but I can see at the same time why it was inevitable that technology would come in. We have to deal with it.
Liverpool manager Jurgen Klopp was critical of VAR after the game, but Postecoglou insists mistakes are normal – with or without the technology.
"The game is littered with historical refereeing decisions that weren't right, but we all accepted that it was part of the game because we're dealing with human beings," he said.
"I think that people are under the misconception that VAR is going to be errorless. I don't think there's any technology because so much of our game isn't factual. It's down to interpretation, and they're still human beings.
"When you put such a high bar on something, it invariably is going to fail, so if people are thinking that VAR is going to be something that at some point that is perfect, that's never going to happen."
More Tottenham stories
Tottenham's epic victory over Sheffield United last month was the latest comeback win in Premier League history.
Ange Postecoglou's side followed up that win with a spirited 2-2 draw at Arsenal in the North London derby and James Maddison believes the club are shaking off their 'Spursy' image this season.
Maddison has been at the heart of Tottenham's success this season and the England midfielder was named as the signing of the summer by football agents.
Thank you for reading 5 articles this month* Join now for unlimited access
Enjoy your first month for just £1 / $1 / €1
*Read 5 free articles per month without a subscription
Join now for unlimited access
Try first month for just £1 / $1 / €1