Tottenham vs Liverpool: Why was Luis Diaz's goal wrongly disallowed for offside by VAR?
Liverpool were beaten at Tottenham in dramatic fashion on Saturday, and there was one moment of particular controversy...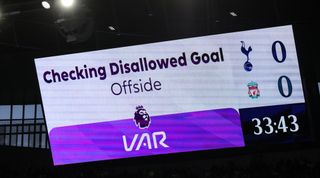 (Image credit: Getty Images)
Tottenham's last-gap 2-1 win over nine-man Liverpool provided the most dramatic moment of the Premier League season so far.
But the major talking point from Saturday's clash at the Tottenham Hotspur Stadium hasn't been Joel Matip's decisive own goal with virtually the last kick of the game; it's been VAR – again.
Curtis Jones' straight red card has been labelled harsh by many (Diogo Jota's sending off for a second yellow less so), but that's not been the main source of controversy: that would be the objectively incorrect decision to rule out, for offside, what would have been the opening goal by Liverpool's Luis Diaz.
PGMOL, the body in charge of refereeing, has admitted that chalking Diaz's strike off was a "significant human error" – but what exactly went wrong?
Why was Luis Diaz's goal disallowed for offside by VAR?
Liverpool had already been down to 10 men for eight minutes when Mo Salah slipped a perfect through-ball into Diaz, who finished coolly past Guglielmo Vicario in the Spurs goal and wheeled away in celebration – only to see the assistant had raised his flag for offside.
As always in these situations, VAR will check the offside decision to make sure that it is correct – and instruct the on-field referee to overturn it if not.
According to BBC Sport, that procedure was followed in this instance – only for an apparent lapse of concentration from VAR Darren England and assistant VAR Dan Cook leading to referee Simon Hooper being told that the VAR check had been completed and that the original, on-field decision could stand.
While the VAR check was being conducted, the customary offside line graphic was not shown on TV or the big screens inside the stadium – although the BBC Sport report adds that the lines were drawn inside the VAR booth.
Instead, VAR should have intervened to tell Hooper that Diaz was not offside and instructed him to overturn the decision, thus allowing the goal to stand.
Quite how such an extraordinary mix-up occurred is still unclear – PGMOL have said that they "will conduct a full review" into what went wrong – but Match of the Day pundit Alan Shearer described the fiasco as "incomprehensible" and "monumental" – with Liverpool boss Jurgen Klopp calling it "horrendous".
How Ange Postecoglou has ALREADY fixed Tottenham
What are the repercussions for the VAR officials involved?
Darren England was due to serve as fourth official in Sunday's Premier League game between Nottingham Forest and Brentford; however, he has since been taken off duty.
Dan Cook, meanwhile, has been removed from his scheduled appointment as an assistant referee for Monday night's West London derby between Fulham and Chelsea.
Read more
EXCLUSIVE 'Perhaps Liverpool thought we were another kind of Spurs team' – Micky van de Ven on epic win, life in north London
QUIZ! Can you get 100% in our expert-level odd one out quiz?
IN THE MAG Declan Rice, exclusive interview! Three decades of FIFA and EA Sports! PLUS Sarina Wiegman! Celtic undercover! Faroe Islands and MORE
Thank you for reading 5 articles this month* Join now for unlimited access
Enjoy your first month for just £1 / $1 / €1
*Read 5 free articles per month without a subscription
Join now for unlimited access
Try first month for just £1 / $1 / €1