Manchester City's Ilkay Gundogan scores fastest FA Cup final goal in history with stunning strike against Manchester United
The German bagged a terrific goal before a minute was even played in the game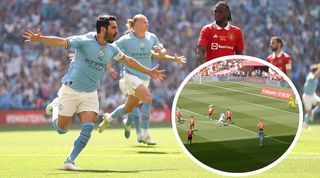 (Image credit: Getty Images)
Ilkay Gundogan has scored the quickest goal in FA Cup final history with his stunning finish against Manchester United coming after just 14 seconds.
The German midfielder struck an incredible goal from 20 yards out against Manchester United, volleying into the top corner of David De Gea's goal when a loose flick on sat up perfectly for him to score.
The Spaniard was left rooted to his line as Gundogan's shot arrowed straight into his goal.
A Manchester United player didn't even have the opportunity to touch the ball during the opening 14 seconds of the game, with City taking the kick off and passing the ball straight back to goalkeeper Stefan Ortega. Erling Haaland rose to head the ball on, with Gundogan's excellent finish the damning final touch in the move.
INCREDIBLE 🤯🤯Ilkay Gundogan gives Man City the lead after 13 seconds!!#FACupFinal pic.twitter.com/mIfaj2hSGOJune 3, 2023
Louis Saha held the previous record, with his goal for Everton against Chelsea in 2009 coming after just 25 seconds.
Prior to Saha's 25-second goal in 2009, Roberto Di Matteo managed to score for Chelsea against Middlesbrough in 1997 after just 43 seconds. At the time it seemed unlikely the timing of his strike would ever be beaten, but in the 26 years since two players have found the back of the net even quicker.
Indeed, Gundogan surpassed both comfortably, setting up Manchester City promisingly in the Cup final as they chase the treble.
Having already secured the Premier League, Pep Guardiola's side need to beat Manchester United before focusing on the Champions League final tie against Inter Milan in Istanbul on June 10.
Thank you for reading 5 articles this month* Join now for unlimited access
Enjoy your first month for just £1 / $1 / €1
*Read 5 free articles per month without a subscription
Join now for unlimited access
Try first month for just £1 / $1 / €1