Owen resigns from role as Trust Oldham chair
Barry Owen has resigned as chair of Oldham Athletic supporters trust 'Trust Oldham'.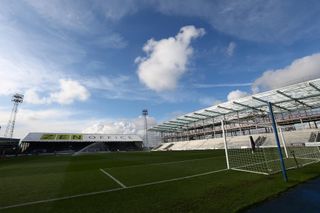 The announcement comes just a day after the League One club confirmed they would not be signing convicted rapist Ched Evans.
Oldham cited "unbearable pressure" on the club and threats towards staff as the reasons for the decision not to sign the Welshman, who was released from prison in October after serving half of a five-year sentence.
Now Owen has decided to call it quits, although he insisted that the move has nothing to do with the events of recent days.
In a statement, Owen said: "My decision has nothing to do with recent events or criticism and is something that I have been considering over the past few months due to my growing commitments with the club and the Football Association.
"I have been at the helm for 12 years and worked with some brilliant directors who are dedicated and loyal servants. I thank them for their support on many issues and the loyalty they have shown towards me.
"I leave knowing that I have tried my best for all fans and whilst I deplore the masses of abuse from a minority, some of which has been libellous and harmful to my family, I have always tried to be objective and work above that conduct. I only hope that my replacement is never in such a position.
"Those are the negative issues and on a positive note Trust movements in football have a huge part to play.
"Oldham must never lose its Trust and I will always remain a member to give support at all times. I will assist my colleagues over a transition period but then it will be time to move aside.
"The time has come for a change of direction and new leadership is necessary to drive the Trust forward with new dimension."
Oldham have confirmed that Owen will remain as a director of the board until a replacement is found.
Quizzes, features and footballing fun
Get the best features, fun and footballing frolics straight to your inbox every week.
Thank you for signing up to Four Four Two. You will receive a verification email shortly.
There was a problem. Please refresh the page and try again.