Real withdraw player registration appeal
BERNE, Switzerland - Real Madrid have dropped an appeal to register both of their new signings, Klaas Jan Huntelaar and Lassana Diarra, for this season's Champions League, the club said on Tuesday.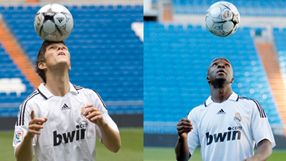 The decision follows a meeting between the Primera Liga champions' new president, Vicente Boluda, and UEFA chief Michel Platini. A Real spokesman said the club would not decide which of the two players to register until the end of this month.
European soccer's governing body said Real had agreed to drop their appeal to the Court of Arbitration for Sport (CAS) following an "open and sincere" meeting between Platini and Boluda at UEFA's Swiss headquarters.
UEFA said Real had accepted its original ruling that only one of the players could be selected when the competition's final phase gets underway next month.
"This does not come as a surprise to me," Platini said in the UEFA statement. "Real Madrid are one of the most successful teams in European football... and have a great tradition."
Champions League regulations dictate that clubs can register up to three new players for the knockout stage but only one who has already played this season in Europe with his previous club.
Netherlands striker Huntelaar and France midfielder Diarra have already played in the UEFA Cup this season for Ajax Amsterdam and Portsmouth respectively.

Real, who face Liverpool in the Champions League last 16, had argued that the rule was discriminatory, pointing to players who can play in two European competitions when their clubs drop from the Champions League into the UEFA Cup.
Asked which of the pair would be chosen, the Real spokesman said a decision would be taken on the final day of this month but noted Diarra had been in the starting lineup in most of Real's recent matches, with Huntelaar on the bench.
Spanish media reports have said Real coach Juande Ramos preferred the Frenchman over the Dutchman.
Platini said UEFA could discuss whether the regulations might be amended in the future but said the issues raised by Real "cannot have any influence on the current season".
CAS confirmed the withdrawal of Real's appeal on its website before UEFA issued its own statement.
Real will host Liverpool at the Bernabeu on Feb. 25 and visit Anfield on March 10.
ARSENAL FANS! Check FourFourTwo.com's ever-expanding interviews archive for more stuff to read:
Web Exclusives Patrick Vieira, Cesc Fabregas
Q&A Theo Walcott, Cesc Fabregas
One on One Arsene Wenger, Thierry Henry, Ian Wright
Boy's A Bit Special Theo Walcott, Armand Traore
Perfect XI Ian Wright
What Happened Next? Gus Caesar, Peter Marinello
And Another Thing Being a Big Four fan
Plus! Rate Arsenal players (and others) on Talentspotter
(opens in new tab)
CHELSEA FANS! Check FourFourTwo.com's ever-expanding (opens in new tab)interviews archivefor more stuff to read:
One on One Gianfranco Zola, Nicolas Anelka
Boy's A Bit Special Michael Mancienne, Scott Sinclair

Thank you for reading 5 articles this month* Join now for unlimited access
Enjoy your first month for just £1 / $1 / €1
*Read 5 free articles per month without a subscription
Join now for unlimited access
Try first month for just £1 / $1 / €1