Saviola: Play me or let me go
MADRID - Javier Saviola wants Real Madrid to decide whether to play him or let him leave, the Argentina striker said on Saturday.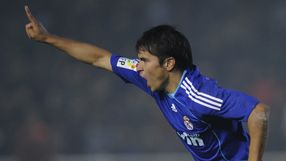 "It's a difficult situation. You have to be very strong mentally because as each game goes by without playing you are destroyed a little more psychologically," the 27-year-old told sports daily Marca.
"I spoke to (coach) Juande (Ramos) to find out where I stood. I told him I needed to play and if I wasn't in his plans to notify the management to allow me to go during the January transfer window because this situation is intolerable."
Saviola left arch-rivals Barcelona in 2007 after falling out of favour with then-coach Frank Rijkaard.
He found himself in a similar situation under Bernd Schuster last season as Real won the Primera Liga title and little has changed in recent months.
Saviola has started once in the league this season despite Ruud van Nistelrooy being ruled out with a serious knee injury and Robinho leaving to join Manchester City.
PATIENCE TESTED
"My patience had run out last summer," said the striker. "I spoke to Schuster to find out if he was really counting on me for this year and he said he was. He advised me to stay."
Schuster was replaced in December by Ramos, the man Saviola played under while on loan at Sevilla in season 2005-06, but the player has yet to feature in a league game under the new Real coach.
"The club imposed a series of conditions for me to be able to go in January even though they said they still counted on me but it has all been thrown in the air by the resignation of the club president last week," said Saviola.
"Now the board say they do not want to tamper with the team."
New signing Klaas Jan Huntelaar has recently joined Raul and Gonzalo Higuain ahead of Saviola in the Real pecking order.
Thank you for reading 5 articles this month* Join now for unlimited access
Enjoy your first month for just £1 / $1 / €1
*Read 5 free articles per month without a subscription
Join now for unlimited access
Try first month for just £1 / $1 / €1